2017 Manufacturing Business of the Year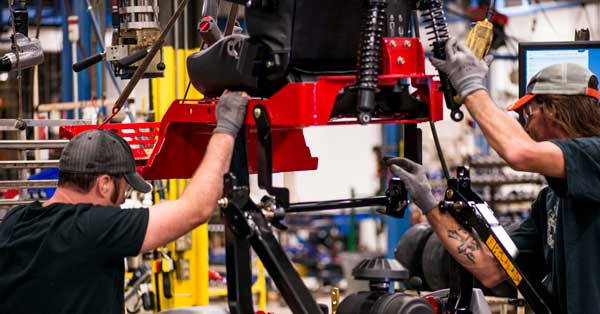 Innovation and dedication to continuous improvement have enabled Exmark Manufacturing Co., Inc., an independent turf care manufacturer in Beatrice, to stay a cut above its competition.
Founded in 1982, Exmark Manufacturing has been a client of the Nebraska Business Development Center (NBDC) since 2014. Lean Enterprise Consultant Renee Held has provided lean certification services and is working with the company to schedule next level lean (NLL) certification classes, says Cindy Jurgens, lean manager at Exmark.
"We started our lean journey in 2000 and are well on our path," Jurgens says. "It is an ongoing process for us."
Jurgens says NBDC has also conducted an Overall Equipment Effectiveness through Total Productive Maintenance workshop at Exmark, attended by about 20 managers, supervisors and employees who run the plant's robotic welders. The workshop is designed to allow companies to pull separate business functions together with a single useful metric.
"For us to stay competitive, control costs, improve our processes, and improve performance, we need to continue to build a lean culture here," Jurgens says. "It starts with people, and it ends with people."
She says the managers and supervisors who achieve lean certification bring the knowledge and practices back and share them actively with the company's more than 500 employees. "When they see the improvement lean methods make, it's easy to get them to buy in," she says.
At its inception, Exmark focused on manufacturing a line of mid-size, walk-behind mowers and turf rakes. In 1987, the rapidly expanding turf care equipment market and its competitive nature prompted Exmark to expand its product line to include commercial riding mowers.
In 1995, production began on the Exmark Lazer Z, a mid-mount, zero-turn riding mower that was welcomed by turf care professionals as a state-of-the-art machine. Today, the Lazer Z line is the market leader in its category in the United States, the company says.
In 1997, the company's 15th year, Exmark became a division of The Toro Company, which has since served to ensure Exmark's continued growth and market presence.
Situated in the Gage County Industrial Park, Exmark and its employees support the Beatrice community in many ways, including donating time and funds to the local food pantry, United Way, Relay for Life, and other charitable causes.
Additionally, Exmark has donated mowers to the Beatrice Parks Department and local Humane Society, and in 2007 funded the renovation of Charles Park in Beatrice, now named Exmark Park. In 2017, the company awarded the Beatrice YMCA a $25,000 grant to build a new splash park in the city.
Whether it is supporting its employees' development or the community in which they live, Jurgens says Exmark is committed to giving back. The company says it annually contributes two percent of its pre-tax domestic profits to strengthening its communities and industries.
"It is important to invest in people, and to stay at the forefront of processes, to continue to be competitive," she says. "It is inspiring for our people to see the commitment we are making in them through NBDC training and process implementation."