Klute Inc. Steel Fabrication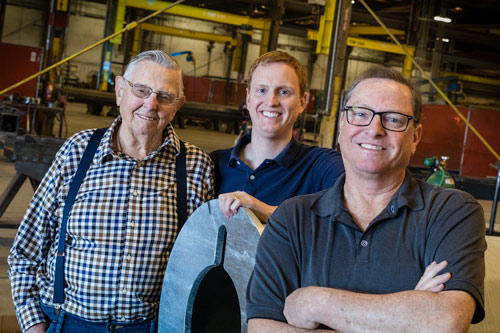 The Nebraska Business Development Center's (NBDC) guidance in navigating the often murky waters of government procurement has helped Klute Steel rise from zero government contracting revenue to more than $2.5 million on average per year the past three years.
Founded in 1961 as a farm machinery, welding, and repair shop, the York company fabricates steel chiefly for the electric utility and transmission industries. From its 135,000-square-foot manufacturing facility, Klute Steel serves the North American utility market through major utility companies, cooperatives, packagers, and engineering, procurement, and construction (EPC) contractors.

Klute Steel became a client of NBDC in 2011, not long after Frank Cifani Jr., joined the firm as national sales and business development manager.

"When I came on to start the sales organization here, I realized we were missing a large segment with government agencies," Cifani says. "That's why I reached out to NBDC."

NBDC's government contracting specialists responded with assistance reviewing solicitations in FedBizOpps. Consultants also helped Klute Steel optimize its System for Award Management (SAM) registration, create a powerful profile in the U.S. Small Business Administration (SBA) Dynamic Small Business Search and develop a professional capabilities statement. NBDC also assisted with market research and enrolled the company in the NBDC bid matching service.

Cifani developed a government marketing strategy of connecting with prime contractors for subcontracting opportunities. He utilized FedBizOpps to mark interest in projects, find the prime contractors, and establish relationships.

"From there, we focused on attending a lot of government procurement meetings," Cifani says. "The value of those meetings is priceless, from the knowledge and free services, to being able to get in front of the right people."

Cifani has also attended the U.S. Department of Energy Small Business Conference the past two years to strengthen those relationships with prime and government contacts. In addition, he has attended several NBDC workshops and continues to work with NBDC contracting specialist Quentin Farley, who serves southeast Nebraska.

"Number one, they understand how to brand and market in a way that makes it easy for customers to get pertinent information from us," he says. "Our capabilities statement is an example of that."
Cifani says he especially appreciates the various services NBDC offers that allow him to contact a growing number of government agencies and contractors.

"We go to market through manufacturing representatives, but in the end, I'm just one person," he says.
"NBDC's government procurement services allow me to easily see solicitations from across the country. I can't knock on every door, and even if I spent all day on the Internet, I probably wouldn't find 90 percent of the information we need.

"The value is incredible. It has increased my productivity and our efficiency. These are opportunities that we wouldn't have seen otherwise, and it is not costing us anything."

The contracts Klute has secured have had a ripple effect across the business, Cifani says.

"As we've partnered with some of these prime contractors, we've become aware of contracting opportunities beyond the government projects they work on," he says. "That new business has allowed us to add five fulltime estimators and a project manager. Overall, we've grown from about a dozen employees six years ago to 60 people today."
Farley says, "Partnership, persistence and hard work have led Klute to tremendous growth."