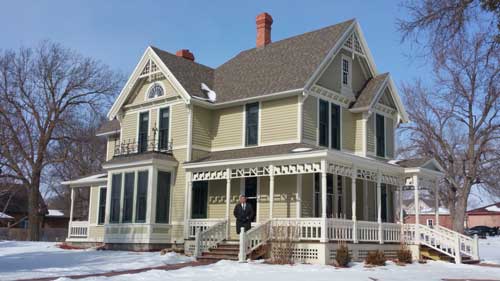 Even a third generation carpenter can use a little advice about building relationships with government agencies. Armando "Al" Leal, owner of Al's Old House Repairs in Red Cloud got the help he needed when he approached Chuck Beck at the Nebraska Business Development Center (NBDC) office in Kearney.
Leal uses his carpentry skills to restore old and often historically significant structures to their original glory. He reached out to Beck, a government contracting specialist in NBDC's office at the University of Nebraska at Kearney (UNK), for help completing his System for Award Management (SAM) registration. The registration enabled Al's Old House Repairs to take part in the Moon Block Project, one aspect of a $7 million Community Development Block Grant revitalization effort for the City of Red Cloud.
During the work that followed, Leal and his business completed the restoration of two storefronts in the Moon Block, a large, 19th century building owned by the Willa Cather Foundation.
When they met to fill out the SAM registration, Beck provided an overview of government contracting, as well as details of other NBDC procurement program services. Beck also referred Leal to Sara Bennett, business consultant at the Grand Island NBDC office, and through that referral, Leal met Dena Beck, senior project leader with the Center for Rural Affairs' Rural Enterprise Assistance Project (REAP).
Dena Beck has high praise for Leal and Al's Old House Repairs.
Chuck Beck continues to provide resources and information as Leal's interest in securing government contracting opportunities grows. Additionally, Beck introduced Leal to Sri Seshadri at UNK, which led to participation in a UNK graduate student project that focused on improving the company's marketing efforts.
"I received the marketing plan in December and I am reviewing its recommendations," Leal says. "Without Chuck bringing us together, I never would have thought a college graduate student would be interested in helping my business."
A resident of Red Cloud since 2010, Leal's roots reach back two generations to family carpenters in Madrid, Spain. In 1997, he was able to collaborate on the restoration of the Murphy Ranch House, a historic, 1846 stagecoach stop in Mathis, Texas. That project refined Leal's carpentry skills and fueled his interest in research, history, and replicating the fine craftsmanship of early immigrants.
"To this day, I can't use nail guns in my work," he says, proud of maintaining "the old ways" of his ancestors. "I use a nail set and a hammer. It's hard for me to change, unless someone shows me a better way."
Leal is preparing to apply for the U.S. Small Business Administration's 8(a) program, which he hopes will lead to more federal contracting opportunities. He says working with the specialists at NBDC "has been a great experience."
"Most of all, it has built confidence in me and my business," he says. "I know I'm not out here on my own. I have support, and I've learned things I can do to better my business."