Sanguine Diagnostics & Therapeutics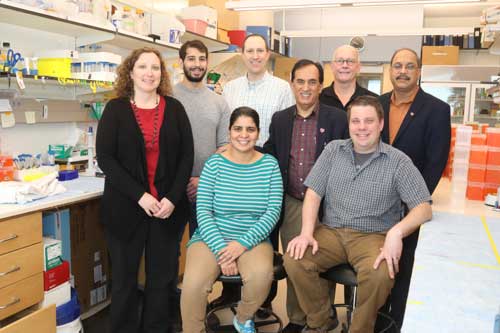 Standing: Amy Dodson, Ali Hamzaoglu, Brian Brislen, Surinder Batra, Tony Hollingsworth, Maneesh Jain; Seated: Sukhwinder Kaur; Wade Junker
Nebraska Business Development Center (NBDC) consultants and workshops provide knowledge and insight as Sanguine Diagnostics & Therapeutics, Inc., pursues funding that will help the Omaha medical research and commercialization company realize its vision.
Sanguine Diagnostics and Therapeutics (SDT) was formed in 2009 by current CEO and legal counsel Brian Brislen, J.D.; Administrator Amy Dodson, MBA; research scientists Tony Hollingsworth, Ph.D., and Surinder Batra, Ph.D.; and physician scientist Aaron Sasson, M.D.
Wade Junker, Ph.D., is the company's chief scientific officer. He actively works on basic research and product development with University of Nebraska Medical Center (UNMC) research scientists Maneesh Jain, Ph.D.; and Sukhwinder Kaur, Ph.D.
Junker says SDT is currently developing mucin-based diagnostic and therapeutic modalities for the management of pancreatic diseases (pancreatitis, pancreatic cancer, and cystic lesions of the pancreas), and is planning to develop diagnostics and therapeutics for multiple cancers.
"NBDC has been very supportive of our efforts to further our projects and apply for Small Business Innovation research (SBIR) funding," Junker says. "At an SBIR Road Tour conference sponsored by NBDC, I met (Technology Commercialization Program Director) Wei Jing and inquired about NBDC performing a market analysis for SDT."
As a result, two NBDC researchers, Pallav Bajracharya and Josh Nichol-Caddy, provided a market report that was helpful in finalizing SDT's 12-page commercialization plan, which is required when applying for Phase II or Fast-track Phase I/II funding.
"Specifically," Junker says, "NBDC understood our innovative product concept and conducted secondary research that focused on the target market, customer, and our advantage relative to the competition."
Junker also attended a two-day conference sponsored by NBDC that included a presentation by consultant Jim Greenwood, who has served as a commercialization reviewer for Phase I, II and IIb SBIR/Small Business Technology Transfer (STTR) proposals at the National Science Foundation.
SDT began active product development with its first STTR Phase I award in 2014 for the project, "Mucins in the Diagnosis and Prognosis of Pancreatic Diseases."
"Patients harboring cystic lesions in the pancreas are considered to have a high-risk of developing pancreatic cancer, and due to the variable malignant potential of cystic pancreatic lesions, a majority of patients are managed surgically," Junker says. "Since pancreatic surgery carries significant morbidity, better markers are needed to stratify the risk of malignancy in patients with asymptomatic cystic pancreatic lesions. Our proposed studies will validate if MUC4 staining in endoscopic ultrasound (EUS) fine-needle aspiration biopsies can help in in appropriate patient selection for surgical resection."
SDT received a second phase I award in 2016 for another project, "Ultrasensitive SERS Nano-Sensors for Pancreatic Cancer Diagnosis and Prognosis."
Most recently, SDT received an SBIR Fast-track grant and is beginning Phase II work to validate an antibody-based diagnostic assay. A second SBIR Fast-track is under consideration to be awarded this April.
Junker says the company has received the support of Joe Runge, J.D., and Michael Dixon, Ph.D., of UNeMed — the technology licensing office of UNMC/UNO — in SDT's continuing efforts to develop arrangements for use of the reagents and intellectual property that emerge from collaborations between SDT and UNMC.
"Throughout the process," he says, "NBDC has helped us put it all together."