Center for Afghanistan Studies expands reach across Central Asia
New projects and connections led by the efforts of Center Director Sher Jan Ahmadzai have impacts in Afghanistan and beyond.
published: 2019/09/18
contact: Kristy Leahy - International Programs
phone: 402-554-2293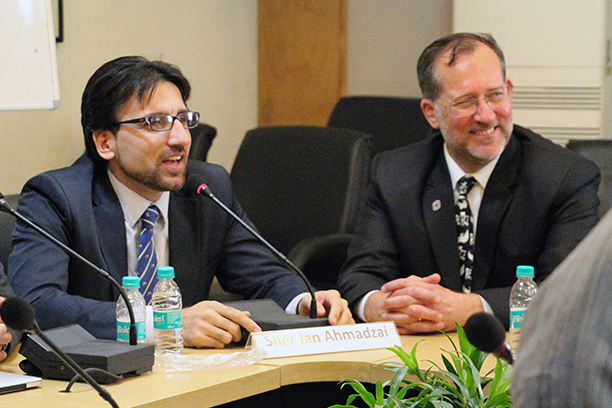 Sher Jan Ahmadzai, director of The Center for Afghanistan Studies (CAS) at the University of Nebraska at Omaha (UNO) has spent a busy summer traveling the world. In March, UNO signed a Memorandum of Understanding (MOU) with two Universities in Uzbekistan; University of World Economy and Diplomacy and Tashkent State University of Economy. This summer Mr. Ahmadzai traveled to Uzbekistan to meet with the leadership of both universities to explore future coordination, research and activities that will facilitate positive working relationships between the universities. It was an exciting first trip! Mr. Ahmadzai also met with the Deputy Minister of Higher Education and Secondary Education of Uzbekistan. Together they are exploring future coordination.
"Central Asia is opening up to new opportunities. Uzbekistan plays a central role as an emerging regional hub of activities with a rich history and culture. I found Uzbekistan to be a great destination for students and facility to visit and learn their history, culture, and languages. UNO will immensely benefit from the exchange of our students and faculty."
As part of the UNO's Partnership 2020 project, Mr. Ahmadzai and the Director of International Studies, Dr. Patrick McNamara also traveled to three cities in India this summer; Delhi, Bangor, and Chennai. Funded by the U.S. Department of State, the Partnership2020 project assists U.S. Universities with their partnerships with Indian Universities. Mr. Ahmadzai and Dr. McNamara met with multiple universities to facilitate roundtable discussions. The discussions centered upon enhancing the experience of exchange visits and developing successful partnerships with U.S. institutions. They reviewed successful partnerships and experiences and learned from the challenges they faced in improving their partnership with U.S. institutions. While in India, they were able to meet with two grant awardees of Partnerhsip2020 project.
CAS looks forward to a full year. There are several grants that have been extended and two new projects underway; Pakistan Teaching Excellence and Achievement English Language Teacher Exchange and the establishment of a Research Center at Kabul Polytechnic University in Afghanistan.


---
Learn more about Center for Afghanistan Studies and follow us on Facebook.