Student Awarded Exchange Scholarship from Japanese Government
UNO student Mirakle Crockett awarded The Ministry of Education, Culture, Sports, Science and Technology Scholarship.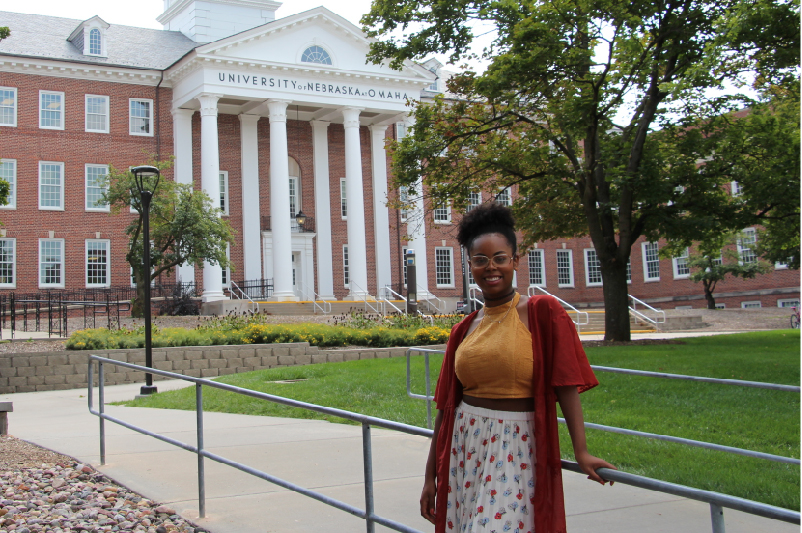 Mirakle Crockett, a junior in the College of Arts and Sciences, was awarded the Ministry of Education, Culture, Sports, Science and Technology (MEXT or Monbukagakusho) Scholarship for the fall 2017 semester.
Crockett is currently majoring in International Studies with a concentration in East Asia Area Studies. She is studying through an exchange partner, Shizuoka University, in Omaha's sister city in Shizuoka, Japan.
"It was a really nice feeling because I have never received a major scholarship before," said Crockett.
MEXT offers scholarships each year to assist students who are interested in studying at Japanese universities. The scholarship program, first established in 1954, has had approximately 102,000 students from 160 countries and regions studying in Japanese universities.
Crockett is excited to experience more within the Japanese culture. Crockett studied at Kwansei Gakuin University (KGU) in Nishinomiya, Japan during the summer exchange program.
"I felt like KGU was a warm up to spending a semester at Shizuoka University. I think KGU prepared me by being able to practice my conversational Japanese," said Crockett.
While at Shizuoka University, Crockett will take Japanese culture courses as well as International Studies major classes. The courses she is taking while she is abroad will help her earn credit towards her University of Nebraska at Omaha degree.
"I want to improve my Japanese language skills and get a better idea of what my career aspects are within my major," Crockett explained.
Omaha, Nebraska and Shizuoka, Japan's sister city relationship was established in 1965. The partnership between UNO and Shizuoka University was first established in 1979 as a sister school and has grown to be a bilateral exchange, involving many colleges and departments across campus.
---
Do you want to study abroad? Get in touch today to speak with our awesome peer advisors and learn more about education abroad options and funding opportunities.
Drop in to ASH 220 between 8 AM and 5 PM, Monday through Friday;
Give us a call at 402.554.3168; or,
Shoot us an email at unostudyabroad@unomaha.edu
Check out our social media to learn about events and opportunities and see what #MavsAbroad are up to all over the world!