Shizuoka Summer Tour at UNO
International Programs welcomes ten students from Shizuoka University for a three-week educational tour across Nebraska and South Dakota.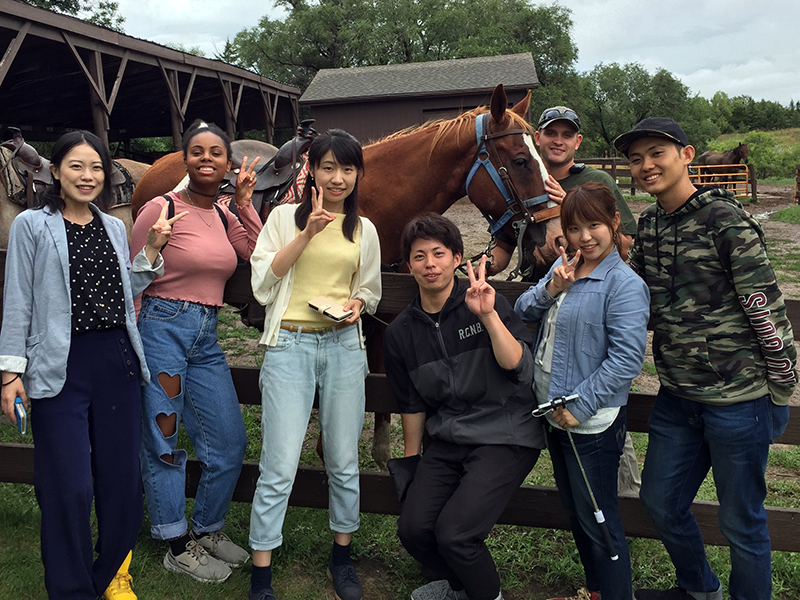 UNO student Mirakle Crocket joins students from Shizuoka University for horseback riding and marshmallow roasting.
Omaha – Since 1979, the University of Nebraska at Omaha's (UNO's) International Programs office has offered a special annual opportunity for more than 500 Japanese students from its sister university in Shizuoka, Japan to embark on a summer tour to Omaha, central and western Nebraska, and South Dakota. This August, ten college students from Shizuoka University and two leaders are enjoying learning conversational English, getting to know the UNO campus, and touring Omaha landmarks, while spending time with local host families. Their educational and cultural tour takes them takes them to the Archway in Kearney, Fort Cody Trading Post in North Platte, Lake McConaughy, Chimney Rock National Historic Site, Scotts Bluff Monument, Fort Robinson State Park, Niobrara State Park, Mount Rushmore, and the Badlands.
Reiko Take Loukota, a Japanese instructor at UNO and tour coordinator and leader, remarks, "I really enjoy seeing the growth of the students during the tour. At first they are uneasy, but later they become very relaxed."
A few of the highlights from past trips included learning about American culture through homestays, meeting Omaha's Mayor, and enjoying the great expanse of sky and stars in the evenings in Western Nebraska.
Like some 80 UNO students before them, The Shizuoka Summer Tour includes support from three UNO students who will study at Shizuoka University this academic year: Mirakle Crockett, Jack Brown, and Aaron Frickle. Mirakle received the Japanese Government full scholarship for one year of study.
Follow UNO International Students on Facebook to see more activities from International Programs!