INDIGENIST Exhibit
Check out INDIGENIST, an art exhibit that celebrates Native American Heritage Month, now on display at the Weitz CEC.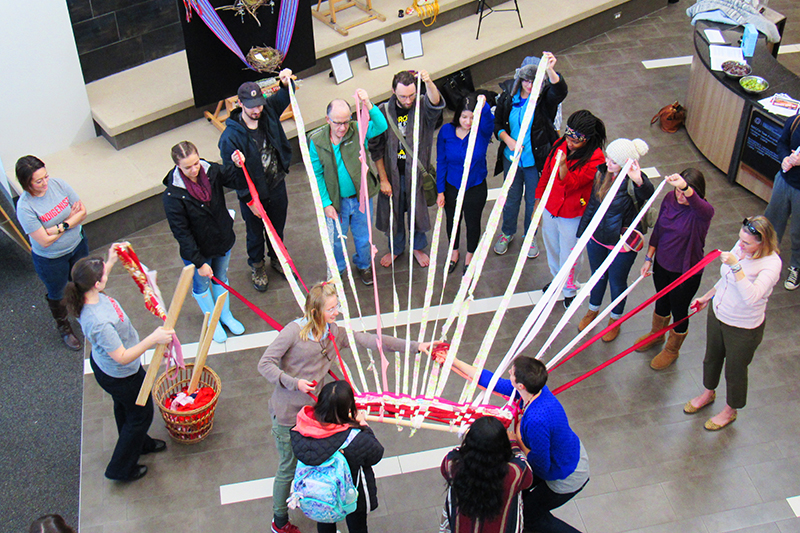 INDIGENIST
 showcases local Native American artists and advocates for Native American education, health, and wellness, and celebrates November as Native American Heritage Month.
Their work answers the question, "What does it mean to be an Urban Indian Woman that advocates for Native health and wellness in Omaha? What is your story?" The works include poetry, paintings, sculptures, dolls, shawls, moccasins, and more.
The exhibition is a collaboration with WOVEN, an exploration of feminism in Omaha by artists Victoria Hoyt and Camille Hawbaker. WOVEN won the Omaha Creative Institute's Spring Creative Grant.
Exhibit co-curated by Brittany Strong, Omaha Public School teacher for the Native Indigenous Centered Education (NICE) and Regina Emily Robbins, Assistant Professor, Native American Studies, University of Nebraska Omaha.
---
Exhibit Location 
Barbara Weitz Community Engagement Center for the month of November, in the First Floor Union Pacific Atrium.
Exhibit Sponsors
Native American Studies, Religious Studies, Medical Humanities, and Spirituality Public Health and Religious Studies (SPHRS)
---
INDIGENIST Artists
Cassie Rhoads-Carrol – Native Fringed Dancing Shawls
Citizen of the Cheyenne/Arapho Nation

Michele Marie Desmarais – Indigenested
Métis (Canada)

Annie Steinhoff – Josephine and her Six Daughters   
Winnebago Tribe of Nebraska

Gretchen Carroll – Insane thoughts of a sober mind – a variety of poetry readings
Citizen of the Cheyenne/Arapho Nation

Regina Emily Robbins – Children of the Selu
Cherokee Nation of Oklahoma

Nicole Tamayo-Bergman – Continuing Tradition
Sicangu Lakota

Brittany Strong – Imperfectly Perfect Moccasins              
Algonquin of Pikwakanagan

Lilly Tamayo – Stronger than ever (a written speech)     
Sicangu Lakota
Cholly – Untitled 3.0
Winnebago & Omaha
Our Campus. Otherwise Known as Omaha.
The University of Nebraska does not discriminate based on race, color, ethnicity, national origin, sex, pregnancy, sexual orientation, gender identity, religion, disability, age, genetic information, veteran status, marital status, and/or political affiliation in its programs, activities, or employment. Learn more about Equity, Access and Diversity.
scroll to top of page