Sign of the Times
With people across the country watching news conferences for COVID-19 updates, sign language interpreters are seen working alongside public officials, but most often, interpreters are helping with communication exchange in the activities of daily life. The UNO Sign Language Interpreter program is preparing students to enter this critical career field.
published: 2020/10/24
contact: College of Education, Health, and Human Sciences
email: unocehhs@unomaha.edu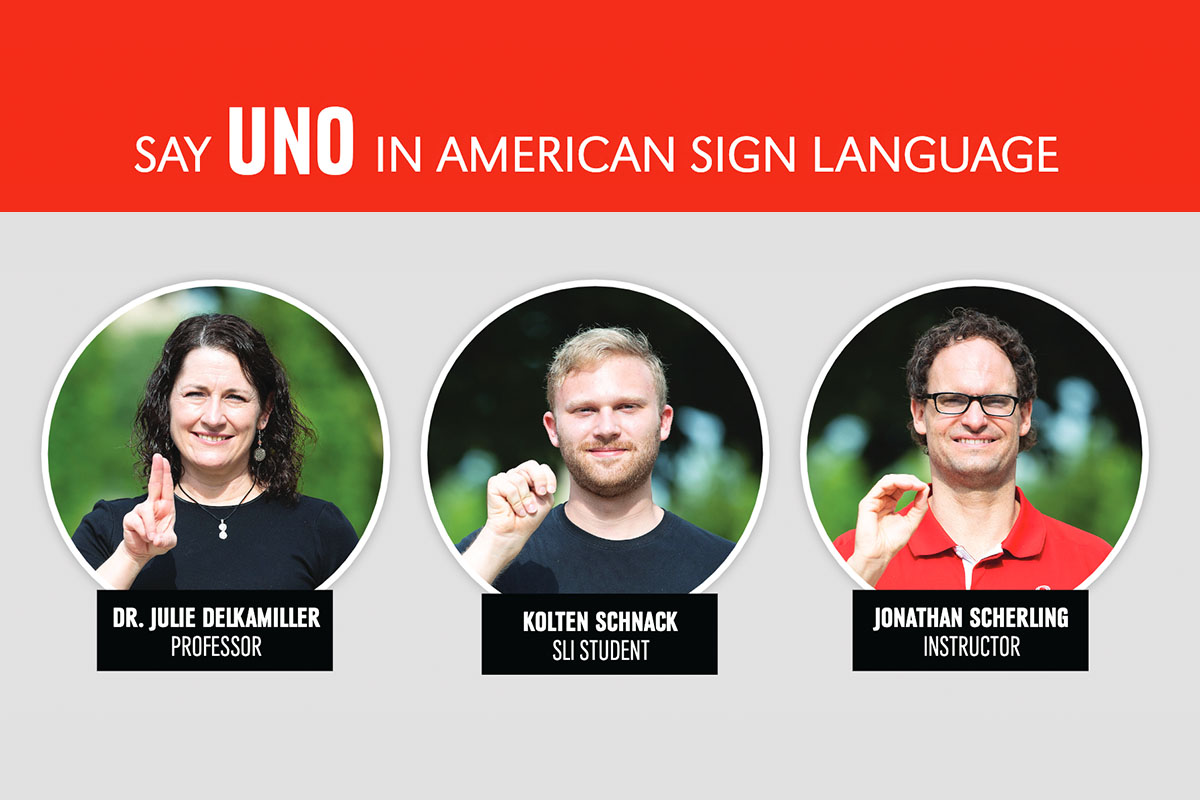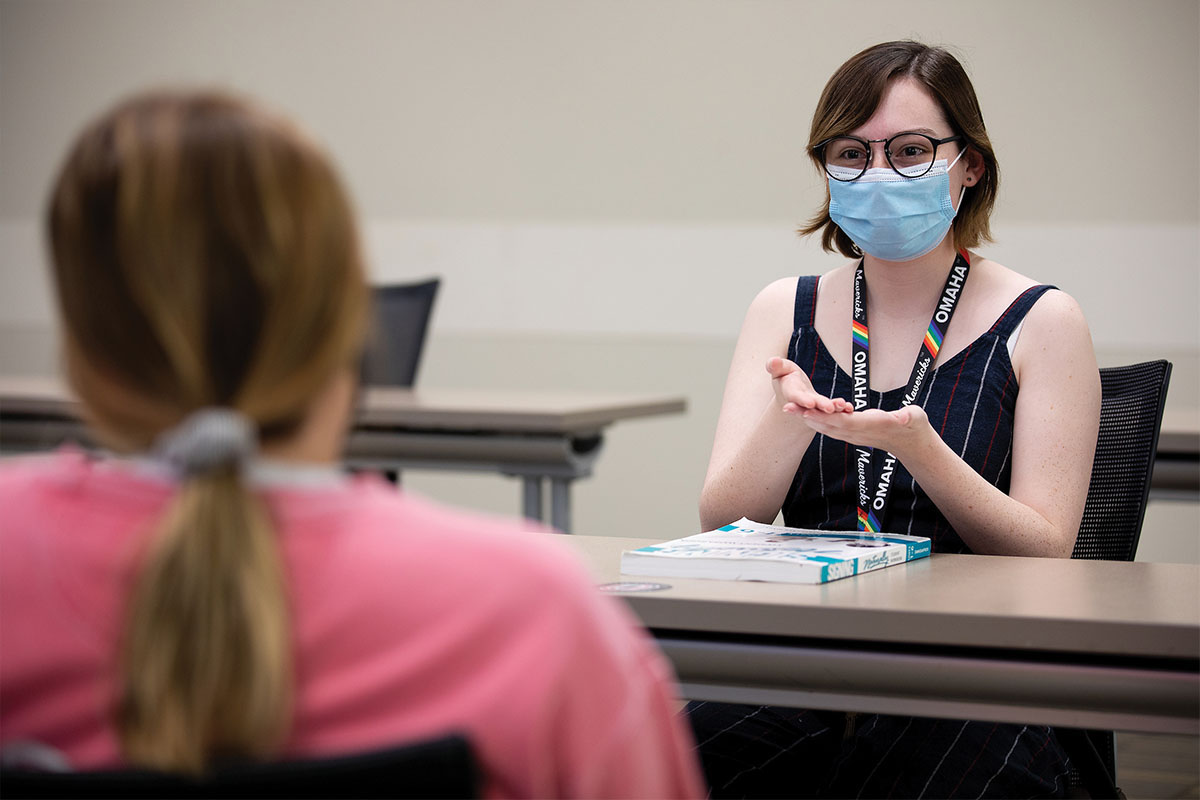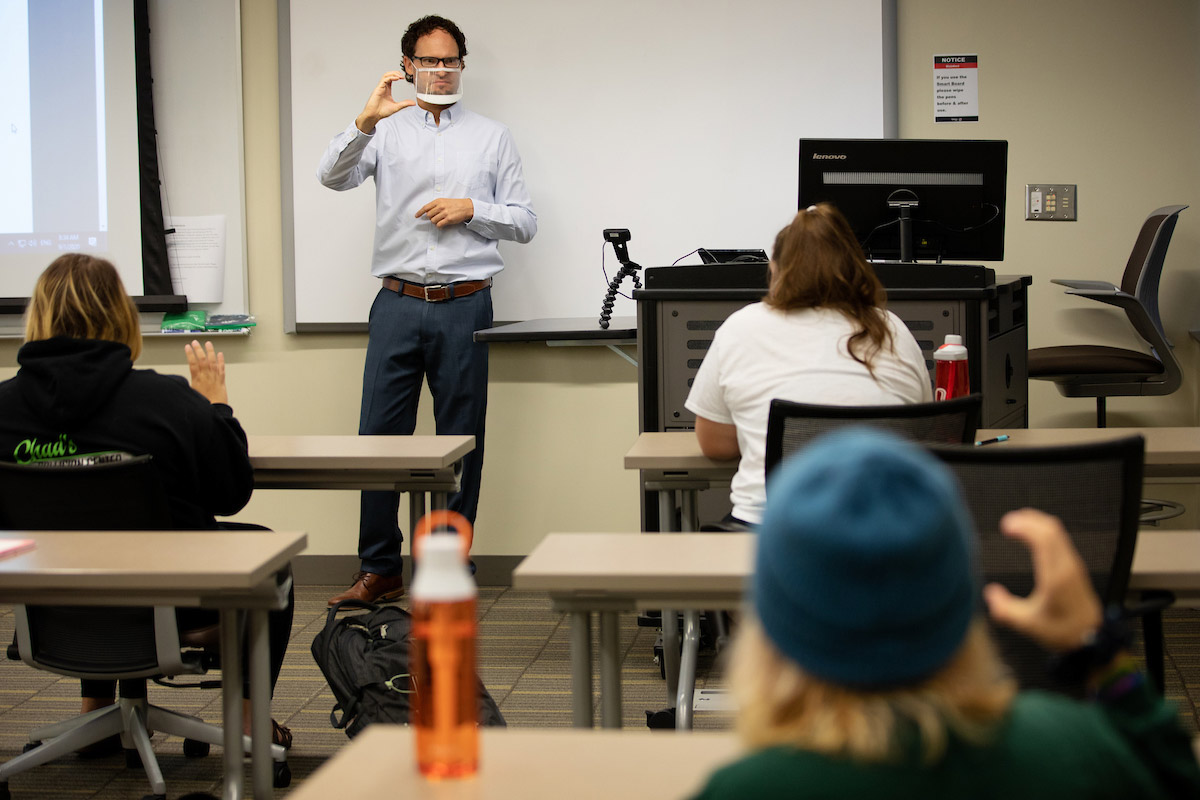 With people across the country watching news conferences for updates on COVID-19, sign language interpreters may be in the spotlight, working alongside public officials. But most often, sign language interpreters facilitate communication access in the activities of daily life: appointments, classes, work meetings, phone calls, and other interactions.
"Sign language is strenuous and rigorous and that's because of the brainwork. People ask me, 'don't your arms get tired?' and I say, 'No, it's my brain,'" explains Professor Dr. Julie Delkamiller. "It's so much more in-depth than people realize. When you see good interpreters, they make it look so easy."
The field of Sign Language Interpreting (SLI) is an ever-evolving and rather new field, enjoying professionalization over the last 40 years. One of CEHHS' smaller concentrations, UNO's SLI program serves a critical need as the only SLI preparation program in the state of Nebraska, giving students the essential skills to become certified American Sign Language (ASL) interpreters.
Instructor Jonathan Scherling, a member of the Deaf community himself, explains, "Sign language interpreters are a vital service to the Deaf community, so it is my passion to build a pool of future interpreters. I think it is very important for my students to understand Deaf culture from a Deaf person's perspective to gain their cultural respect in Sign Language. The Deaf community in Nebraska needs more qualified interpreters in the future, so we are very grateful to have an interpreting program in UNO."
In the program, students learn a specialized set of skills and knowledge to prepare them for the profession: the history of deafness; values and culture of the Deaf community; professionalism and ethics of the field; the in-depth work of learning ASL; and the cognitive and social components of interpretation. Students graduate with a Bachelor's degree and the entry-level skills to pursue national certification in interpreting.
"We are giving students a whole new language, as well as the cognitive processes to go between languages. You are taking a 2-D linear language and trying to put it into a 3-D visual language," says Dr. Delkamiller. "I want students to realize, you need stamina—physical, cognitive, social, emotional—to do it effectively, and you must be an Ally within the Deaf community."
Dr. Delkamiller encourages students to spend three hours a week of outside of classwork to practice their skills. One way to achieve this goal is joining Allies for Sign Language, a UNO student organization dedicated to increasing exposure for ASL on UNO's campus through volunteer opportunities, community events, and monthly meetings.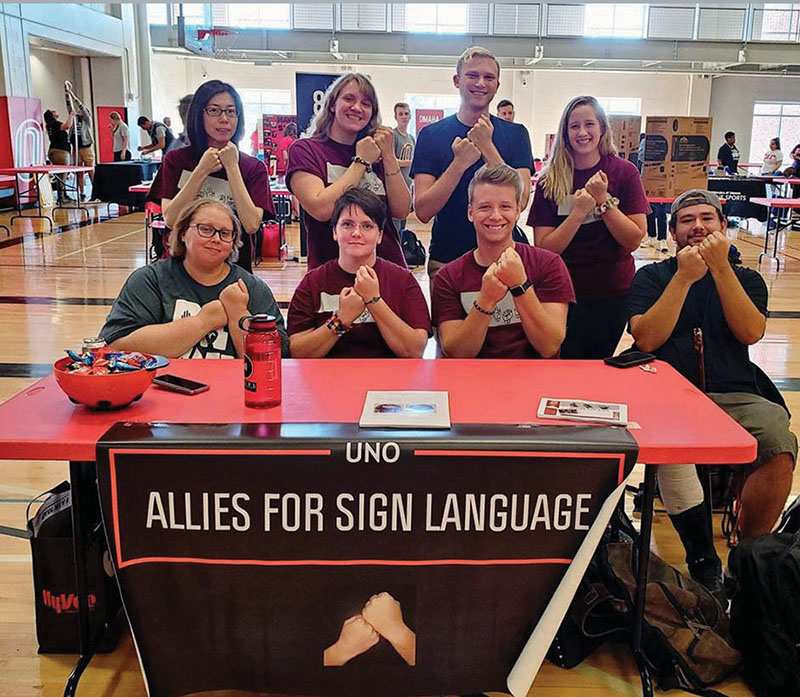 Serving as Allies' president for two years, SLI student Kolten Schnack explains how the student organization recently became more proactive by encouraging in-depth involvement in the community.
"The Allies Executive Committee worked to create innovative events that brought together interpreting students, sign language interpreters, and the Deaf community. The local Deaf community often partnered with us to create opportunities for students to develop their sign language and interpreting skills. The connection between the SLI program and the Deaf community makes this program particularly unique and worthwhile."
Schnack continues, "The SLI program provided me with a rich education and wonderful instructors who deeply invested in my growth over the course of my four years at UNO. The program broadened my worldview and provided endless opportunities to develop my capabilities as a student and as a professional. Because of this program, I have gained a supportive network in the Omaha metro area full of other professionals dedicated to their work and to the local community."
ASL ADVOCACY
Earlier this year, Jonathan Scherling was appointed by the governor to serve as a representative for the Deaf on the Nebraska Commission for the Deaf and Hard of Hearing Full Board. Through the Commission, Scherling offered testimony to the Nebraska Legislature on LB 839, which recognizes American Sign Language as an official language in Nebraska. Scherling said this recognition creates more opportunities for deaf individuals on both a professional and personal level.
"Studying ASL will expand the influence, awareness, and appreciation of the Deaf community among people across Nebraska. It is a great way to break down any stigmas that might be attached to the Deaf culture because we see the world from a different perspective. It also may encourage deaf students in the mainstream program to better understand and appreciate their cultural heritage and language."