Leadership Updates in the College of Education, Health, and Human Sciences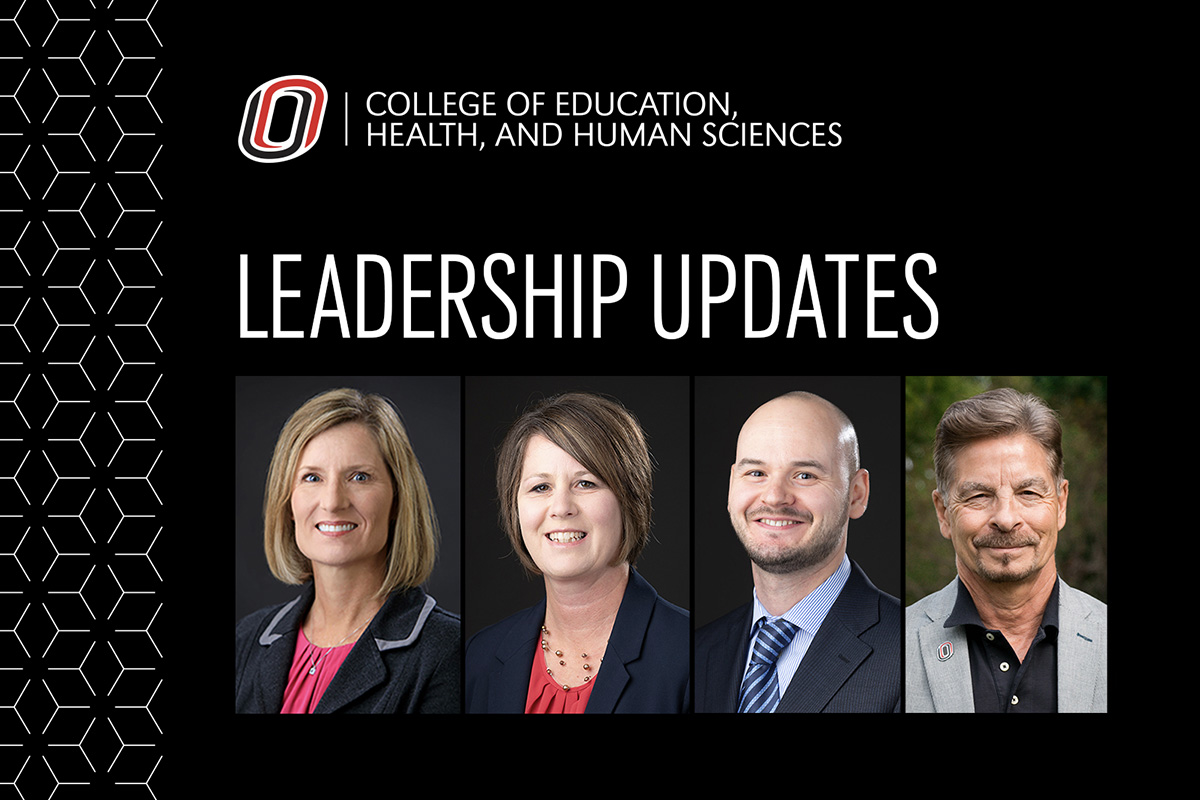 Meet the College of Education, Health, and Human Sciences faculty who have been appointed to new leadership positions for Fall. 
---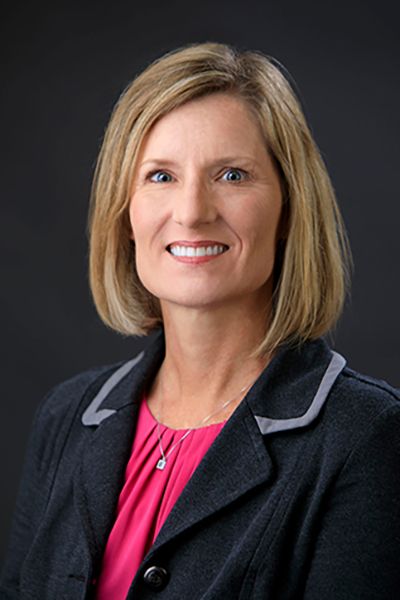 Dr. Kris Swain
Assistant Dean
Kristine Swain, Ph.D. is starting her 20th year at UNO and has served as the Special Education and Communication Disorders department chair and special education faculty member. She completed her Ph.D. in Psychological and Cultural Studies with a focus on Special Education at the University of Nebraska-Lincoln.
Dr. Swain's teaching and research have focused on assessment in special education. She was part of the leadership team that implemented the collaborative UNO/OPS Career Ladder in Special Education and the AACTE Networked Improvement Community focused on the Special Education teacher shortage. Both of these focus on addressing the critical shortage of special education teachers.
Dr. Swain currently serves on the UNO Diversity, Equity, and Inclusion committee and is active in the community through her roles on the Munroe-Meyer Institute Operating Board, WhyArts? Board, and Teammates mentoring. She has served on national and state accreditation site visit teams.
----
"This new role provides me with the opportunity to collaborate with the outstanding faculty and staff throughout the college of CEHHS as I look forward to continuing to advance the programs within our college."
---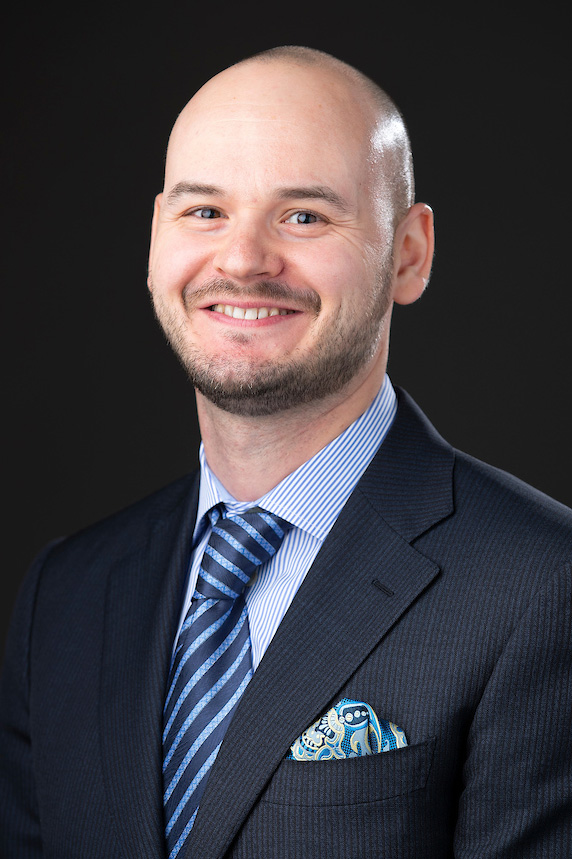 Dr. Alexey Kamenskiy
Chair, Department of Biomechanics
Dr. Alexey Kamenskiy joined the Department of Biomechanics in the Fall of 2019. He earned his Ph.D. in Engineering Mechanics from the University of Nebraska-Lincoln, and advanced through the ranks of Assistant and Associate Professor in the Department of Surgery at the University of Nebraska Medical Center.
The research of Dr. Kamenskiy integrates Biomechanics and Medicine through the use of in vivo, ex vivo, in vitro, and in silico methods and aims at developing more efficient and practical solutions to vascular problems. His lab is particularly interested in vascular mechanophysiology and mechanobiology, aging, and the development of materials and devices for open and endovascular repair. Dr. Kamenskiy closely collaborates with vascular surgeon-scientists who share his interests in developing practical solutions to improve clinical outcomes.
His vision as the new Chair of Biomechanics is to develop a world-class research program in cardiovascular biomechanics while maintaining the Department's reputation as the leader in human movement variability research.
---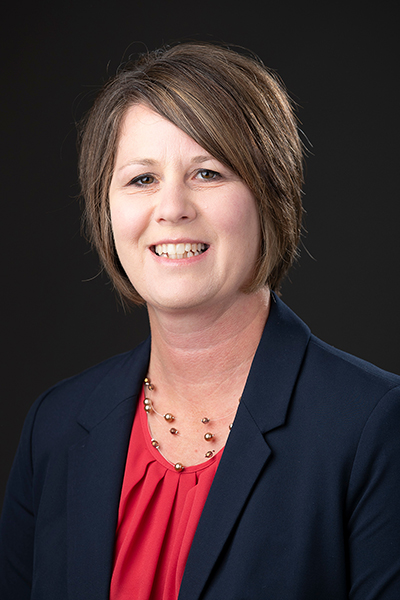 Dr. Elizabeth Leader-Janssen
Chair, Department of Special Education and Communication Disorders 
Dr. Elizabeth Leader-Janssen is professor in the Department of Special Education and Communication Disorders and in her 14th year at the University of Nebraska at Omaha. Dr. Leader-Janssen teaches undergraduate and graduate methods courses in special education. As a former secondary special education teacher, she devotes much of her energy into preparing preservice and inservice teachers to effectively teach reading to struggling learners. Her research interests include preservice teachers perceptions of inclusive practices, literacy instruction for struggling learners and evaluation of online teacher education programs.
Dr. Leader-Janssen is a leader in the area of distance education and has served serves on multiple distance education committees including UNO Digital Learning Directors, Innovation in Pedagogy and Technology Symposium Planning Committee, and University Committee on Technology Resources and Services. Dr. Leader-Janssen was instrumental in shifting the special education graduate program to an online medium in 2012. 
----
"Although we are in uncertain times, this is also a time for collaboration, growth and opportunity in our programs. I am thrilled to begin this new role with the dedicated faculty of the Department of Special Education and Communication Disorders."
---

Dr. David Carter
Interim Chair, Department of Counseling
Dr. David Carter is currently a Peter Kiewit Professor in Counselor Education with over thirty-five years of counseling experience working closely with military personal and their families addressing trauma issues. Dr. Carter has spent his career working in healthcare education and training at the local, state, national, and international levels.
Prior to his 30 years in academia he was the Outpatient Clinical Director at the Omaha Veterans Administration Medical Center and the Executive Director for the South Omaha Counseling Agency. He is a past president of the Nebraska Counseling Association and was the chairperson for the American Counseling Association's Professional Standards Committee.
----
"While these are challenging times for all of us, I am very proud to be associated with such a proactive university system in general and an outstanding and dedicated department specifically. The faculty have rallied together to ensure the safety of our diverse student population while providing academic and clinical excellence through telehealth and other technology. I am passionate and excited about my role as a member of the leadership team at UNO."
Contact Us
If you have a story idea, news tip or inquiry please contact us at: