Three-dimensional (3D) printing is a process of making a 3D solid object of virtually any shape from a digital model. 3D printing technology is used for both prototyping and distributed manufacturing with applications in several areas, such as construction, engineering, dental, and prosthetics among others.
The current cost for a myoelectric prosthetic hand range from $10,000 to $50,000, while the cost for a body-powered prosthetic hand ranges from $4,000 dollars to $20,000.
Due to the complexity and high cost of these prosthetics devices they are not accessible for children of low income or uninsured families. Furthermore, most of the current prosthetics do not adapt to the normal growth of the children limbs which limit their use and replacement. The cheapest option available is a passive prosthetic hook with a cost that range from $ 500 to $1,000 USD.
There is an increasing need for a practical, easy to replace, customized, low-cost, prosthetic hand device for children. Thus, The purpose of the present investigation was to examine improvement in perceived changes in quality of life, daily usage, and activities performed with our low-cost prosthetic hand named Cyborg Beast.
---
UNO 3D Printed Prosthetic, Orthotic & Assistive Devices Laboratory is responsible for the following studies:
Investigation to examine improvement in perceived changes in quality of life, daily usage, and activities performed with our low-cost prosthetic hand named Cyborg Beast.
Subjects: Nine children (two girls and seven boys, three to 16 years of age) with upper-limb reductions (one traumatic and eight congenital) were fitted with our 3D printed prosthetic hand and were asked to complete a survey.
Results: After approximately one (1) to three (3) months of using our prosthetic hand 11 children and their parents reported some increases in quality of life (four indicated that was significant and seven indicated a small increase), while one indicated no change. Nine children reported using the hand one (1) to two (2) hours a day, three (3) reported using the prosthetic hand longer than teo (2) hours and one (1) reported using the hand only when needed. Furthermore, children reported using our prosthetic hand for activities at home (9), just for fun (10), to play (6), for school activities (4), and to perform sports (2).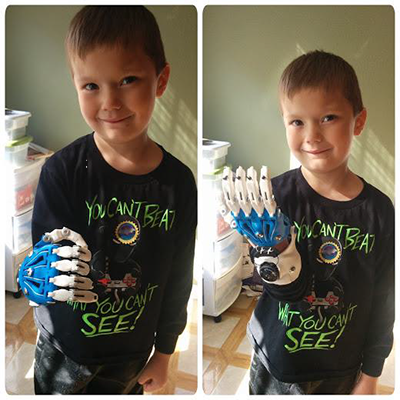 Anthropometric, range of motion and strength changes after 6 months of using an open source 3D-printined transitional hand prosthesis for children
Subjects: Five (5) children (two girls and three boys, three to 10 years of age) with absent digits (one traumatic and four congenital) participated in this study and were fitted with a 3D printed transitional hand prosthesis.
Results: There were significant hand × time interactions for the forearm circumference, active range of motion for flexion and extension values. There were no significant hand x time interaction, however, for wrist flexion strength, wrist extension strength, active range of motion for ulnar deviation, active range of motion for radial deviation and forearm skinfold values.
---
Investigation to propose a prosthesis fitting methodology that can be performed at a distance

An image editing program was used to perform several measurements.
A: wrist extension
B: wrist flexion
C: Top view
C1: Non-affected hand length
C2: Non-affected hand width
C3: Non-affected forearm length
C4: Non-affected forearm width
C5: Affected hand length
C6: Affected forearm length
C7: Affected forearm width
Method: Three pictures were taken and were used to provide a secondary assessment of range of motion, length, width, and shape of the upper limbs.
Results: No significant mean difference between the anthropometric measures taken directly on the subject's upper limbs and those taken from the photographs.
---
The Development of a Low-cost 3D printed Shoulder Prosthesis for Children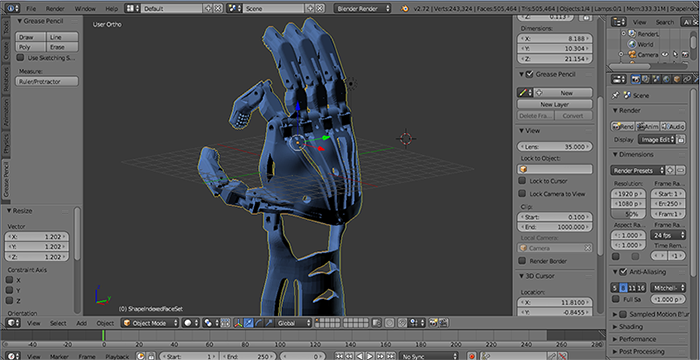 The purpose of this project was to design an inexpensive 3D printed shoulder prosthesis to perform bi-manual and unilateral activities with a functional grasp.
The mechanical device utilized in the study is able to achieve gross grasp by protracting the non-affected shoulder.
Additionally, the prosthesis allows for manual adjustment options for wrist pronation and supination, elbow and shoulder flexion and extension, as well as shoulder internal and external rotations.