We offer one of the few programs in the country where students can receive an undergraduate education in biomechanics, offering a Bachelor of Science in Biomechanics and minor in Biomechanics.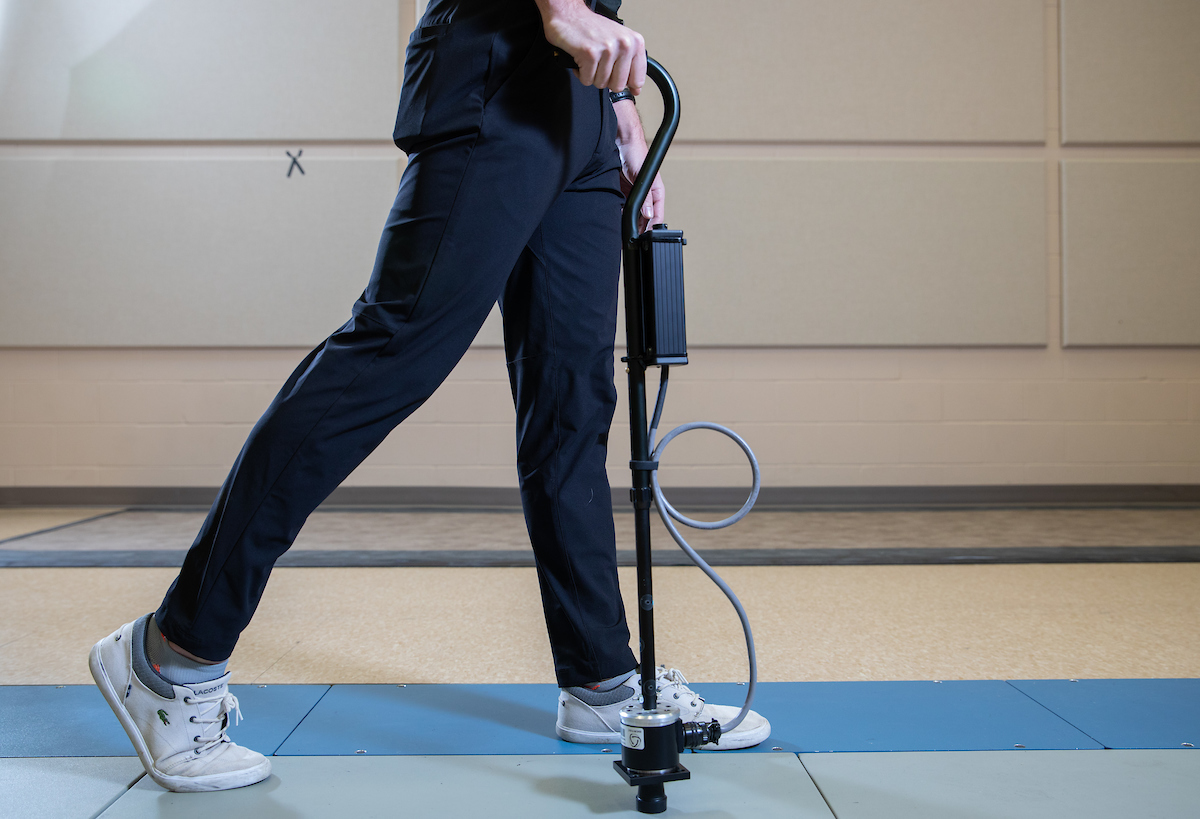 Bachelor of Science in Biomechanics
Biomechanics is the study of forces that act on the body and the effects they produce. Biomechanists work in collecting and analyzing biological and movement-related data, examine the efficacy of drugs that affect movement, and generate biotechnologies that improve functionality and monitor mobility. The study of biomechanics is a unique intersection of biology, physiology, anatomy, physics, mathematics, and chemistry to solve difficult problems in medicine and health.
This program is an excellent choice for students planning to continue their education in professional schools for physical or occupational therapy, or medicine, and other science-based programs.
The 120-hour curriculum is composed of two key components:
UNO's general undergraduate education requirements (43 hours)
Professional Core consists of natural science, mathematics, and practica requirements (99 hours)
Related coursework should provide students a strong and broad base from which to choose a more specific master's or doctoral program such as Biomechanics, Biomedical Engineering, Biophysics, Biotechnology, Exercise Physiology, Kinesiology, Motor Control, etc.
For admission requirements, degree requirements, and course descriptions, please visit our catalog page.
Admission Requirements
Admission requirements for the B.S. in Biomechanics are the same as admission to UNO. Once students are admitted to the B.S. in Biomechanics program they will also be a student in the College of Education and required to maintain a cumulative GPA of 2.5 on a 4.0 scale. Grades of C- or better in the core courses are required to remain in good standing with the College of Education.
Bachelor of Science in Biomechanics Worksheet
Student Learning Outcomes Information
Fast Track Program
The Department of Biomechanics has developed a Fast Track program for highly qualified and motivated students providing the opportunity to complete a bachelor's degree and a master's degree in an accelerated time frame. With Fast Track, students may count up to 9 graduate hours toward the completion of their undergraduate program as well as the graduate degree program.
Program Specifics
This program is available for undergraduate students pursuing a BS in Biomechanics desiring to pursue an MS in Biomechanics.
Students must have completed no less than 60 undergraduate hours
Students must have a minimum undergraduate GPA of 3.0
Students must complete the Fast Track Approval form and obtain all signatures and submit to the Office of Graduate Studies prior to first enrollment in a graduate course
Students will work with their undergraduate advisor to register for the graduate courses
A minimum cumulative GPA of 3.0 is required to remain in good standing
Students remain undergraduates until they meet all the requirements for the undergraduate degree and are eligible for all rights and privileges granted undergraduate status including financial aid.
Near the end of the undergraduate program, formal application to the graduate program is required. The application fee will be waived, the applicant will need to contact the Office of Graduate Studies for a fee waiver code.
Admission to Fast Track does NOT guarantee admission to the graduate program.
Applicants for this program are highly encouraged to pursue research opportunities in the Department of Biomechanics or comparable programs.
The admit term must be after the completion term of the undergraduate degree.
Minor in Biomechanics
The minor in Biomechanics is designed to offer a formal Biomechanics course load to students interested in applying their primary discipline to Biomechanics and movement sciences. Biomechanics, at its core, is an interdisciplinary field, with applications in robotics, forensics, ergonomics, assessment of movement disorders, and the design of assistive devices.
The minor offers students the opportunities to learn about the applications and opportunities that arise from a combination of biomechanics with their major's curriculum. Possible disciplines that complement the minor in Biomechanics include:
Biology
Chemistry
Computer Science
Neuroscience
Physical Education
Physics
Psychology
Students from all majors are welcome to enroll in the Minor in Biomechanics and should contact the Department of Biomechanics advisor if interested.
Minor in Biomechanics Worksheet
Minor in Sports Biomechanics
Sports science, biomechanics, and analytics have recently become popularized. Professional sports, collegiate sports, and athletic performance clinics, among others have recently prioritized hiring biomechanists to improve sports performance and identify risk for injury.
The minor in Sports Biomechanics is designed to prepare students for careers in these occupations whose majors are outside of Biomechanics yet have an interest in potentially pursuing a career or advanced studies in sports biomechanics.
The minor is designed to:
Explore careers and course content related to sports biomechanics
Provide foundational knowledge for students who may be interested in pursuing further education in biomechanics, kinesiology, sports sciences or allied healthcare (e.g. athletic training, physical therapy) careers
Minor in Sports Biomechanics Worksheet
Forms and Resources
Bachelor of Science in Biomechanics Worksheet
Minor in Biomechanics Worksheet
Minor in Sports Biomechanics Worksheet
UNO Biomechanics Degrees One-Sheet
Advising
For appointments, current Department of Biomechanics students may schedule appointments online or call 402.554.2670. The advising office is located in 207 H&K and the office is open Monday-Friday 8 A.M. - 5 P.M. During peak registration times be prepared to schedule appointments at least three (3) days in advance.
Waitlisting
Please visit the Academic Advising page to complete the waitlisting form for BMCH courses that have reached enrollment capacity.
Contact Advising
Email: unohk@unomaha.edu

Phone: 402.554.2670