Letter from the Founding Chair
Rethink the Impossible
When I started at UNO in 1996 as a young Assistant Professor teaching three courses per semester with a small room of about 900 square feet as a laboratory, I would not have believed it possible that in 2013 I would enjoy the honor and privilege of walking into the 23,000 square feet Biomechanics Research Building. At that time our building was going to house myself and two other young Assistant Professors and previous trainees of mine, Dr. Sara Myers and Dr. Mukul Mukherjee. However, three years later we have successively received the largest research award in the history of our University (a $10 million 5-year grant to develop the Center for Research in Human Movement Variability), we have established our Bachelor of Science in Biomechanics, one of a very few of its kind in the world, and have now created the Department of Biomechanics. I am absolutely thrilled to be its Founding Chair.
Our Department of Biomechanics provides us with tremendous flexibility and allows our faculty, who are also members of our Center for Research in Human Movement Variability, to focus their time and work on research. Just recently I was told by an esteemed scientist from another university, who had also developed and nurtured a Center through 15 years of continuous funding via the same NIH funding mechanism, that if he wished he had done anything differently, it would have been to create a department to house all the faculty members of his center. We are so blessed that the leadership of our University has helped avoid such a misstep by creating for us the Department of Biomechanics! 
Furthermore, our Department is the first research-oriented department in our teaching-oriented University, signaling a small but substantial change in the character of our institution. We are starting to transform the research culture at UNO by augmenting the research "know-how" assets within the University, which will hopefully lead to success in several other fields. This change is strongly supported by our University's administration which helped me to grow the number of faculty in our Department to 11 members by the Fall of 2017. Importantly, our new faculty are arriving from universities with long tradition in research such as the University of Delaware, Harvard University, and the University of California Berkeley. Our goal is that these new faculty will add their outstanding research capabilities to the existing ones so we can together reach novel goals in biomechanics leading to innovation in biotechnology.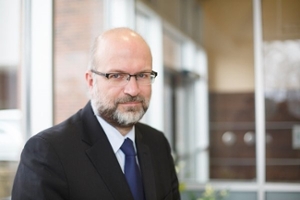 Lastly, since our students receive a BS in Biomechanics, our Department of Biomechanics is truly a pioneering academic environment as is the only department in the world that actually produces biomechanists.  As the current president of the American Society of Biomechanics stated just recently when he was visiting our Department: "This is where things are happening in biomechanics. You are making history for our field."
Personally, I feel so blessed that I can see in front of my eyes the unfolding of the "BiOmaha Field of Dreams" where we always rethink the impossible. Nothing seems truly impossible in our endeavors anymore.
Thank you,