The Machining and Prototyping Core Facility involves the use of three major facilities within the University of Nebraska at Omaha Biomechanics Research Building:
The Machine Shop
Electronics Workshop
Additive Manufacturing Laboratory
The most basic function of the Core is to provide services that utilize these spaces and their personnel and equipment. These services are for professionals in the University of Nebraska system, the local area, but also for people outside our state to progress their research or other projects.
This core can design, prototype, manufacture and repair, maintain, or install a wide range of devices and instrumentation. Individuals interested in the use of the Machining and Prototyping Core Facility services can fill out a project initiation form.
Machine Shop
The Machine Shop is a 1223 ft2 space with included engineering office and garage-equipped work bay houses the Machining and Prototyping Core (MPCore). The Machine Shop is equipped with both traditional and advanced machinery that allows for prototyping and fabrication in materials ranging from various woods, to metals, plastics, and other unique composite materials. Equipment in this space includes a wide collection of hand tools, a traditional knee mill (Knee Mill, Bridgeport, New York, USA), metal lathe (Optimuum, Germany), 3-Axis CNC milling machine (Baron, China), vertical band saw (Powermatic, Tennessee, USA), table saw (Powermatic, Tennessee, USA), compound miter saw, drill press (Powermatic, Tennessee, USA), belt/disc sander (Powermatic, Tennessee, USA), 3-Axis CNC routing machine (Powermatic, Tennessee, USA), bench grinder (Jet, Washington, USA), sewing machine (Bernina, Steckborn, Switzerland), VLS 6.60 laser cutter (Universal Laser Systems, Arizona, USA) HandyScan 700 Laser 3D scanner (Creaform, Quebec, Canada), and a small format circuit board CNC milling machine (Bantam Tools, California, USA). Also included are large scale additive manufacturing machines that include four Pro2 Plus (Raise3D, Irvine, CA, USA), a Rostock Max V2 and V3 (SeeMeCNC, Ligonier, IN, USA), a 300 Series Workbench Pro (3D Platform, Roscoe, Illinois, USA).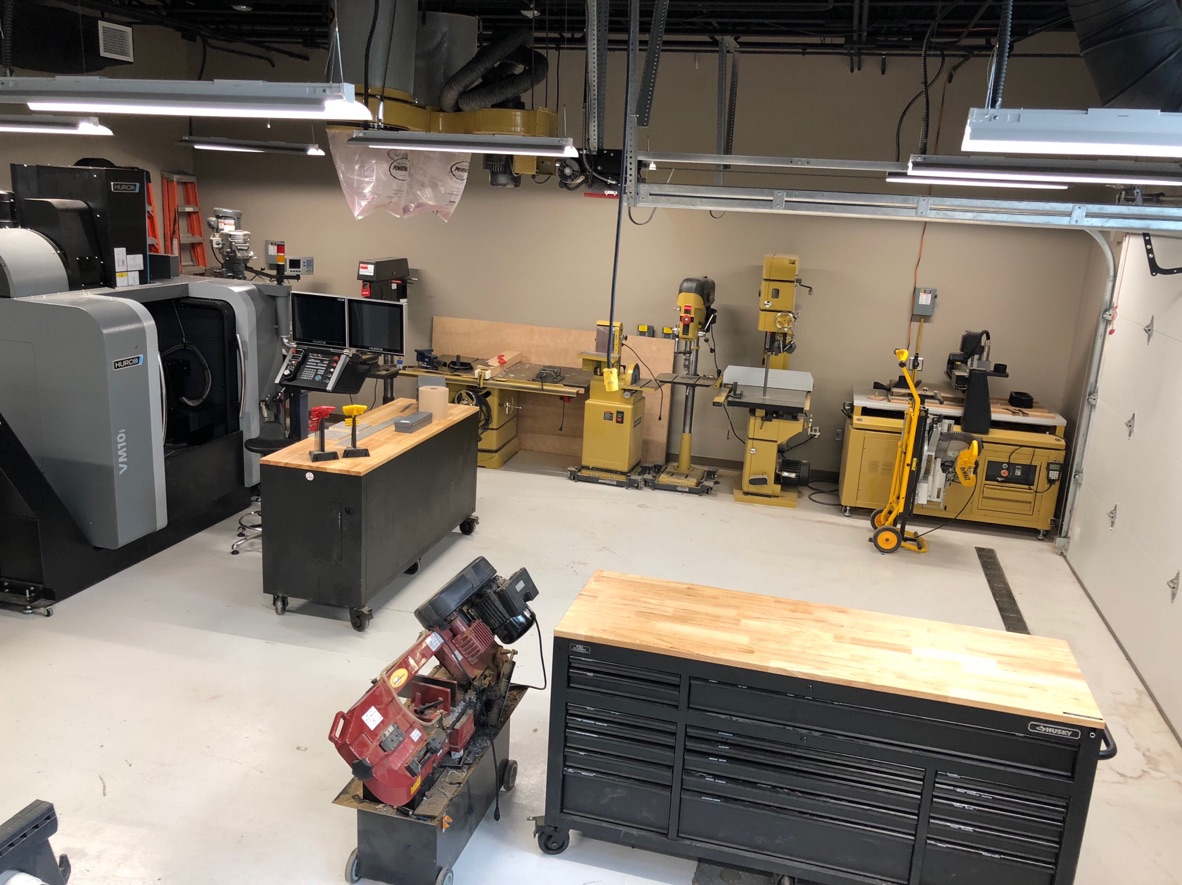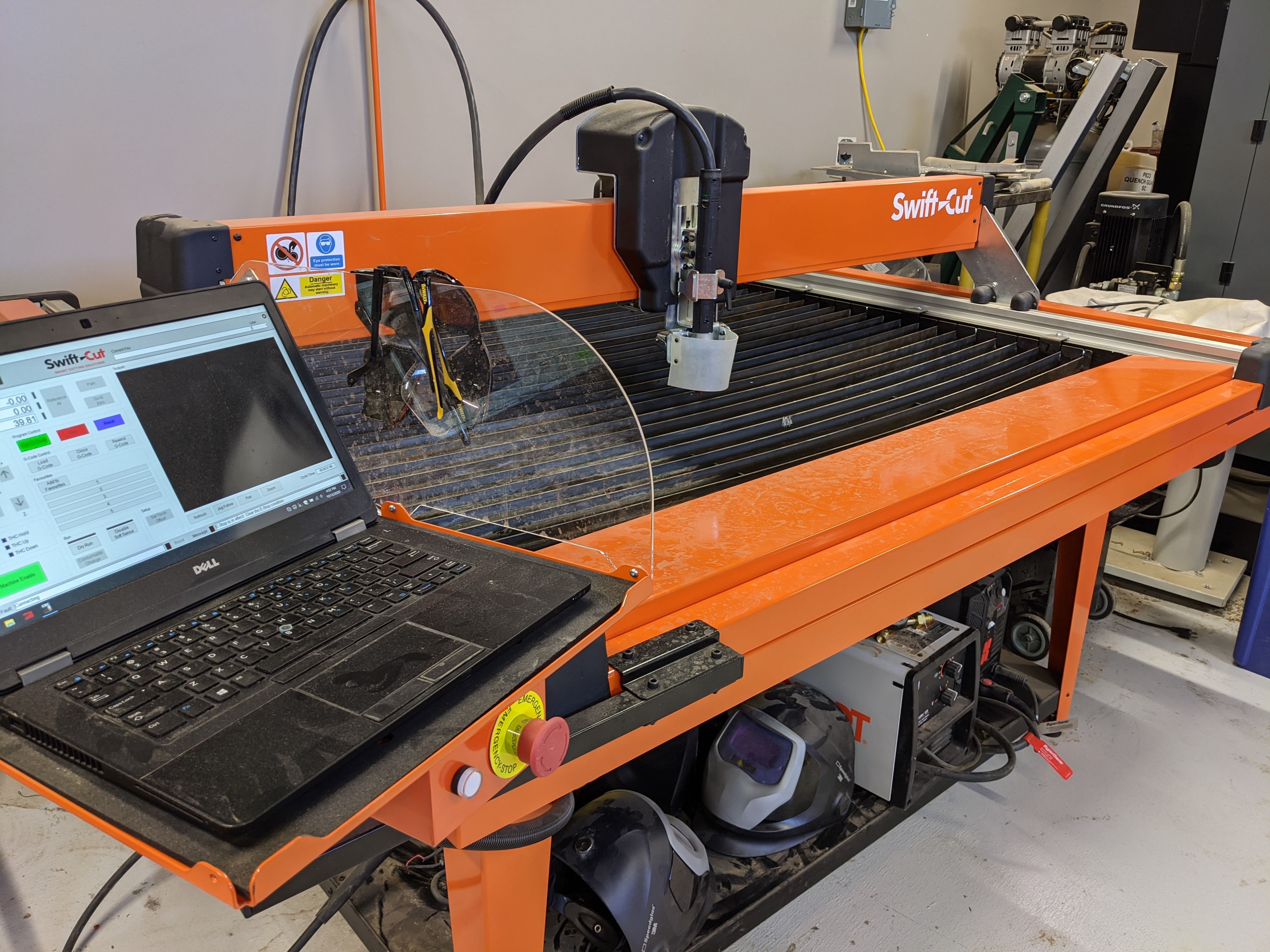 Design Studio
The Design Studio is a 470 ft2 space that is dedicated to supporting student researchers in planning, conceptualization, design, and basic fabrication for research projects. The studio is equipped with workstations capable of industry-grade CAD software, simulation, and analysis. Also available to studio users are basic hand tools, power tools, collaborative creative spaces, and functional prototyping layouts.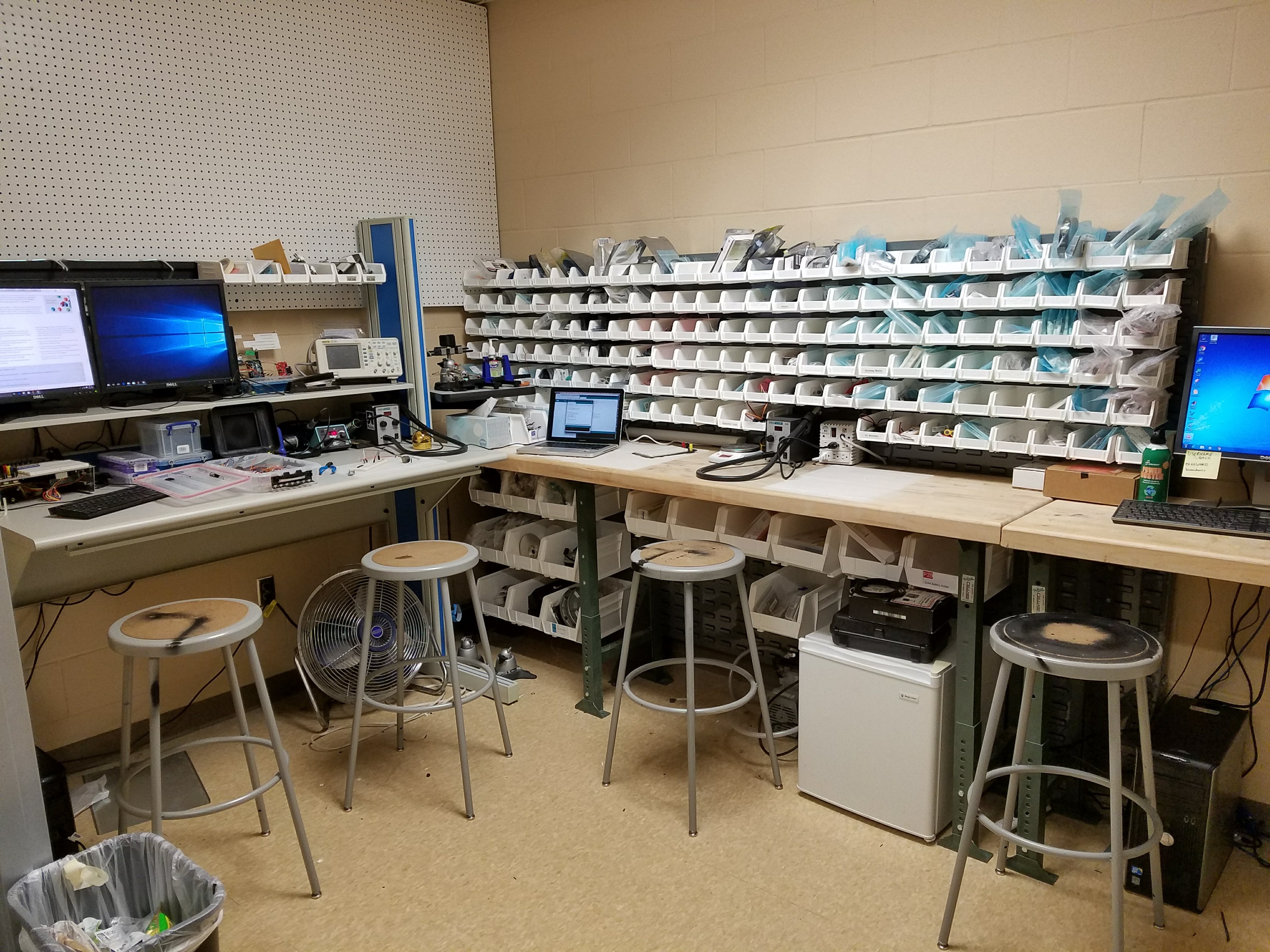 Additive Manufacturing Laboratory
The Additive Manufacturing Laboratory includes a primary 675 ft2 space for general activities and a secondary 224 ft2 space specifically designed for printing metal components. The space has six Ultimaker 2+ Extended (Ultimaker, Geldermalsen, Netherlands), two uPrint SE plus (Stratasys, Eden Prairie, MN, USA), an Objet 260 Connex3 (Stratasys, Rehovot, Isreal), a Robo R2 (Robo 3D, San Diego, CA, USA) and a Form 2 and Fuse 1 (Formlabs, Somerville, MA, USA). The secondary space has a ProX DMP 200 (3D Systems, Rock Hill, SC, USA), with specially designed ventilation and fire suppression systems. Two of the printers are capable of Stereolithography, 2 by Selective Laser Sintering and the remaining through Fusion Deposition Modeling. Three can print support materials that can be dissolved in a special solution or removed with a contained power washer. Printing materials include plastics, wood, metal and composites.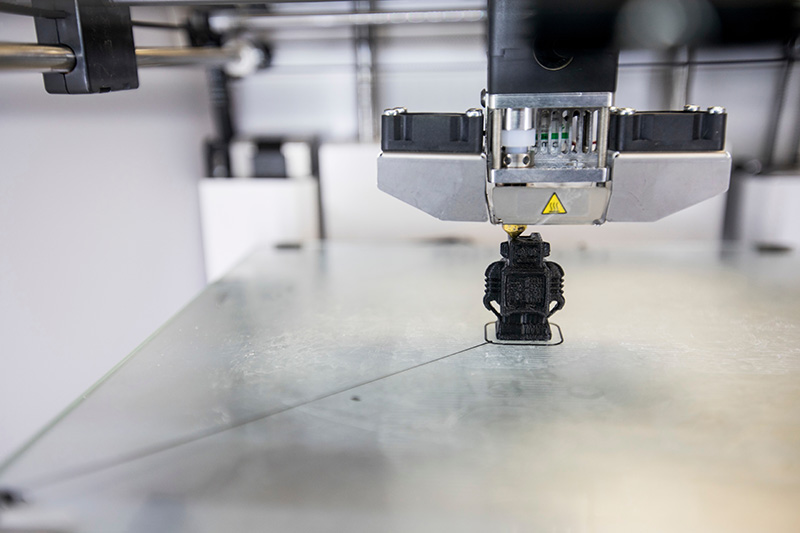 Rates
| Internal | External |
| --- | --- |
| $60 | $90 |
FY2022 rates as of 10/08/2021
Forms
Personnel
Dr. Brian Knarr, Core Facility Director
Mr. Russell Buffum, Research Development Engineer
Mr. Andrew Walski, Research Development Engineer