NONAN Core Services
Access to "tried and true" and cutting-edge nonlinear analysis tools
Assistance in experimental design
Custom nonlinear analysis software
Data processing
Interpretation and dissemination of results
Statistical analysis (e.g., regression, ANOVA, linear mixed effects modeling, structural equation modeling)
Validation studies
The Core is also actively exploring and validating new techniques and algorithms for the next generation of nonlinear analysis.
Resources
We are experts in the following methods. These methods can be performed with the Nonlinear Analysis Core Library of code to perform these methods can be found here.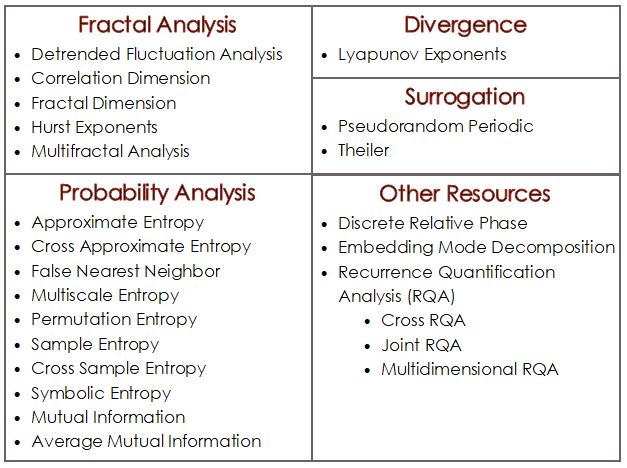 ---
Annual Nonlinear Analysis Workshop
Every year the Core holds a workshop centered on the nonlinear analysis of human movement. Its purpose is to introduce research scientists, clinicians, educators and students to a variety of nonlinear methods. For more information please visit the Workshop's webpage.
---
Initiate Work with the Core
Complete a Project Initiation Form and send it to bmchnonan@unomaha.edu.
This will be followed by a communication from the Core to better understand your needs.
The Core will send a contract regarding the project.
The Core will send a quote for the work.
Provide to the Core data or other items needed to complete the work.
Work commences.
Rates
The current rate is $50 per hour.
---