Community Outreach
The Division of Biomechanics and Research Development participates regularly in community outreach events. Organizations that we have worked with include KANEKO, the Omaha Henry Doorly Zoo, University of Nebraska Medical Center, local public and private schools and universities, and more!
Building Tours
We offer tours of the research labs in the Biomechanics Research Building. These tours can be tailored to the needs of the group. Examples of tours given include potential Biomechanics students, Elementary, Middle, and High School student groups, businesses, potential collaborators, or anyone interested in learning more about Biomechanics research!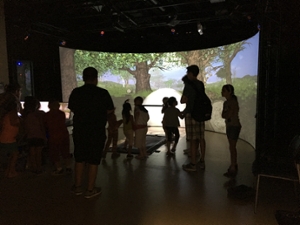 Students from Sherman Elementary participate in a tour of the Virtual Reality Lab.
National Biomechanics Day
National Biomechanics Day was founded in 2016 and is a world-wide celebration of Biomechanics, focusing on informing students from the community about the field of Biomechanics.
Each year we host student groups from the Greater Omaha area. Interested student groups can contact Dr. Amelia Lanier.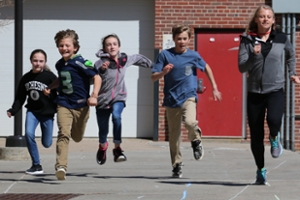 Undergraduate student Alyssa Averhoff demonstrating stride length with students on National Biomechanics Day.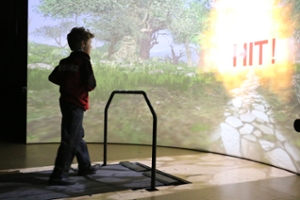 A student experiencing our Virtual Reality Lab on National Biomechanics Day.