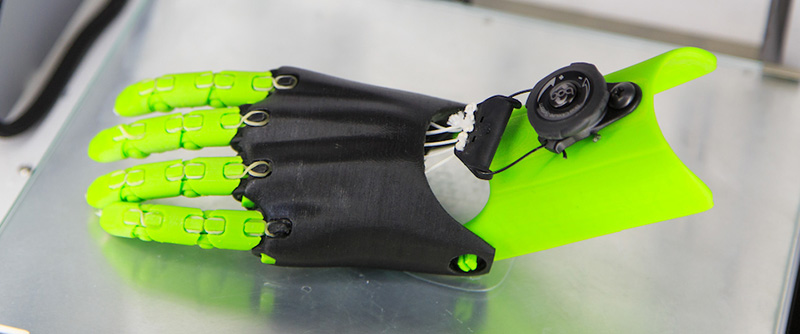 Our Mission
Our mission is to create customized low-cost prosthetic and orthotic solutions for underserved populations, and provide technical support to educational and medical institutions desiring to offer low cost devices using 3D printing technology.
Our long term goal is to develop a line of visually appealing, easy to assemble, low-cost 3D printed prosthetic and orthotic devices for children with upper and lower limb differences. The aim is to facilitate the promotion of normal growth and development of motor skills by encouraging active participation in sports and other recreational activities.
---
The Cyborg Beast
Our low-cost, 3D-printed prosthetic hand named "Cyborg Beast" was designed using modeling software called Blender and manufactured in the researcher's laboratory using desktop 3D printers.
Elastic cords placed inside the dorsal aspect of the fingers provide passive finger extension. Finger flexion is driven by non-elastic cords along the palmar surface of each finger and is activated through 20-30 degrees of wrist flexion.
The result is a composite fist (flexing the fingers towards the palm) for gross grasp.
Materials
The materials used for printing our prosthetic hand are polylactide (PLA) plastic and acrylonitrile butadiene styrene (ABS).
Other components of the prosthetic hand include Chicago screws of various sizes, 1 mm lift nylon cord, 1.5 mm elastic cord, Velcro, medical-grade firm padded foam, protective skin sock, and a dial tensioner system.
Cost
The majority of these materials are available at local hardware stores or online, costing approximately $50 USD. The weight of a fully assembled hand at 140% of its original size is 184.2 grams. A similar device costs approximately $4,000 and weighs about 400 grams.
Assembly Time
The average time to fully assemble the prosthetic hand design is approximately 2.5 hours.
Use
The Cyborg Beast prosthetic hand is well suited for activities that involved the manipulation of light objects using lateral, power (composite), and spherical prehensile patterns.
---