Join us for Alumni Pep Band!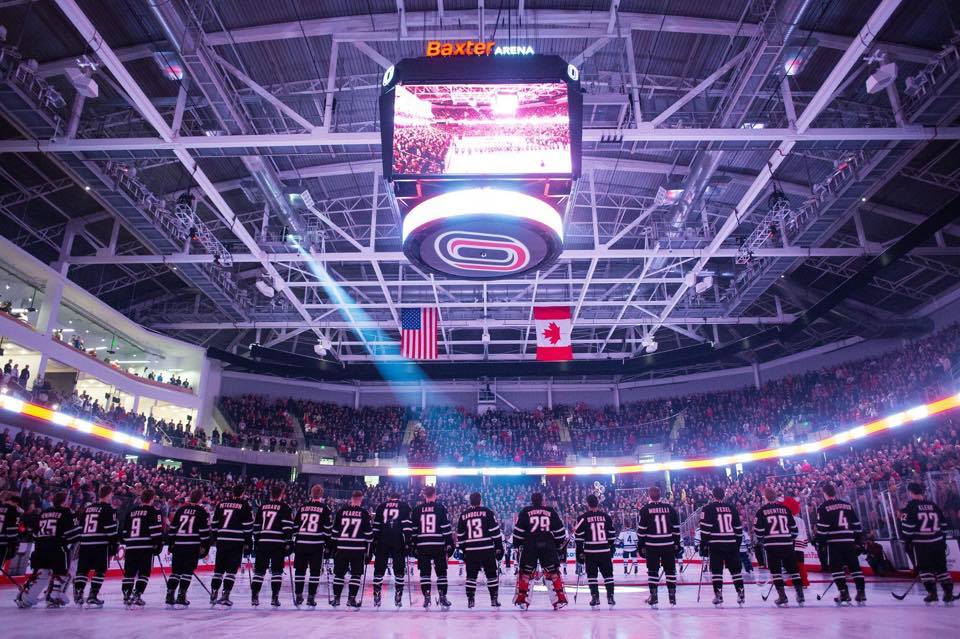 ---
Are you a UNO hockey fan? Have you been thinking about dusting off your old horn or drumsticks? Have you been hunting for a reason to meet up with UNO Band friends from yesteryear? Look no further! The UNO Bands are proud to welcome all of our alumni to join current UNO students in the "Maverick Machine" pep band in the stands at the UNO vs. Western Michigan hockey game on Saturday, February 2, 2019 at Baxter Arena!
If you intend to participate, please let us know using the instructions below. There will be a rehearsal with the full band on January 29, 2019 in room 109 in the newly-renovated and expanded Strauss Performing Arts Center (the UNO School of Music) from 8:00 PM to 9:30 PM. Maps are linked below regarding parking and entrances to both the School of Music and Baxter Arena. The official Alumni Band t-shirt ($5.00) will serve as the credential for admission to Baxter Arena.
---
How to Participate
RSVP
Please let us know you are joining us! In order to RSVP, please complete the form here: RSVP Confirmation Form (click here)
Cost
The official Alumni Band t-shirt will also serve as the credential to enter the game. We will be selling shirts for $5.00 each. If you already have an alumni pep band shirt from Fall 2017, you do not need to purchase another one.
Instruments
You may request a University instrument from our Graduate Assistant as needed. Please contact Cassie Rathman at crathman@unomaha.edu. The university pep band uses a drumset for the event. Alumni percussionists may play auxiliary instruments for Alumni Hockey Band. Reeds for woodwind instruments are also not available from the UNO Bands.
Music
Music for the Alumni Hockey Band will be provided at rehearsal on Oct. 9.
Parking
School of Music
Park in Lots D/E. Community Engagement Center Visitor Lots.
Address: 6400 South, University Drive North, Omaha, NE 68182
*East & West garage parking also available. See map (click here).

Baxter Arena
Parking information for the arena will be provided at rehearsal on January 29.
Rehearsal—Jan. 29, 2019
January 29, 2019 from 8:00-9:30 PM in the UNO School of Music, room 109, with current pep band members.
Game Day Schedule—Feb. 2, 2019
6:15 PM | Report to Section 110 (Adjacent to Student Section) in Baxter Arena
6:40 PM | Maverick Victory Fanfare and Welcome Announcement
7:07 PM | Puck Drop (UNO vs. Western Michigan) – GO MAVS!
9:30 PM | Game Ends (approximately)