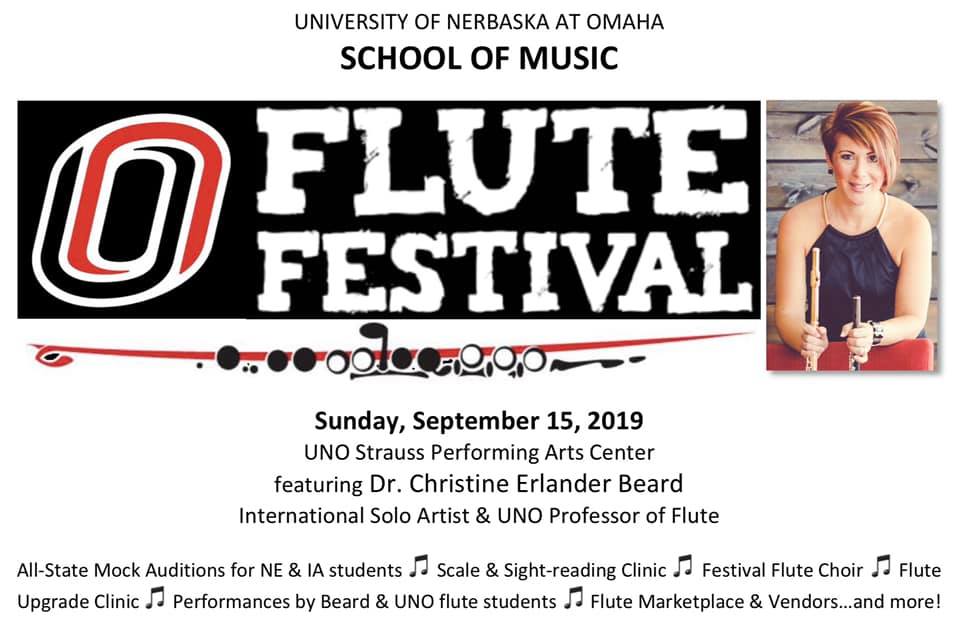 The festival is FREE. Students are asked to bring a copy of their own All-State music to perform in a "mock audition" and receive valuable feedback from our judging panel. You will also have an opportunity to hear Dr. Beard as well as UNO flute students perform, play in a flute choir, and you will be able to try out numerous professional and semi-professional flutes/piccolos on display from our on-site flute vendors.
We look forward to seeing you!
If you have any questions about the event, please email Dr. Christine Beard, Professor of Flute, at cbeard@unomaha.edu
When: Sunday, September 15, 2019; 11:00am registration opens; festival events run from 12:00-6:30pm
Where: UNO Campus, Strauss Performing Arts Building
Cost: FREE; afternoon snacks will be provided
What: You will need to bring your own All-State music and your flute/piccolo; cash for flute merchandise or extra snacks (optional)
Festival Schedule:
 11:00-12:00pm: ON-SITE REGISTRATION – PAC Lobby
                          -Warm-up space will be provided; inquire at the registration desk
12:00-5:30pm: EXHIBITORS open (Flute Authority, Burkhart + others TBA) – PAC 131
12:00pm: WELCOME! – PAC Concert Hall
12:15-1:15pm: Scale & Sight-reading clinic with Dr. Beard – PAC 109
                       -Learn important tricks on how to score better in these elements of an audition!
1:30-3:00pm: All-State Mock Auditions for NE & IA high school students – PAC 105
                     -Time slots will be assigned upon registration.
2:00-2:50pm: Clinic Session: Maintenance Workshop with Lauren Carr – PAC 109
                      -Lauren is a certified flute technician for The Flute Authority (Coralville, IA)
2:50-3:15pm: BREAK  - snacks provided; visit the flute vendors
3:15-4:05pm: Clinic Session: Flute Shopping Tips with Daniel Carlo – PAC 109
                      -Daniel is a flute & piccolo sales specialist for Burkhart Flutes (Boston, MA)
4:15-5:15pm: Recital: Dr. Christine Beard & UNO students – PAC Recital Hall
                      -Music by Andy Scott, Nicole Chamberlain, Amanda Harberg, Gary Schocker & Ian Clarke; with Stacie Haneline, piano
5:30pm: Flute Choir Reading Session for all participants – PAC Concert Hall         
              -Join the Heartland Flute Choir on stage to experience playing in a mass flute choir with alto & bass flutes!
6:30pm: UNO Flute Festival concludes