Band, Orchestra, and Choir Honor (BOCH) Festival
UNO's School of Music created the BOCH Festival in 2007. While most institutions hold separate honors events for each ensemble, the BOCH Festival combines these groups to host an event that brings more than 300 high school students from across Nebraska and the Midwest to work with nationally renowned clinicians. This unique experience culminates with a performance at the Holland Performing Arts Center.
Though a rigorous audition process, high school musicians from across Nebraska and surrounding states are selected to come together and perform with other musicians at one of Omaha's premiere performance venues. Students have the opportunity to work with UNO Music faculty and students as well as guest clinicians in both masterclass and rehearsal settings. It is a fun-filled weekend of music making and learning with other talented musicians.
January 26-28, 2018

---
Finale Concert & Ticket Information
The Finale Concert will be held at the Holland Performing Arts Center at 1:30 P.M. on Sunday, January 28, 2018.
Tickets can be purchased through Ticket Omaha through the following methods:
Online: https://ticketomaha.com/Productions/uno-boch-festival_2018
Phone: 402.345.0606
Box Office: Located at the Holland Performing Arts Center
---
Hotel Information
This year there is no official BOCH Festival hotel. There are many area hotels close to the UNO campus that you may consider.
---
Honor Bands
Students who audition for the BOCH Festival Bands will be placed in one of our two ensembles, the Honor Wind Ensemble or Honor Band. Students will get to work with UNO faculty, attend rehearsals, masterclasses, and concerts during the festival.
The Honor Wind Ensemble conductor for 2018 will be Dr. Karen Fannin, UNO Director of Bands. For part assignment audition music, please click the appropriate instrument: Piccolo, Flute, Oboe, B-flat Clarinet, Alto Saxophone, Trumpet, F. Horn, Tenor Trombone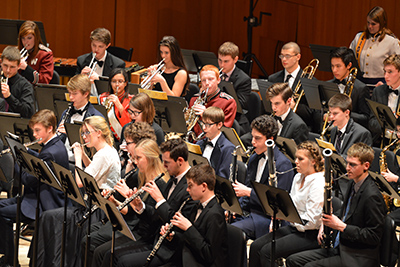 The Honor Band conductor for 2018 will be Dr. Joshua Kearney, UNO Director of Athletic Bands.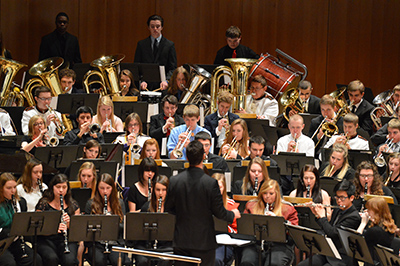 ---
Honor Orchestra
String students throughout the Midwest participate yearly in the UNOBOCH Honor Orchestra. These students have the opportunity to work with UNO faculty and guest clinicians to perform great repertoire, as well as attend concerts andmasterclassess throughout the weekend. Prof. Aaron Breid will be the conductor of the 2018 Honor Orchestra.
Public domain orchestra music PDFs may be found by clicking here: Violin I, Violin II, Viola, Violoncello, Double Bass.
If you have been selected to audition for a principal designation, your audition music may be found here: Violin I, Violin II, Viola, Violoncello, Double Bass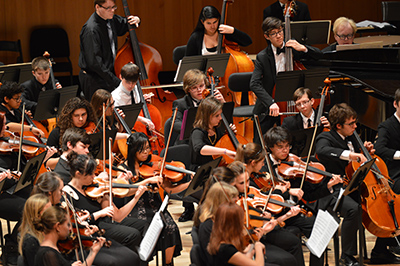 ---
Honor Choir
Dr. Derrick Fox, UNO Director of Choral Activities, will conduct the 2018 Honor Choir. This three-day event will include rehearsals of the Honor Choir, masterclasses, a UNO Faculty Showcase recital, concerts featuring the UNO Ensembles, and other fun activities.
Public domain choral music PDFs may be found by clicking here.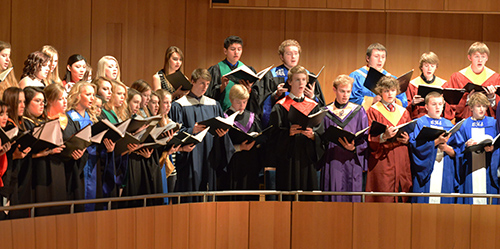 Our Campus. Otherwise Known as Omaha.
The University of Nebraska does not discriminate based on race, color, ethnicity, national origin, sex, pregnancy, sexual orientation, gender identity, religion, disability, age, genetic information, veteran status, marital status, and/or political affiliation in its programs, activities, or employment. Learn more about Equity, Access and Diversity.
scroll to top of page