Music Ensembles
Audition Ensembles
The Music Department has ensembles that require an audition to participate. These ensembles require a higher level of dedication and considerably more practice time to learn music outside of rehearsals. Participation in one of these ensembles gives students an opportunity to travel to arcoss the world including Europe, Japan, South America, and more!
The following ensembles require an audition before you can participate:
Bands
Choirs
Jazz Ensembles
Orchestras
Chamber Ensembles
Visit our Audition & Scholarships page for more information about this process.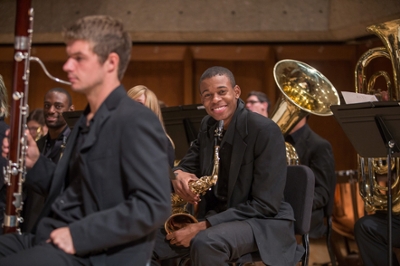 Non-audition Ensembles
These ensembles are open to all UNO Students and can be taken for the Humanities/Fine Arts General Education credits.
The following ensembles are open to join with no audition:
Marching Mavericks
University Chorus
University Band
Heartland Community Flute Choir