Heartland Philharmonic Orchestra
The orchestral program at UNO centers around the 70 member Heartland Philharmonic Orchestra comprised of students and community players. In order to provide a rich variety of musical experiences, the orchestra presents a minimum of two concerts each semester covering a wide range of repertoire from the Baroque era to the present and offers a challenging and rewarding symphonic experience.
The Heartland Philharmonic Orchestra's programs have been featured on Omaha's local classical radio station, and they recently performed at Nebraska MENC conference for the first time. HPO has performed at the Holland Performing Arts Center, and annually performs several special concerts, including the popular Halloween "Hauntcert." Several guest artists from the Omaha Symphony and UNO Music Faculty have performed as soloists with HPO.  Auditions are held each fall and community members are invited to audition. For more information about the Heartland Philharmonic Orchestra, contact Barry Ford.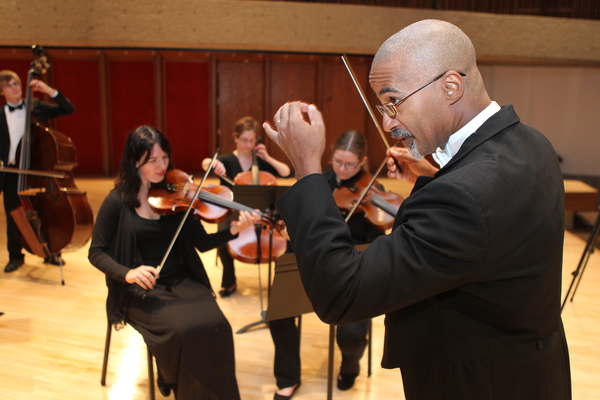 UNO Chamber Orchestra
Under the direction of Barry Ford, the Chamber Orchestra is an ensemble that specializes in music written for a small orchestra, from the Baroque period through the Twentieth Century. Composers such as J.S. Bach, Vivaldi, Mozart and Stravinsky are commonly programmed. The group also offers students an opportunity to appear in concerto performances and provides extensive education and performance experience in chamber music. Chamber Orchestra is a vital part of a complete education in orchestral music.
Auditions are held each fall. For more information about the UNO Chamber Orchestra, contact Barry Ford.