Remembering Lou Ann Weber
published: 2023/05/02
contact: Brandon Bartling - Office of Strategic Marketing and Communications
email: unonews@unomaha.edu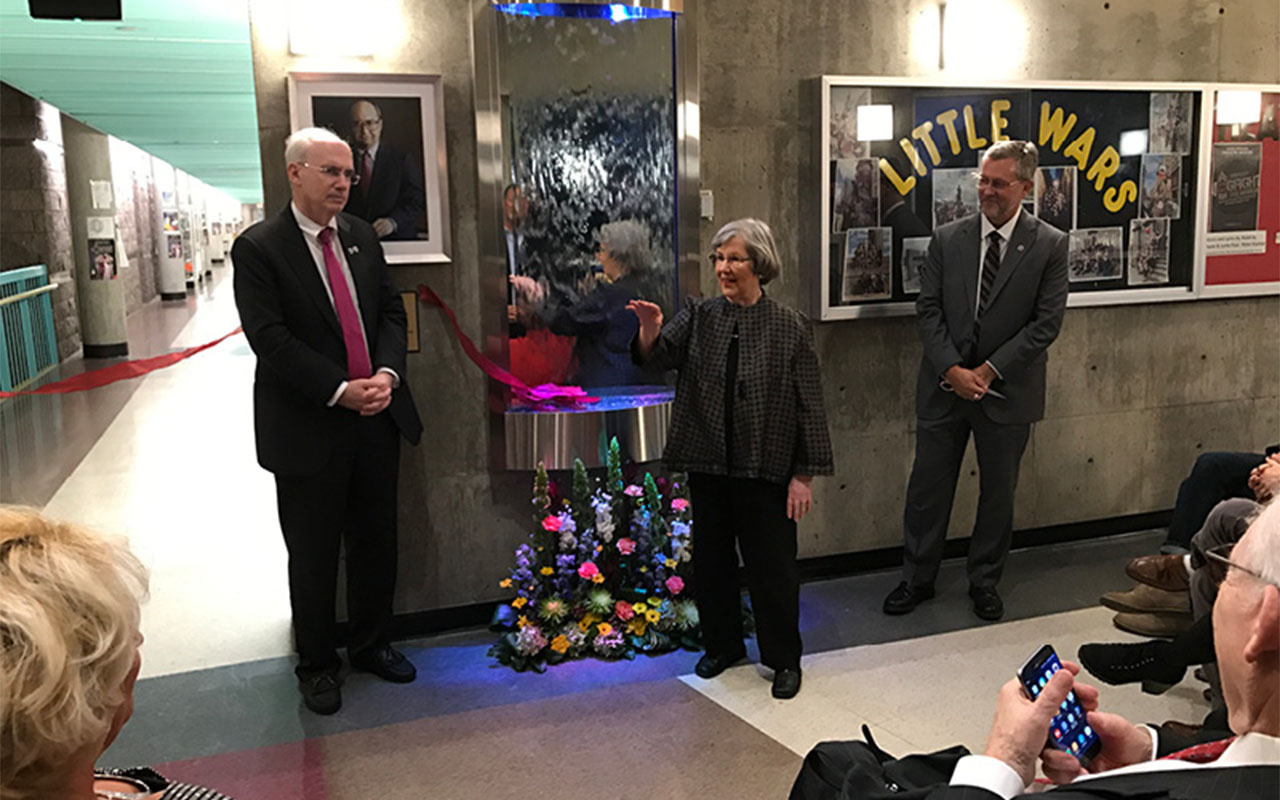 UNMC Chancellor Jeffrey Gold, Lou Ann Weber and CFAM Dean Michael Hilt at the 2019 dedication of a fountain in honor of Lou Ann's husband and UNO Chancellor Emeritus Del Weber.
The University of Nebraska at Omaha (UNO) Maverick community is mourning the loss of Lou Ann Weber, who passed away on April 26th at the age of 91.
Her husband of 64 years, UNO Chancellor Emeritus Del Weber, passed away in 2019. They had three children, 11 grandchildren, and two great-grandchildren.
The Weber family's impact on the UNO campus was nothing short of transformational. Lou Ann's husband, Del, served as UNO's Chancellor for 20 years. During that time, the UNO campus grew, adding what was then called the Physical Education & Recreation Building, the Durham Science Center, the Henningson Campanile, the Fine Arts Education Building, and UNO's first on-campus housing units. His tenure also brought the university's first doctoral program offerings and the men's Division I hockey team.
On the same day that The University of Nebraska Board of Regents bestowed Del Weber with the title of Chancellor Emeritus following 20 years of service to UNO, they also voted unanimously to rename the UNO Fine Arts Building as the Del and Lou Ann Weber Fine Arts Building.
Lou Ann was active in the UNO community throughout her husband's tenure as Chancellor. She was Honorary President of the UNO Women's Club, an organization that dates back to the mid 1930's as a group dedicated to promoting and supporting the university, providing opportunities for social interactions among women connected to UNO, and raising funds for scholarships for non-traditional students at UNO. Lou Ann and Del regularly hosted events in their home for the club before larger Women's Club events on campus and before welcoming new members.
In 1987, the Lou Ann Weber Fund was established by Chancellor Del Weber's executive staff and deans. The funding was provided through the UNO Women's Club. The Scholarships offered through the UNO Women's Club were later transitioned over to the University of Nebraska Foundation.
"The Maverick family mourns the loss of Lou Ann Weber," said Chancellor Joanne Li, Ph.D., CFA. "Her support of the UNO Women's Club helped bring female scholars and leaders together, and her work to provide scholarships for non-traditional students helped so many to follow their dreams. Her commitment to students has guided the work we continue to this day in making UNO a place where all can thrive."
In 2019, not long after her husband passed, she joined Jeffery P. Gold, M.D., UNMC chancellor, and Michael Hilt, Ph.D., dean of UNO's College of Communication, Fine Arts and Media, for the dedication of a memorial fountain in Del's honor located in the south lobby of the Weber Fine Arts Building.
Lou Ann's obituary may be found at Heafey Hoffman Dworak Cutler. Memorials are suggested to Tabitha Hospice. The funeral service will be held Wednesday, May 3 at 11 A.M. at Kountze Memorial Lutheran Church. A live broadcast of the service will be available online at that time.