Latvian Delegation Visits UNO to Discuss Deterrence, Defense
published: 2021/11/02
contact: Brandon Bartling - University Communications
email: unonews@unomaha.edu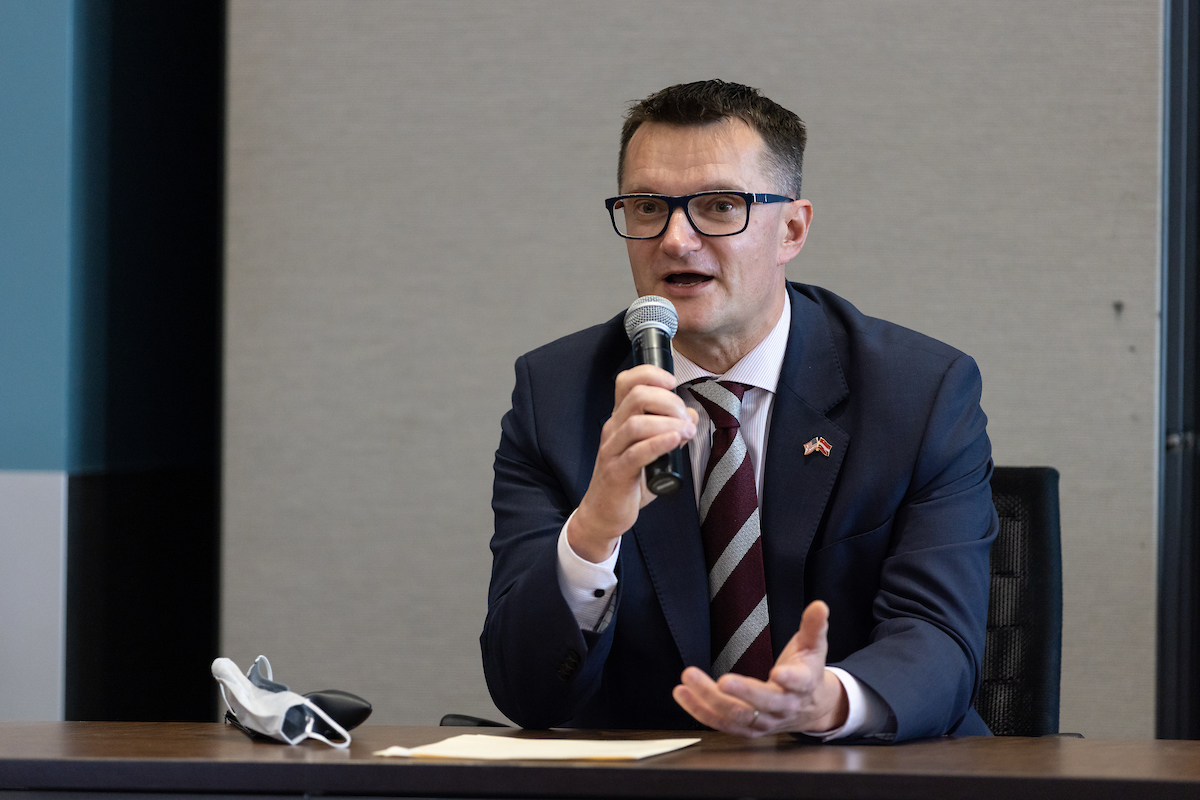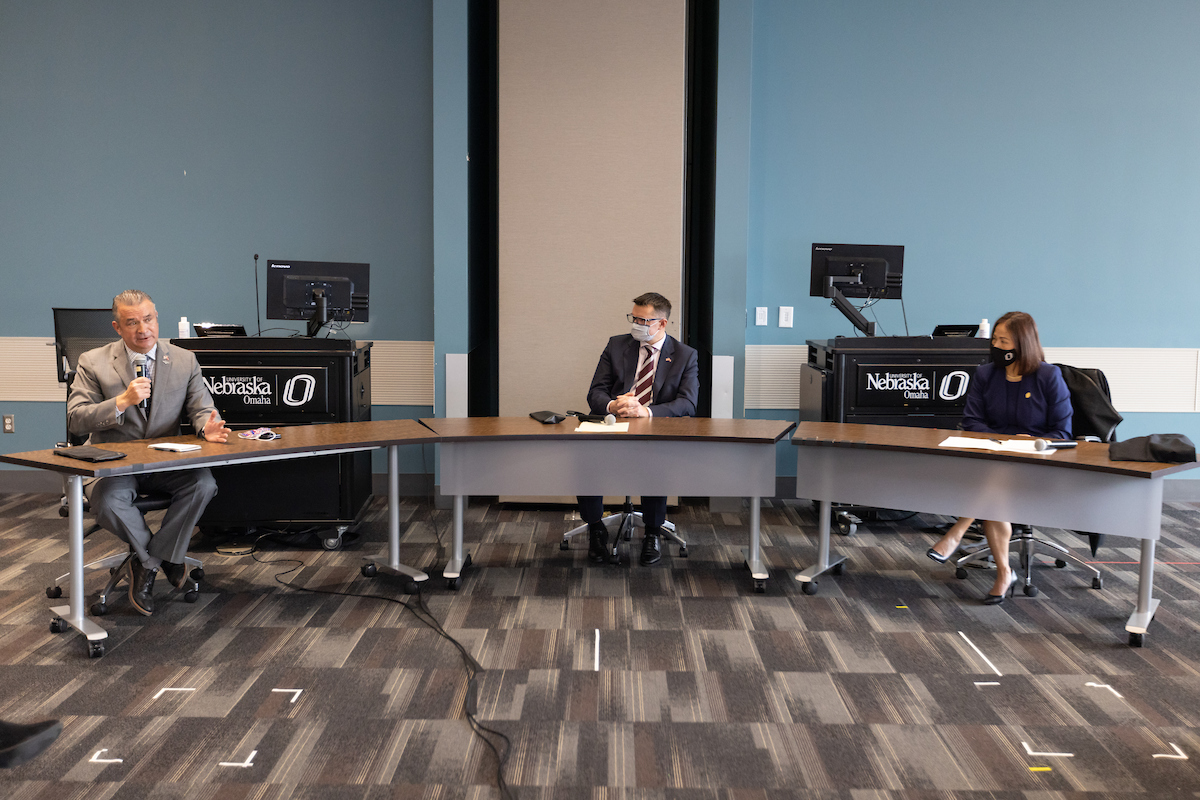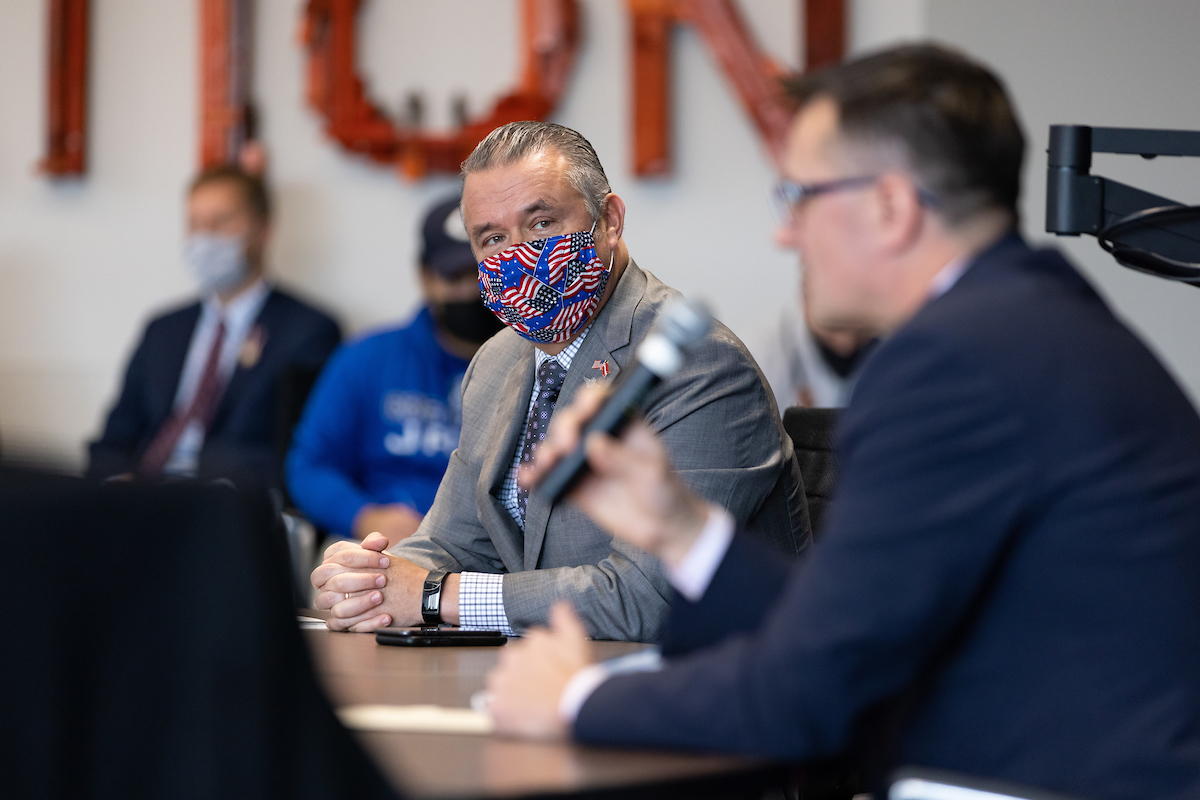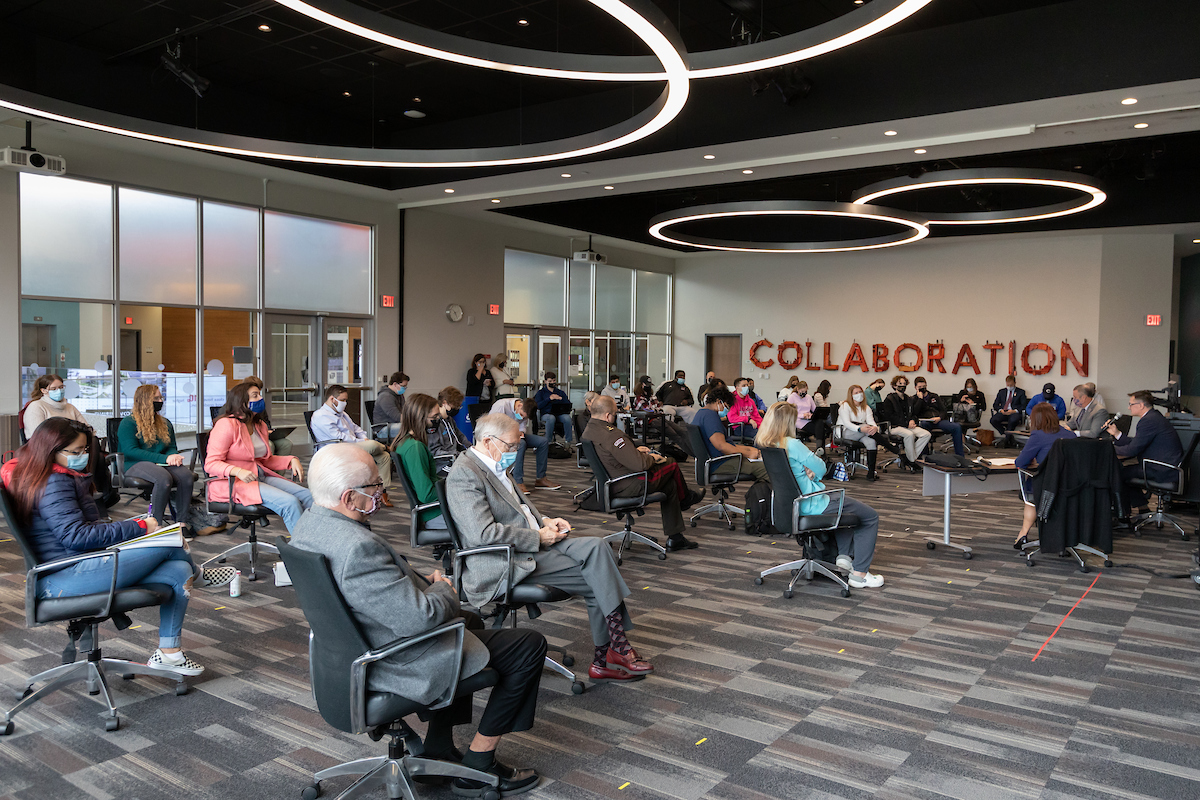 Delegates from Latvia visited the University of Nebraska at Omaha (UNO) on Monday to discuss the Baltic nation's defense, deterrence efforts, and collaboration with the United States.
Jānis Garisons, state secretary of the Ministry of Defense of Latvia, joined Rep. Don Bacon (NE-02) and UNO Chancellor Joanne Li, Ph.D., at UNO's Barbara Weitz Community Engagement Center for a panel discussion about the threats Latvia faces. Moderated by Chancellor Li, students, faculty, staff, and members of the general public were given the opportunity to hear from Garisons and ask questions about the nation's defense.
Latvia is located in Northern Europe on the Baltic Sea, sharing borders with Lithuania, Estonia, Belarus, and importantly, Russia. Garisons spoke to defenses Latvia needs to maintain its democracy in terms of military strength, international partnerships, and technological defenses.
In his remarks, Garisons discussed developing that military component to increase attack readiness – both in terms of supply constraints and psychological readiness – and effectively coordinating a response. Readiness also includes security of supply, ensuring that critical supplies and services would not be cut off during times of conflict. It also includes protecting infrastructures like utilities and organizations like commercial banks.
"It is important because it provides a culture of readiness, and cultural readiness is an important part of resilience," Garisons said. "When people are ready for the crisis of war, they would not be so vulnerable against any kind of aligned or asymmetrical fighting attacks."
Defense and readiness stretch into the virtual sphere as protection against cyber and psychological threats becomes increasingly vital. The spread of misinformation on anything from COVID-19 to immigration has been an issue and a potential weakness that other countries have attempted to exploit.
In addition to its own readiness, Latvia leans on partnerships with North Atlantic Treaty Organization (NATO) countries, including the United States. A co-chair of the House Baltic Caucus, Bacon mentioned the Baltic Security Initiative which provides $135 million each year to improve deterrence capabilities in three countries – a geographic area that he said is among the most vulnerable in NATO.
"If Russians perceive ambiguity, they perceive weakness," Rep. Bacon said. "It's our job to reduce that ambiguity and make sure the deterrence is real; and deterrence comes with actual capacity, capability, and perceived willingness to use it."
"Historically, the United States has been a great partner for Latvia and Baltic States," Garisons said. "Congressman Bacon is doing a great job chairing this caucus in Congress and also providing support through the Baltic European Initiative. We are not trying to be free riders. We are ready to defend ourselves and ready to go support our partners, if needed."
The Latvian delegation also spent time on UNO's campus touring the National Counterterrorism, Innovation, Technology, and Education (NCITE) center to learn about the counterterrorism and deterrence research happening here in Nebraska.
About the University of Nebraska at Omaha
Located in one of America's best cities to live, work and learn, the University of Nebraska at Omaha (UNO) is Nebraska's premier metropolitan university. With more than 15,000 students enrolled in 200-plus programs of study, UNO is recognized nationally for its online education, graduate education, military friendliness and community engagement efforts. Founded in 1908, UNO has served learners of all backgrounds for more than 100 years and is dedicated to another century of excellence both in the classroom and in the community.
Follow UNO on Facebook, Twitter (X), Instagram, TikTok, LinkedIn, and YouTube.