Nebraska Legislative Staffers Visit UNO Campus
A group of staff members working for senators in the state unicameral took in-person tour of UNO to learn about the exciting research and service efforts happening on campus, as well as hear from Chancellor Joanne Li, Ph.D., CFA.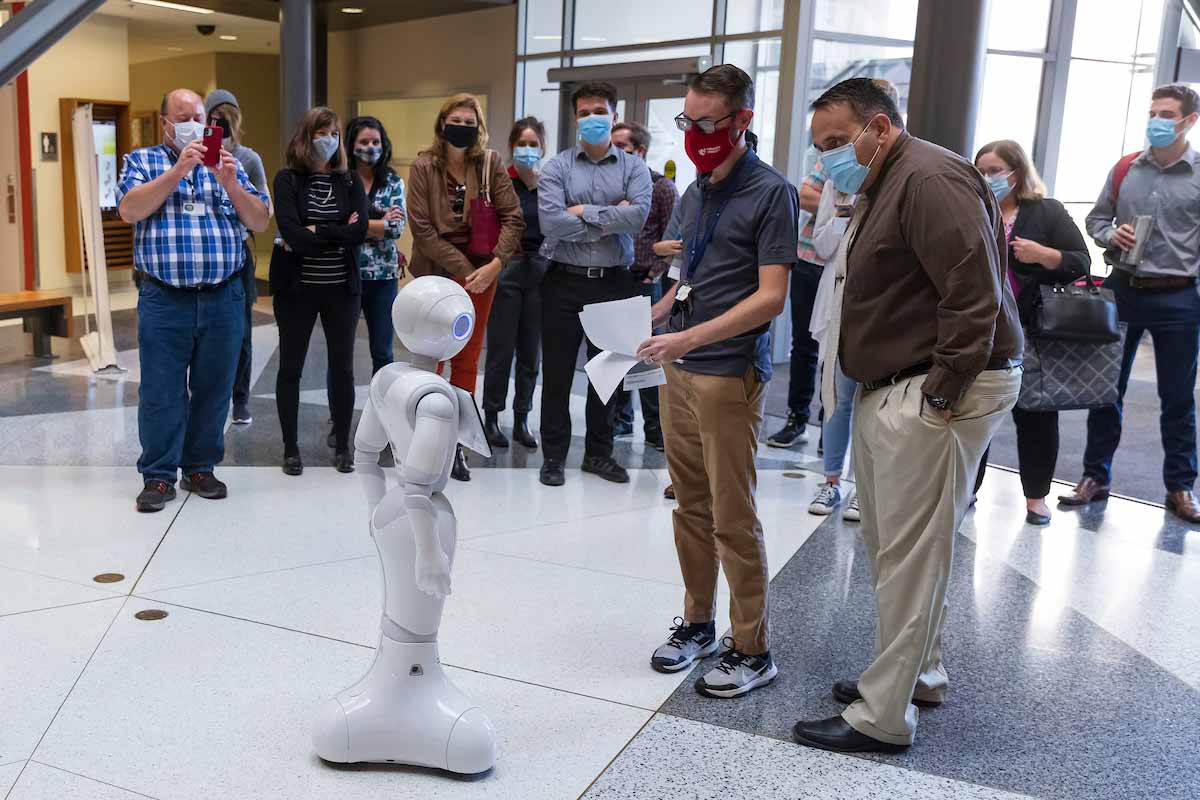 After transitioning to a virtual tour last year, legislative staffers from the state unicameral returned in person to visit the University of Nebraska at Omaha (UNO) on Tuesday, Oct. 5.
During the tour, staffers visited the Rod Rhoden Business Innovation Center, the Peter Kiewit Institute, Maverick Park, Thompson Alumni Center, the Aviation Institute, and UNO Biomechanics Research Building.
To begin their tour, staffers were briefed about the National Counter Terrorism Innovation Technology and Education (NCITE) Center. NCITE is a counterterrorism research effort supported by a $36.5 million, 10-year grant awarded by the Department of Homeland Security in 2020.
Next, the staffers visited the Peter Kiewit Institute, which is home to the College of Information Science & Technology, where they saw research projects dealing in artificial intelligence, virtual reality, and holograms, along with several students 'service learning projects.
To Tyler Mahood, a UNO alumnus and legislative assistant to Sen. Mark Kolterman, the tours of both programs were engaging.
"I really enjoyed the robotics area," said Mahood "I enjoyed learning more about the cybersecurity stuff, because obviously that's a huge issue going on in today's world, and obviously I just liked looking at the hologram stuff."
At their next stop the staffers visited Maverick Park, UNO's new facility with a baseball field and a softball field, which opened earlier this year. Staff members met Durango and student athletes from of the softball team. The members of the team discussed the new fields and the benefits of the two teams having a high-end facility on-campus.
"I love seeing the baseball or softball facility. It's just phenomenal," said Nancy Bowen, administrative assistant to Sen. Adam Morefield.
The staffers were then treated to a lunch and a Q and A session with Chancellor Joanne Li, Ph. D.,CFA where she outlined her vision for the future of the university. Chancellor Li highlighted the importance of growing existing partnerships to help students.
"We want to be a part of the community... We are very proud to be UNO," Chancellor Li said.
Soon after, the staffers stopped by the Aviation Institute, where many got to experience flight simulation and hear more about the Aviation Institute's projects, which have included several national awards and applied research.
"I do enjoy hearing how UNO is nationally relevant. Every time I come on this tour, there's something new I learned," said Kenneth Pancake, a UNO alumnus and administrative assistant to Sen. John Stinner.
Before returning to Lincoln, the staffers visited the Biomechanics Research Building, where faculty and students are learning how to analyze movement of humans and animals to provide better therapies – and tools – for those in need. This includes everyone from children with cerebral palsy to Major League Baseball pitchers.
"We are able to do this and have UNO stand alongside other world-class institutes because we have a visionary leader in our director, Dr. Stergiou, and support from our leadership here at the university, "said Jeff Kaipust, assistant director of the Biomechanics Research Building.
Through the very end of their visit, UNO's involvement with the Omaha community was emphasized to the legislative staffers, who agreed they would have a lot to talk about with the senators they work with.
"I love coming back so much and learning about all the new opportunities on campus and seeing all the developments that's been going on," Mahood said.
About the University of Nebraska at Omaha
Located in one of America's best cities to live, work and learn, the University of Nebraska at Omaha (UNO) is Nebraska's premier metropolitan university. With more than 15,000 students enrolled in 200-plus programs of study, UNO is recognized nationally for its online education, graduate education, military friendliness and community engagement efforts. Founded in 1908, UNO has served learners of all backgrounds for more than 100 years and is dedicated to another century of excellence both in the classroom and in the community.
Follow UNO on Facebook, Twitter, Instagram, LinkedIn, and YouTube. 
Contact Us
If you have a story idea, news tip, or other question, please email the UNO News team at unonews@unomaha.edu.