Future Entrepreneurs Learn the Ropes Through New Curriculum
Middle and high school students will learn the first steps to becoming entrepreneurs through a new curriculum designed by economics experts in business and education.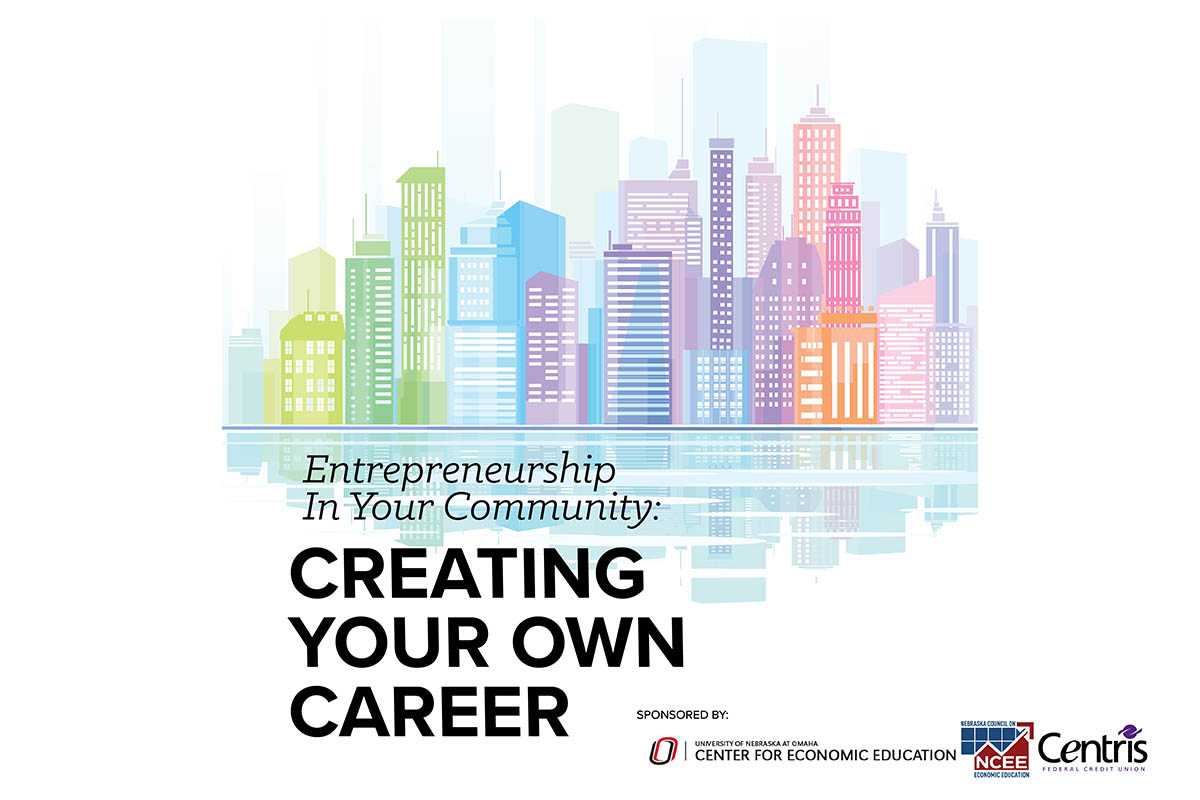 Middle and high school students will learn the first steps to becoming entrepreneurs through a new curriculum designed by economics experts in business and education.
A team of experts with diverse backgrounds and education from the University of Nebraska at Omaha (UNO), the University of Nebraska – Lincoln, the Nebraska Department of Education, Bryan High School, and the Federal Reserve Bank of Kansas City wrote and published a new entrepreneurship curriculum guide for middle and high school students. The guide can be used in its entirety for a semester-long course, or it can be used to supplement resources that a teacher already uses.
Entitled, "Entrepreneurship in your Community: Creating Your Own Career," the program contains 11 lessons teaching students the basics of entrepreneurship all the way to the final lesson where they create a business plan and deliver an elevator speech. The idea is to teach entrepreneurship in a fun and engaging way, especially at the middle school level where there seems to be less material targeted for them.
Jamie Wagner, Ph.D., assistant professor of economics at UNO, also project manager and co-author on the curriculum, said that an effective understanding of entrepreneurship requires an understanding of the ways in which individuals, business, governments, and societies make decisions to allocate human capital, physical capital, and natural resources; keeping in mind the goal of balancing costs and benefits to enable overall well-being.
"Economics is the study of choices, and entrepreneurs have to be mindful of the decisions they make and how to use resources effectively to maintain their business," Wagner said. "The economic way of thinking helps them understand the interaction of buyers and sellers in markets everywhere."
While the focus is on entrepreneurship, lessons also include activities that require students to improve their computer and online literacy through creating word clouds, infographics, vlogs, and other projects.
Jennifer Davidson, Ph.D., co-author and president of the Nebraska Council on Economic Education, describes the curriculum as an important tool to reach economics requirements in the Nebraska Social Standards. "The lessons give students an opportunity to explore and assess their personal desire and aptitude for starting their own businesses, something we need to ensure a strong future Nebraska economy," she said.
This entrepreneurship curriculum is tied to the National Voluntary Standards in Economics and the National Financial Literacy standards. Additionally, each lesson is linked to the Nebraska Social Studies Standards and Nebraska Business, Marketing, and Management Career Field Standards throughout. It is free to use and download and has accompanying slides for teachers. The entire curriculum guide and slides can downloaded here: https://www.unomaha.edu/college-of-business-administration/center-for-economic-education/teacher-resources/entrepreneurship_in_your_community.php
About the University of Nebraska at Omaha
Located in one of America's best cities to live, work and learn, the University of Nebraska at Omaha (UNO) is Nebraska's premier metropolitan university. With more than 15,000 students enrolled in 200-plus programs of study, UNO is recognized nationally for its online education, graduate education, military friendliness and community engagement efforts. Founded in 1908, UNO has served learners of all backgrounds for more than 100 years and is dedicated to another century of excellence both in the classroom and in the community.
Follow UNO on Facebook, Twitter (X), Instagram, TikTok, LinkedIn, and YouTube.