BOLD Fellow Reflects on Their Experience in the U.S.
The BOLD Institute on Civic Engagement at UNO welcomed 30 young leaders to the United States for a five-week long residency. BOLD (Bosnia and Herzegovina Youth Leaders) is an international exchange program sponsored by the U.S. Embassy in Sarajevo and focused on developing leaders, promoting international education, and positively impacting the region.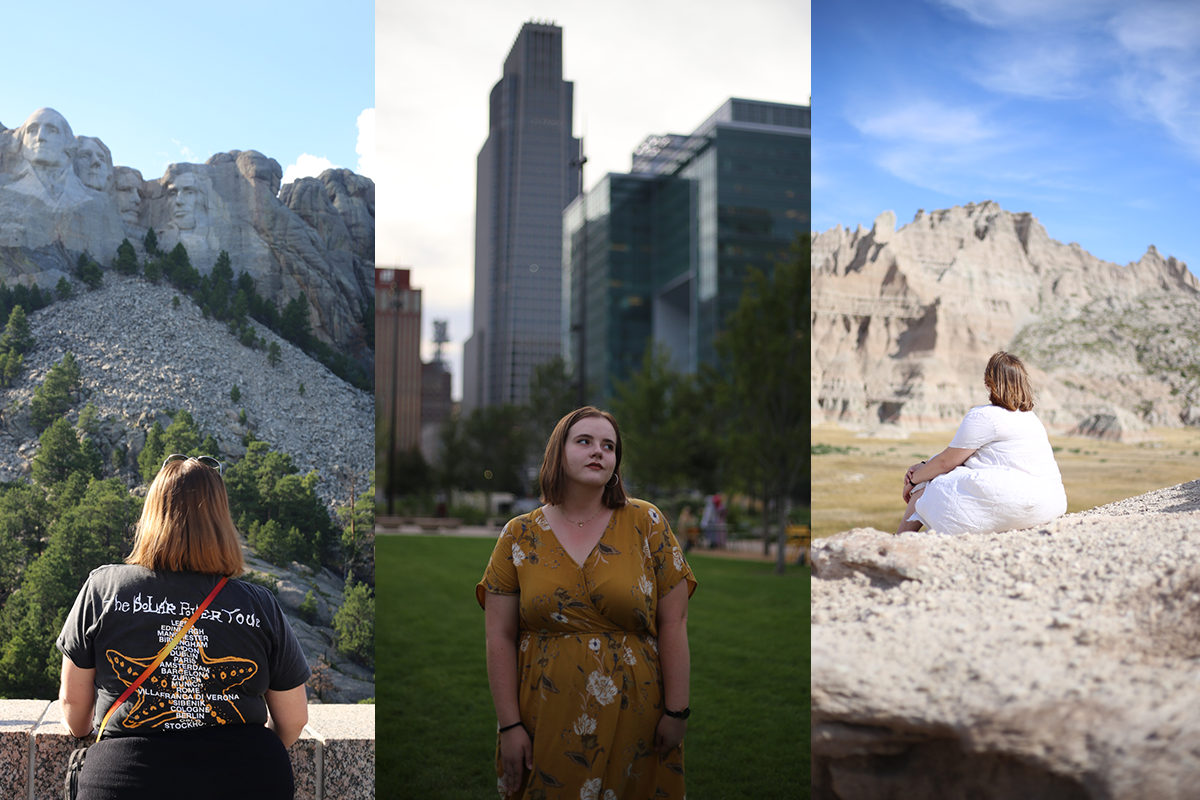 Amina Hadžiemrić, 1 of 30 BOLD fellow hosted by UNO, is pictured on her travels through Omaha, Nebraska and South Dakota.
The BOLD program ran from Aug. 14 to Sept. 17, 2022 and included a four-week intensive academic residency on the UNO campus and a weeklong educational tour of New York City and Washington, D.C. While in Omaha, the BOLD Fellows participated in daily workshops on leadership, civic engagement, conflict resolution, and collaboration, attended a Global Challenges course, and met with the faculty and students from various academic disciplines.
BOLD Fellow, Amina Hadžiemrić, reflects on her experience in the BOLD Institute on Civic Engagement at UNO:
"In a lot of my life moments, I have found myself behind the camera, capturing what I see in the moment. Always carrying my camera around with me, somehow took away from the experience as when I take the picture, the moment is kind of over. It is true that people rarely look back on the images they have created which is the consequence of our busy lifestyles. However, during the BOLD Academic Exchange I've done nothing but look back. I found myself stationary in one foreign place for 4 weeks, with some of the most amazing people I have meet so far. Each one with their vision and hope for a better future in Bosnia and Herzegovina. It was like reading 29 books at once.
The wonderful people at University of Omaha, Nebraska welcomed us with open arms, and we were lucky to be there for the Durango days to get the full American college experience. Even though some of the days were mentally draining, required my full focus at the Civic Engagement Center, I would always come back to my hotel room ready to experience more of what Omaha as a community have to teach me. We've seen the good and the bad of the American Mid-west, meet some of the most amazing student ambassadors who tried their best to be there for us, always ready to give out advice on which places in town were not worth the lines and tried their best to indulge my red party cup obsession. The humid weather and the rain that welcomed us and said goodbye our last day, managed to take its business elsewhere while we were in Omaha, blessing us with sunshine to explore what the campus and the city has to offer.
I will never forget Julie's smiling face and confused looks at Bosnian jokes, Michael's calm and collected and Patrick's very enthusiastic lectures that required my sound sensitive brain some adjustment. Lastly, a big thank you to Lana, who showed what Bosnian diaspora can do for the future of the county by being there for the young people and believing in small changes that start in local communities. Step by step we'll get there!" (Amina Hadžiemrić, BOLD Fellow from August 2022).
The UNO Institute on Civic Engagement looks forward to welcoming the next groups of BOLD changemakers and innovators in Summer 2023.
For more information about BOLD, please visit the UNO BOLD website and follow us on social media, BOLD Facebook Page.
About BOLD: The BOLD Program Team consists of Dr. Lana Obradovic, Director of International Studies and Principal Director for BOLD; Dr. Patrick McNamara, Instructor of Political Science and Academic Director for BOLD; Julie Jimenez, Administrative Director for YSEALI and Grants Manager for BOLD; and Michael Butcher, Grants Coordinator for BOLD and YSEALI.