UNO Education Abroad Selected to Receive the IIE American Passport Project Grant
University of Nebraska at Omaha has been selected by the Institute of International Education (IIE) to receive an IIE American Passport Project grant that will enable 25 Mavericks to obtain a U.S. passport and support their study abroad journeys.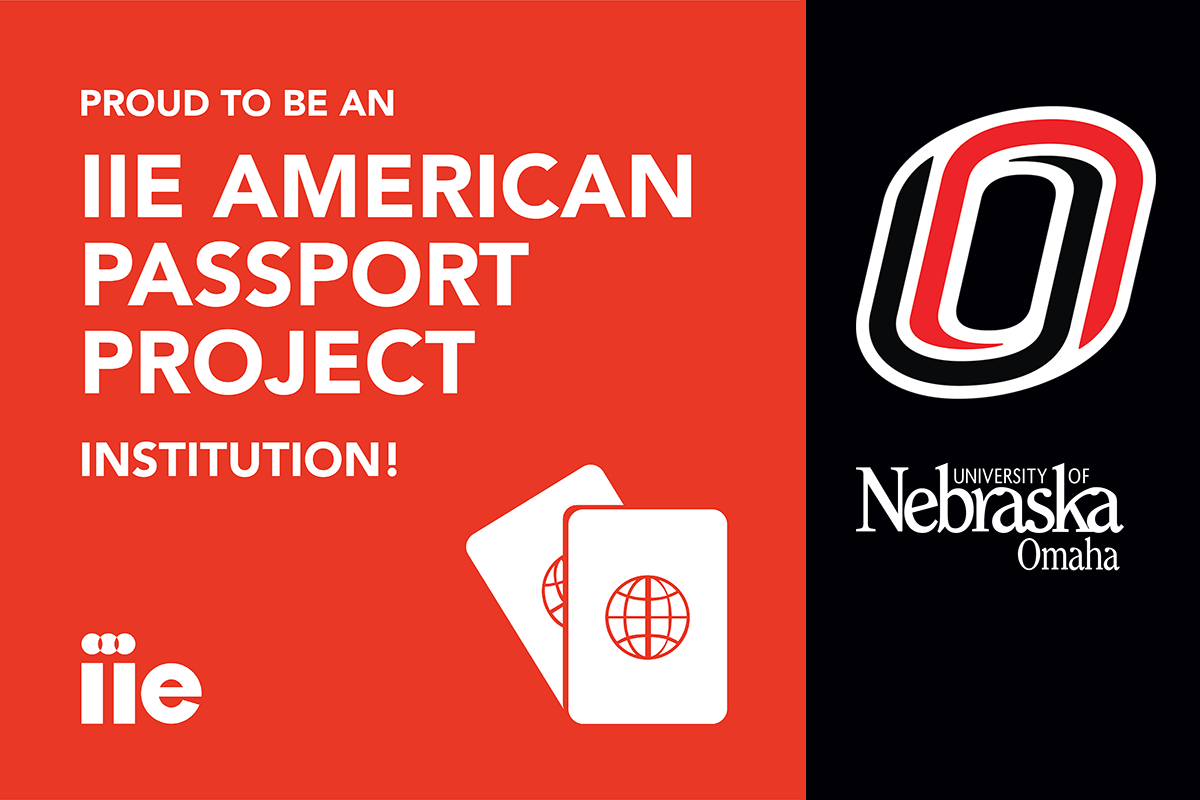 University of Nebraska at Omaha has been selected by the Institute of International Education (IIE) to receive an IIE American Passport Project grant that will enable 25 Mavericks to obtain a U.S. passport and support their study abroad journeys. In this inaugural year of the initiative, IIE announced 40 selected institutions that, overall, will aid 1,000 U.S. students to procure their U.S. passports and to provide study abroad guidance.
It has long been part of IIE's mission to increase participation and diversity in study abroad, so that all students can gain the academic and career benefits of international experience. The IIE American Passport Project grant is intended to promote diversity, inclusion, access, and equity in study abroad and to support the IIENetwork, IIE's global membership network, in their efforts to encourage students to go abroad who would otherwise not participate in an international experience as part of their college education. For students of limited means, studying abroad can require long-term planning and involve financial hurdles, like the cost of a passport, which could bar them from moving forward.
Through the IIE American Passport Project, IIE plans to have enabled 10,000 students to have passports by the end of this decade. Each year, IIE will help 1,000 college students obtain a U.S. passport by awarding funds to approximately 40 U.S. colleges and universities in the IIENetwork. Each institution will identify up to 25 of their first-year students, who are eligible for Pell grants. Eligibility is limited to first-year students to ensure that the students have ample time remaining in their college career and receive guidance from their advisors to map out a study abroad plan.
In this first year, IIE received nearly 200 applications proposing the various ways higher education institutions of all types and locations would be able to utilize the grant to support diverse student populations. At a time when COVID-19 has impacted all aspects of international education, these institutions demonstrate the drive to restart international initiatives they have been planning (either prior to the pandemic or during). For the 40 institutions selected, the IIE American Passport Project provides one critical piece of the multi-faceted effort needed to reach students who are traditionally underrepresented in study abroad: a passport. The selected institutions will provide the innovative programming, engagement efforts, advising, and support for those students they have identified with the goal of sending them on a study abroad program during their college experience.
Details on UNO Education Abroad's plans for implementing the IIE American Passport Project will be shared in the months ahead.
The 40 IIENetwork U.S. member institutions selected for the 2021 IIE American Passport Project include:
Alcorn State University; Amherst College; Broward College; Butler University; Central Michigan University; Central State University; Chatham University; DePauw University; Fayetteville State University; Goshen College; Governors State University; Harper College; Harris-Stowe State University; Juniata College; Kapiolani Community College; Kings College; Massachusetts College of Art & Design; Montclair State University; North Carolina Central University; North Park University; Rochester Institute of Technology; Saint Martin's University; San Diego State University; Santa Fe College; Savannah State University; Stockton University; University of Arkansas-Fayetteville; University of Illinois-Chicago; University of Louisville; University of Maryland-Baltimore County; University of Missouri-Columbia; University of Nebraska Omaha; University of New Mexico; University of New Orleans; University of North Carolina-Wilmington; University of South Alabama; Ursinus College; Virginia Tech; Western Michigan University; and Xavier University of Louisiana.
About IIE:
The Institute of International Education (IIE) is a world leader in helping people and organizations leverage the power of international education to thrive in today's interconnected world. As a not-for-profit with 17 offices and affiliates worldwide, IIE manages 200+ programs with participants from 180+ countries. Each year, tens of thousands of people participate in IIE-managed programs. IIE collaborates with a range of corporate, government and foundation partners across the globe to design and manage scholarship, study abroad, workforce training, and leadership development programs.
The IIENetwork is the global membership network connecting more than 10,000 professionals from over 1,500 institutions and organizations to resources, including IIE's extensive knowledge and decades of experience supporting student mobility and exchange, campus internationalization, and international partnerships.
For more information, contact:
IIE: Press@iie.org
University of Nebraska Omaha: ekrueger@unomaha.edu