Patty Gadea is a recent UNO SCCJ college graduate who has a lot to be excited about. She received her diploma during the December, 2021 commencement ceremony on a Friday, and embarked on her new career the very next Monday morning. Patty, who completed an internship with Lutheran Family Services (LFS) during her last semester of undergraduate studies, was hired in a full time position with the agency and she couldn't be happier. Her position as a Case Manager will have her engaging with new LFS clients by doing intakes to determine what resources they need to be connected with. It's definitely more responsibility than she had as an intern, where she handled social media for the agency in addition to creating a database of services available for clients impacted by homelessness, sexual assault, domestic violence and autism.
Patty originally was planning on graduating in May of 2021, but decided it was worthwhile to stay in school another semester to pick up the credits needed for a second major in psychology. It was during this last semester that Kim Retzlaff, SCCJ Internship Coordinator, suggested to Patty that she do an internship, and Patty is so glad she did. "It was an amazing opportunity. You gain so much first-hand knowledge," Patty explained. Patty encourages any student who is even the least bit hesitant about doing an internship to go for it. "Just do it," she says. "If criminology and criminal justice is your passion, taking part in an internship puts you that much closer toward your passion," Patty added.
UNO partners with many agencies that offer student internship positions. Kim Retzlaff is available to answer questions and get you started with the application process. She can be reached via email at kretzlaff@unomaha.edu.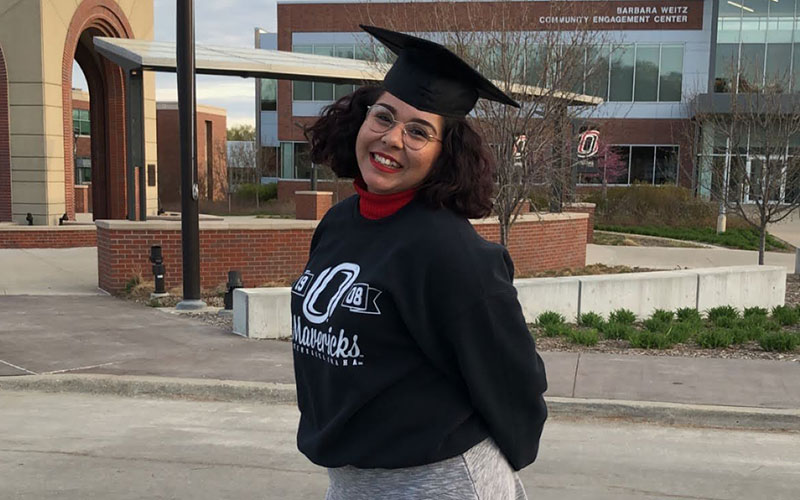 Patty Gadea sporting her graduation cap, December 2021.