Public Health: Breaking Down Barriers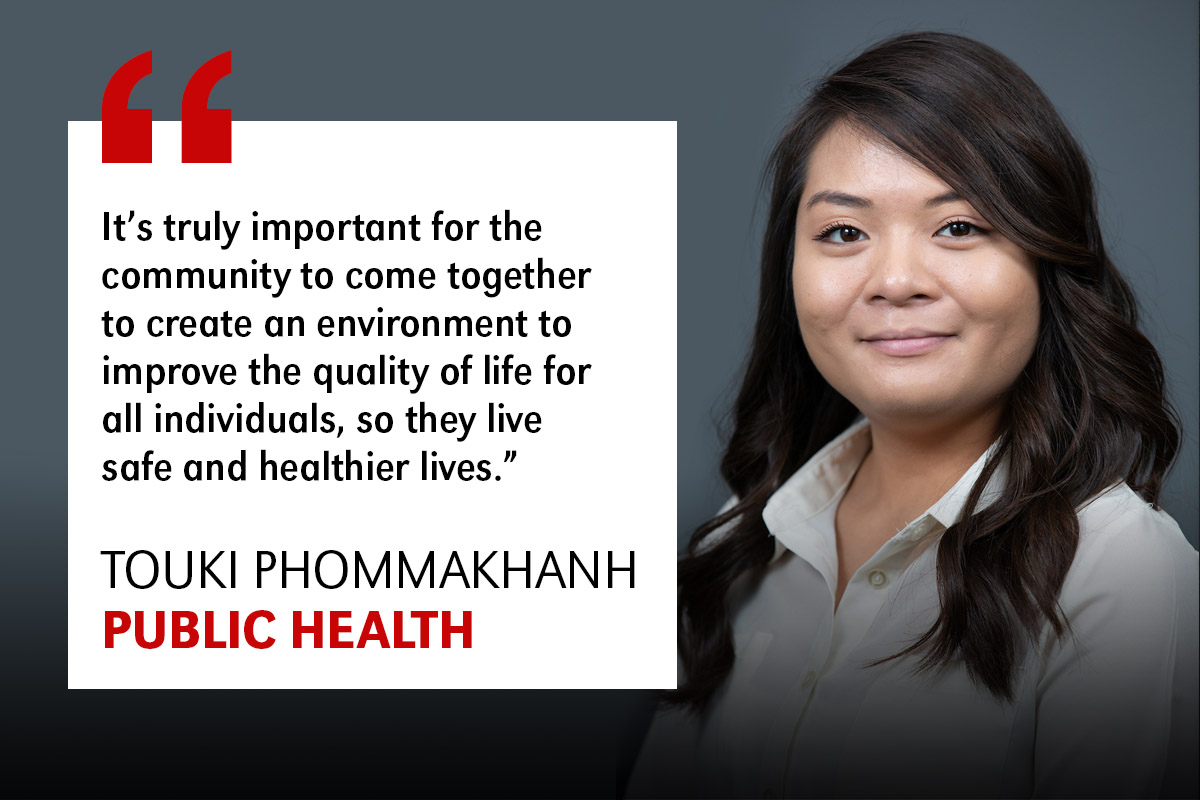 For community health worker and graduate student in the School of Health and Kinesiology, Toukatha "Touki" Phommakhanh, access is at the center of her work.
---
The pandemic has brought a new set of challenges to our community and the world, but students and alumni of CEHHS' health-related degree programs are prepared to tackle that work as frontline health workers.
Touki Phommakhanh, alumna of the Public Health program and graduate student in the Health Behavior program, has been involved with the Omaha community during her entire UNO career, and is now beginning a new role as AmeriCorps VISTA member at Together Omaha, a nonprofit that prevents and ends homelessness by helping clients find safe, affordable housing, food security, and health and wellness.
Touki's upbringing in South Sioux City, Nebraska, helped her understand the unique needs of residents of small communities, and the importance of breaking down barriers—specifically the stigma around mental health. These childhood experiences piqued her interest in community health.
"When it comes to seeking out resources in smaller communities, people have a hard time asking for help. It's very hard to ask for help without feeling that people around you are going to know about your issues," explained Touki.
"When I came to UNO, I learned that community health workers are beneficial for health care delivery and resources--we are there to guide people through their issues. With my Public Health degree, I am able to create connections between community members and health professionals to develop strategies to improve communities and reduce stigma."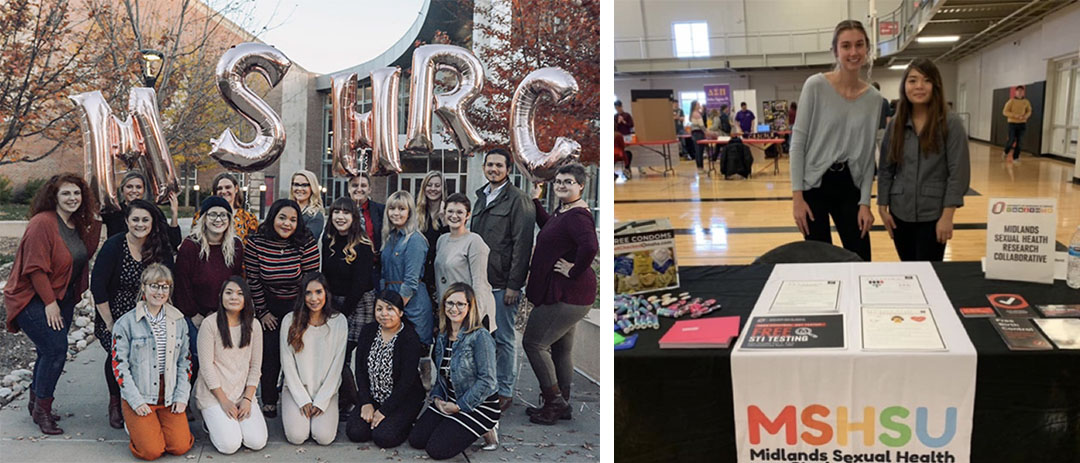 Working with the Midlands Sexual Health Research Collaborative (MSHRC) was an important step to developing those skills. Towards the end of her undergraduate program, Touki began volunteering with the MSHRC, which led to a Graduate Assistantship, helping with activities like free campus STI testing.
"There is a lot of stigma in sexual health, and I felt like I had to put myself in that space and volunteer. I became more involved in the community through outreach and advocacy, especially during events in partnership with the Women's Fund of Omaha, Nebraska AIDS Project, and Planned Parenthood. I helped the UNO community be more aware of sexual health and have those difficult conversations."
"The connections I made at UNO shaped me for who I am today, and they will always be in my heart."
- Touki Phommakhanh
At Together Omaha, Touki will run two programs. The first is developing a neighborhood capacity building project in collaboration with the UNO Service Learning Academy and the UNO Urban Studies program. The second is a life-skills program through The Bike Union, a nonprofit that employs youth aging out of foster care.
"I will be working on a program which helps LGBTQ foster care youth—to teach them comprehensive health and wellness, help engage them back into the community, and ensure they are self-sufficient."
Touki is close to graduation and ready to get started in her career. She is excited to use her knowledge and experiences to help uplift and educate others, and said the connections she made at UNO, "shaped me for who I am today, and they will always be in my heart."
"I was always drawn to the idea of people coming together and working towards a common goal. Public Health offers that opportunity for people to come together to make those connections. I now want to use my educational background to change the negative stigmas in communities by showing that it's possible to expand one's access to the world. Coming from a small town, I want to demonstrate to my community that there can be an Asian female community health worker. I want to showcase that one's zip code doesn't determine one's success."

Contact Us
If you have a story idea, news tip or inquiry please contact us at: