Degree: Bachelor of Science in Public Health
A degree in Public Health prepares students to become professionals who promote the health of the general public through education and skills for individuals and communities. Public Health professionals are leaders who engage in advocacy for policies that enhance and ensure healthy populations.
Students who earn a degree in Public Health are prepared to work with:
Government agencies
Non-profit organizations
Hospitals
Corporations at the local, national, and global levels
Graduate study
A degree in Public Health prepares students for positions with agencies and organizations in the community whose mission is to improve the health of the public through education and advocacy.
Starting salaries for Public Health graduates typically range from $45,000 to $65,000. A variety of organizations employ graduates with a degree in public health, including government agencies, non-profit organizations, hospitals, and corporations.
Graduates also pursue graduate and advanced degrees in public health or similar fields.
H&K offers the only undergraduate Public Health program in Nebraska, nationally accredited by the Council on Education for Public Health (CEPH).
Potential Career Settings
American Red Cross, American Cancer Society, Biomedical Laboratories, Diabetes Education Center of the Midlands, Federal Government (Centers for Disease Control and Prevention; Department of Health and Human Services), Federally Qualified Health Centers (One World, Charles Drew), Hospitals, Infectious Disease Associates, Local/State Health Departments, Multiple Sclerosis Society, Non-Governmental Organizations (Global Health), Omaha Housing Authority, Planned Parenthood, Private/Public School Systems, Wellness Council of the Midlands, corporations (Union Pacific).
Practical Experience
Practical experience for a student studying public health helps the students synthesize class room activities into a real life experience. The internship helps public health students develop an understanding of human behavior and its relationship to wellness through their field work. Students develop an appreciation for organizational behavior, utilization and acquisition of resources, and the impact environment has on health decision making at both a micro and macro level.
Students spend 20 hours per week, for an entire semester working at a community agency in a targeted area of public health selected by the student in consultation with the internship coordinator.
Requirements
Students must have an overall GPA of 2.5, no grade lower than "C-" in required classes and no incompletes in public health education course to be assigned a practicum and be recommended for graduation.

---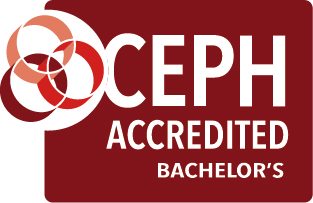 For copies of the self-study or CEPH Accreditation Report, please contact Dr. Jason Coleman at jdcoleman@unomaha.edu.