Promoting high quality research. The Department of Biomechanics and the Center for Research in Human Movement Variability Seminar Series is held every Friday during the academic year at 12 pm in H&K 112. No RSVP is necessary—please come and join us if you are interested.
The focus of the seminar series is to call for experts related to academia and research in the areas related to biomechanics, variability, motor disorders, physical therapy and related studies. The series includes local and nationally renowned professors and specialists presenting findings, stimulating thinking and creating collaboration ideas for the UNO faculty and students.
If you are interested in presenting, please contact Dr. Nick Stergiou.

Click here for a list of speakers.
Nonlinear Analysis Workshop
Every year, we offer a nonlinear workshop for members of our department and the biomechanics community worldwide. Participants travel from around US and Europe to Omaha to learn nonlinear mathematics and their application to human movement studies.  This workshop covers five days of lectures, hands on learning, and social events. If you are interested in attending, please check our link above. Information regarding the upcoming workshop is typically released in January.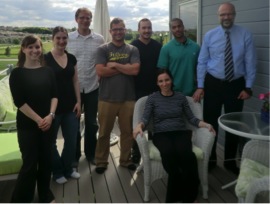 Ongoing Services
For the community, we offer running and walking shoe recommendations, balance testing, and strength testing. For more information, please click here. 
For other research professionals in Nebraska and elsewhere, we offer various biomechanical services. These range from data collection to data analysis. For more information, please click here.