Out of an abundance of caution and with the health and safety of our community in mind, Maverick Landing will be closed effective April 8th. As of now, we plan to re-open on April 23rd. 

Building Hours
| | |
| --- | --- |
| Monday – Friday  | 7:30 A.M. – 7 P.M. |
| Saturday – Sunday  | CLOSED |
Maverick Landing building hours may change to accommodate for sporting and other events taking place in the building or surrounding the area. Additionally, the hours of Maverick Landing will follow the academic calendar and will close for university holidays. 
---
Building Services
Within the building, visitors, students, and staff alike can easily find a MavIGATOR who is prepared to assist anyone within the building. Maverick Landing primarily serves as the new landing spot for campus visitors, but has additional features that make the building a great space for current students, as well. With great collaborative spaces, students can use Maverick Landing when working on a group project or while studying individually. 
Throughout the space there is open social seating and study spaces for students to use, as well as The Campus Grind, a coffee bar and grab-and-go counter managed and staffed by Scott Dining.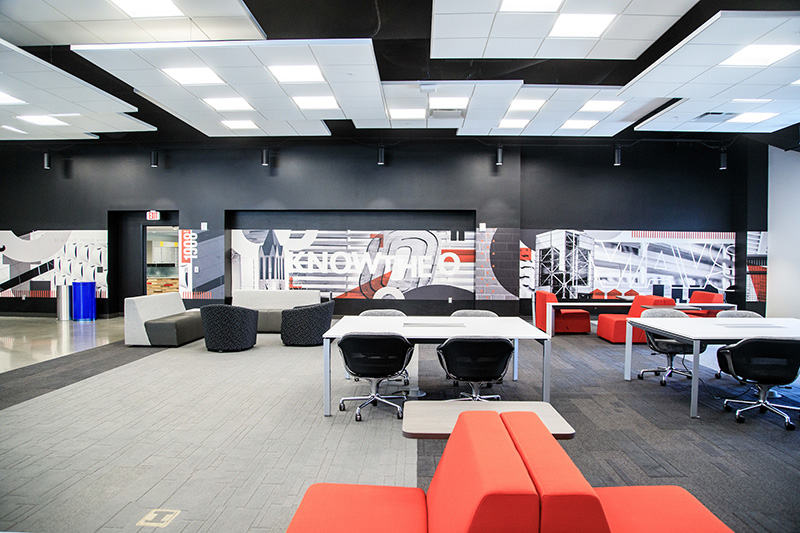 ---
Reserving Space
UNO campus departments and offices can submit a request to reserve space in Maverick Landing by emailing mavericklanding@unomaha.edu. Reservations can only be made three (3) months in advance. Reservable space includes the Launch Pad (presentation room), the conference room, and the atrium.
Student organizations may request to reserve space in Maverick Landing for events. These requests will be approved on a case-by-case basis. Tabling in Maverick Landing is not allowed.
---
Study Space Requests
UNO students can request a study space in Maverick Landing by signing up for a time with the MavIGATOR on duty in-person. When using one of Maverick Landing's study rooms, students will leave their MavCARD with the MavIGATOR on duty in exchange for access to the study space. Students' MavCARDs will be returned once they are finished using the space.
The main study room can be reserved for student use for up to three (3) hours. If students would like extend their reservation, and the study space is not reserved by another student, they may do so by requesting additional time at the MavIGATION Station.
HDMI cords and remotes for the televisions in space can be requested from the MavIGATOR, as well. Any items lent out for use while in the study room must be returned to the MavIGATION Station upon leaving. 
---
The Campus Grind Hours
The Campus Grind provides students with healthy snack and meal options to get them through the day. The cafe runs daily specials and also accepts meal plans during certain business hours.