Officers Andrew Sage, Rebecca Renz Earn Board of Regents KUDOS Award
The two officers from the UNO/UNMC Department of Public Safety were recognized for their quick thinking, leadership, and calm under pressure in response to a tragic incident that occurred near the UNO campus.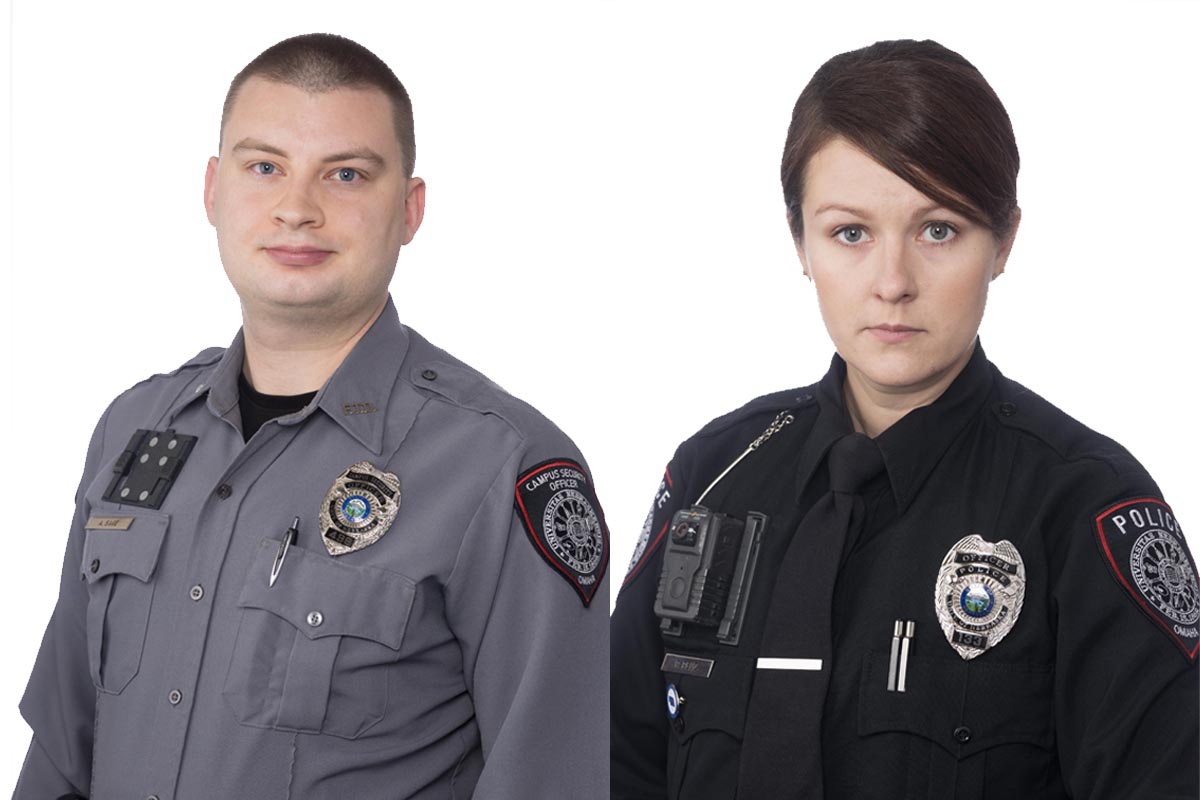 Officers Andrew Sage and Rebecca Renz were presented a KUDOS Award at the Dec. 2, 2022, Board of Regents meeting in recognition of their efforts to try and save the life of a young woman who was hit by a vehicle nearby campus in September.
The Nebraska Board of Regents recently presented a joint KUDOS Award to Officers Andrew Sage and Rebecca Renz, members of the UNO/UNMC Department of Public Safety, for their selfless and heroic efforts during a recent tragedy that occurred near the University of Nebraska at Omaha (UNO) campus.

On the evening of Tuesday, Sept. 27, a pedestrian crossing the street was struck by a vehicle. The incident was witnessed by Officer Sage, who was training a new recruit officer at the time. Quickly jumping into actions, Officer Sage reached dispatch to call for backup from campus officials as well as available law enforcement and rescue teams from the city. While waiting for response teams to arrive, Officer Sage administered care to the pedestrian.

Officer Renz arrived on the scene alongside a Nebraska Medicine physician who continued to perform CPR and chest compressions in an attempt to save the pedestrian's life until Omaha fire and rescue arrived on the scene and were able to identify a pulse.

The pedestrian was later identified as Shelby Cherek. Sadly, due to the extent of her injuries, she was unable to survive and passed away the next morning.

Leadership from UNO/UNMC Public Safety gave tremendous credit to the quick action and command taken by Officer Sage, who took great lengths to provide a chance for Shelby Cherek's survival.

"[Officer Sage] took command of the scene … and took over as primary officer in his life-saving attempts. Officer Renz responded to the scene by expediting from the UNMC campus to allow for Sage to apply and attempt to use an AED device. Both officers are to be commended and recognized for their heroic attempts."

Officials also noted that it was because of clear, direct communication from Officer Sage that hastened the response of additional aid from individuals like Officer Renz and also allowed for life-saving measures to be taken.

"Their critical thinking and exceptional actions were a key factor in Omaha Police Department personnel being able to obtain a pulse on the victim, at least for a brief time. Officers Sage and Renz exhibited the utmost in professionalism in their response to an extremely difficult situation."

In recognition of their quick action, commitment to saving a life, and calm under significant pressure, both Officer Andrew Sage and Officer Rebecca Renz are truly deserving of recognition by UNO, the University of Nebraska System, and the Board of Regents in the form of a KUDOS Award recognition.


---

KUDOS Award Nominations
The University of Nebraska KUDOS award recognizes the accomplishments of outstanding employees and is presented six times a year during NU Board of Regents meetings.
Do you want to submit a nominee for KUDOS? Use the People Are Everything software by clicking on the tile in Firefly under Self Service.
About the University of Nebraska at Omaha
Located in one of America's best cities to live, work and learn, the University of Nebraska at Omaha (UNO) is Nebraska's premier metropolitan university. With more than 15,000 students enrolled in 200-plus programs of study, UNO is recognized nationally for its online education, graduate education, military friendliness and community engagement efforts. Founded in 1908, UNO has served learners of all backgrounds for more than 100 years and is dedicated to another century of excellence both in the classroom and in the community.
Follow UNO on Facebook, Twitter, Instagram, TikTok, LinkedIn, and YouTube.