Remembering UNO Chancellor Ronald Roskens
Roskens, who led UNO from 1972 to 1977, and led the University of Nebraska System from 1977 to 1989, died on Sunday, Feb. 27. The UNO flag will be lowered in his memory on Wednesday, March 2.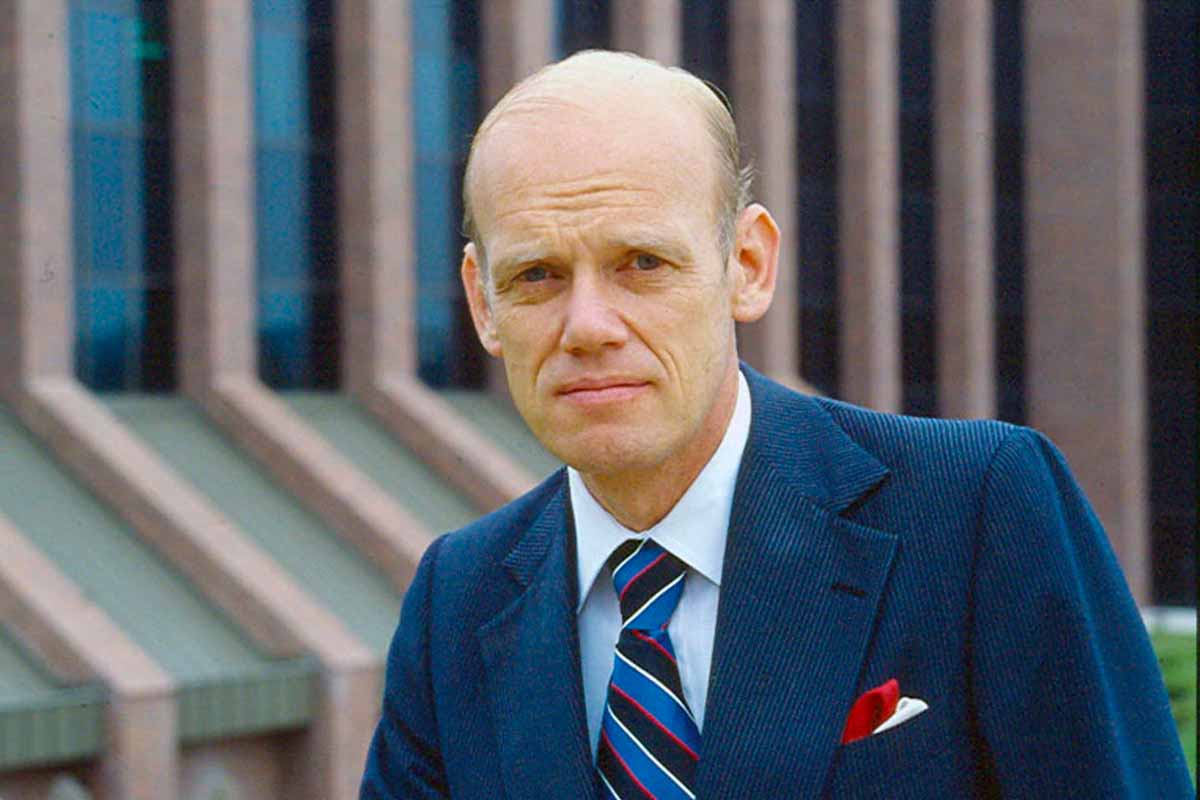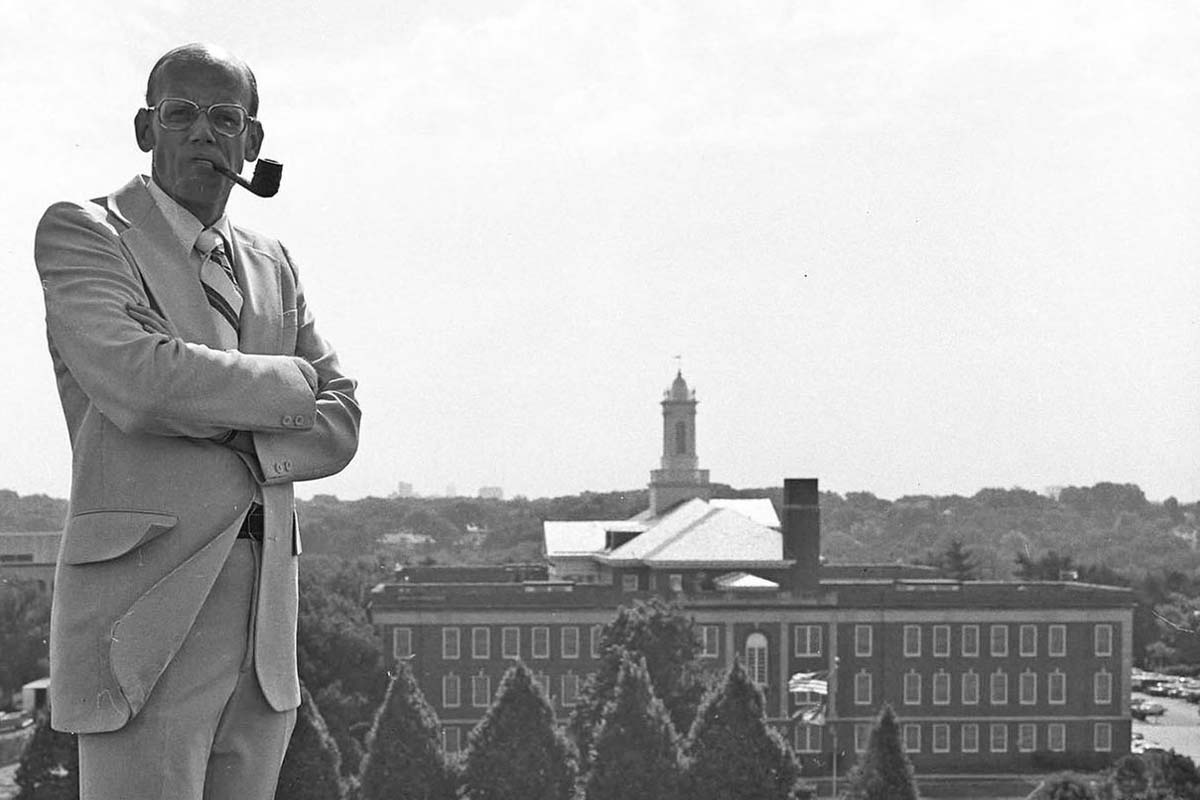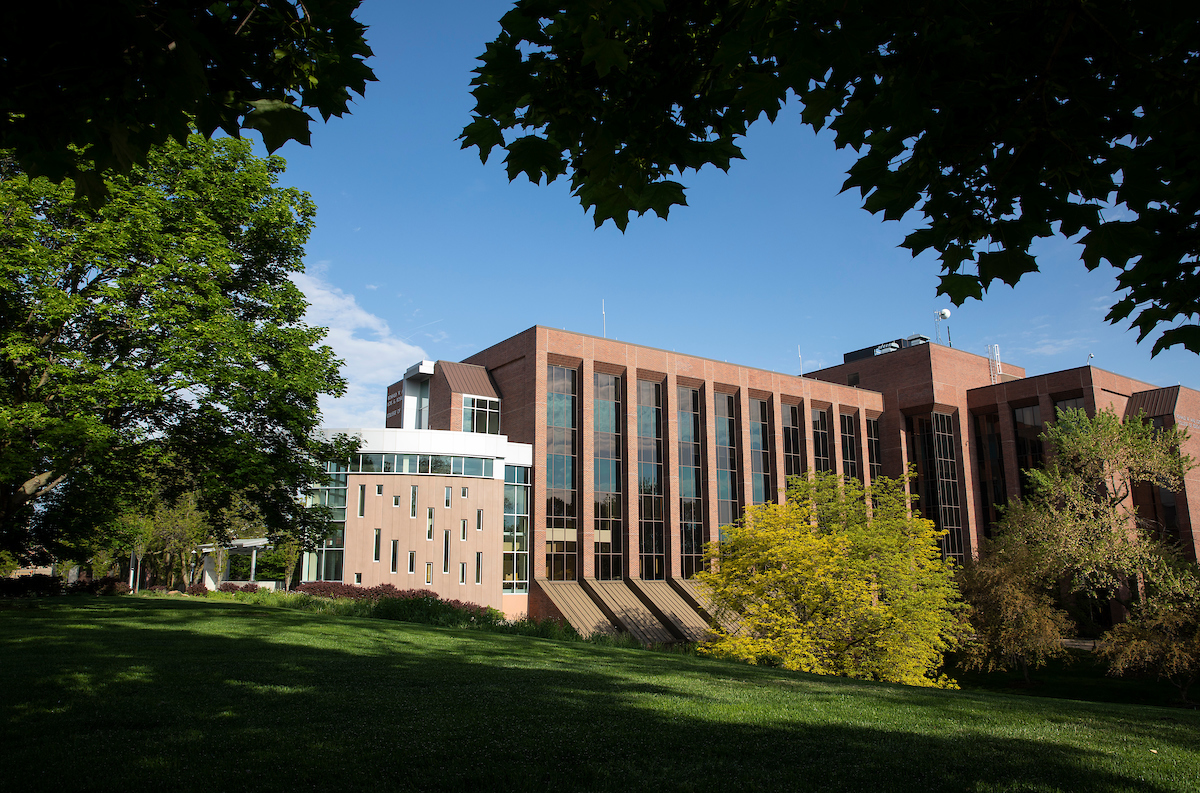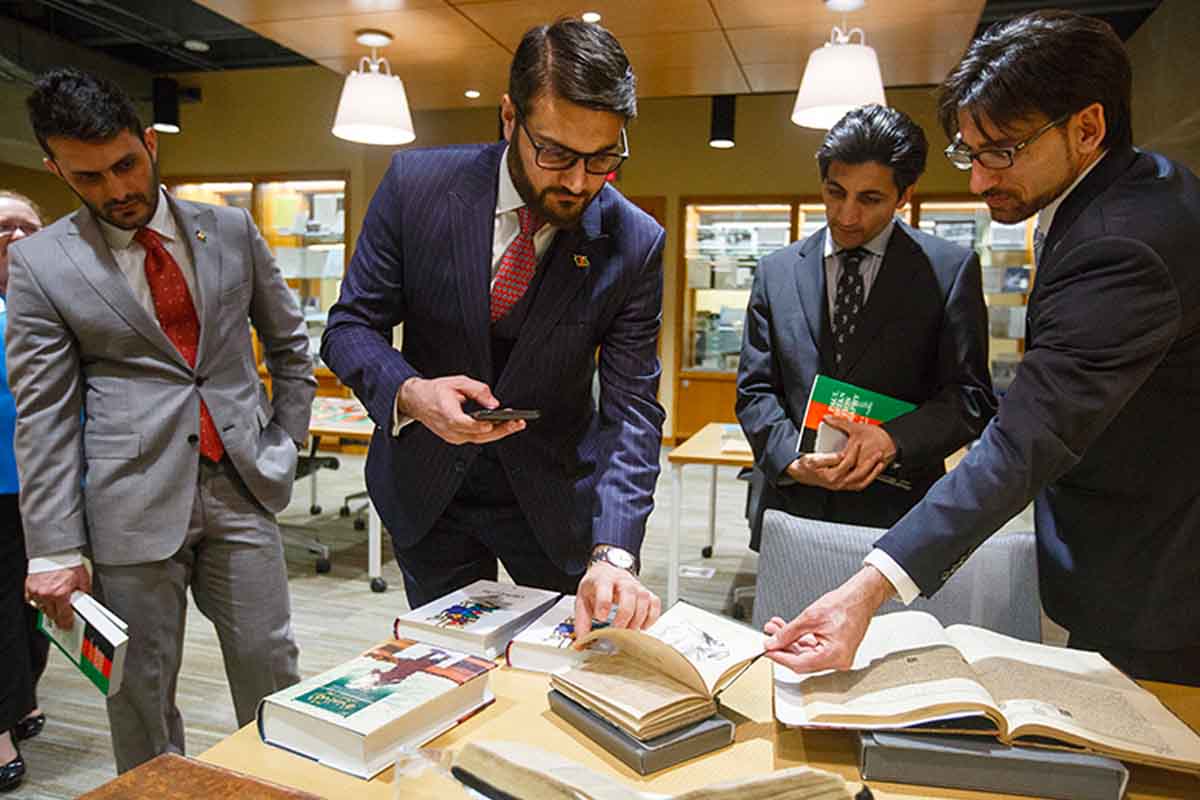 The University of Nebraska at Omaha is mourning the loss of former Chancellor Ronald W. Roskens, Ph.D., who passed away on Sunday, Feb. 27, at the age of 89.
Roskens, who served as UNO's chancellor from 1972 to 1977 before serving as president of the University of Nebraska System until 1989, has had an incredible, lasting impact on the university - stretching half a century; his involvement continued all the way up until his passing.
The UNO flag will be lowered on Wednesday, March 2, in his memory.
"The life of Ronald Roskens teaches us valuable lessons of what it means to be a part of a community," UNO Chancellor Joanne Li, Ph.D., said. "At home, he was a proud advocate for the University of Nebraska at Omaha and understood the power an education has to change lives. Abroad, he built friendships on behalf of our university and the United States that made the world a better place. It is my hope that in the coming days, we take time to learn more about his contributions to our world so that we can embody his spirit of service."
From significant campus growth following the university's merger with the University of Nebraska just years prior, to enhancing UNO's metropolitan mission, to expanding the campus' international footprint, Roskens provided stability as well as forward-looking vision for UNO during otherwise unstable times in the 1970s.
"Ron spent much of his career in education, and after serving as chancellor of UNO he went on to become the longest-serving president of the NU System," NU System President Ted Carter said. "His footprint includes the building at UNO that bears his name, where we help prepare future generations of Nebraska educators. Lynda and I are thinking of President Roskens' wife Lois and their four children during this difficult time."

Ronald Roskens speaks with UNO professor Paul Borge in 1985 as part of
UNO Television's "Reflections in Time" program.



Early Beginnings
Roskens was born on Dec. 11, 1932, on a farm in Spencer, Iowa, during the tail end of the Great Depression. Calling himself a "green country boy" Roskens worked his parents' farm all the while gaining an education locally before attending the University of Northern Iowa and earning a teaching degree in 1953. During this time he also met his wife, Lois, who he would marry in 1955.
After teaching for one year in Milburn, he returned to college, this time at the University of Iowa, to earn a master's degree in 1955 before finding employment on campus as an assistant dean all while completing his Ph.D., which he earned in 1958.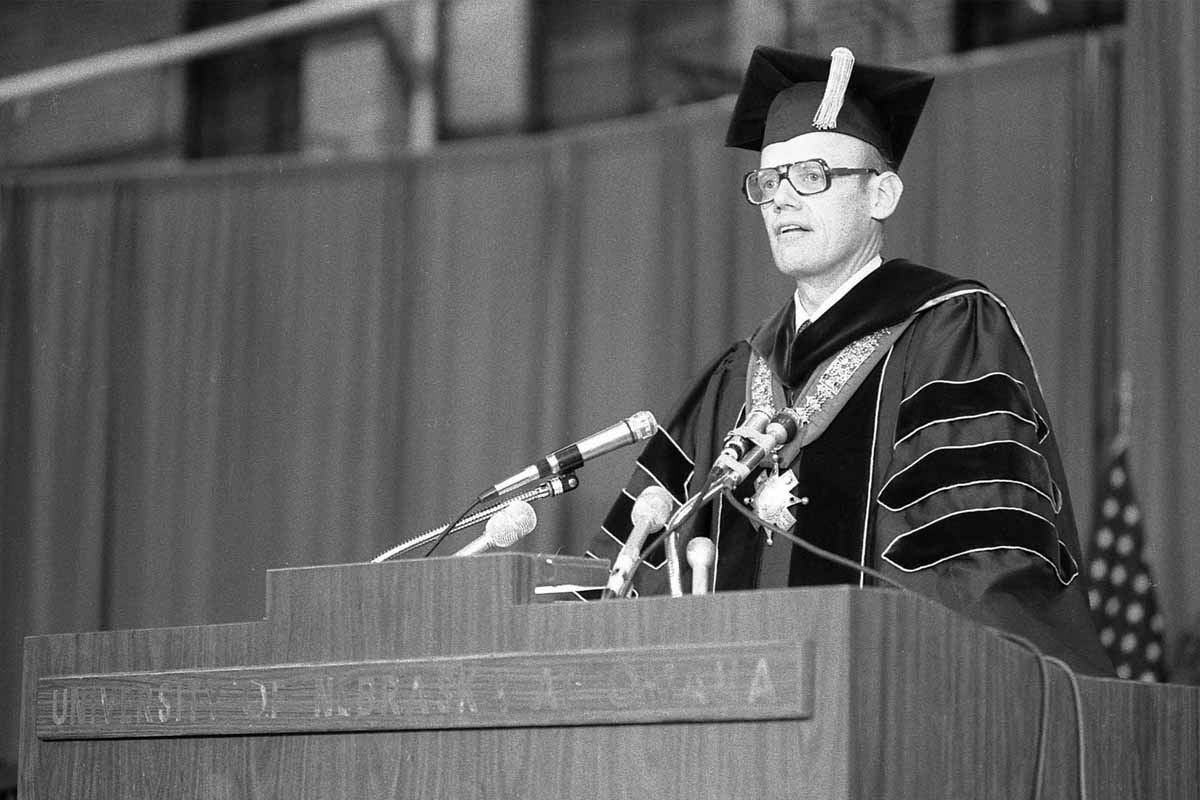 UNO Chancellor Ronald Roskens speaks at Commencement. As chancellor, Roskens oversaw the
beginning of what would become a significant maturation as the state's urban university.


Becoming a Maverick
Roskens found his way to UNO when he was announced by then-NU system president D.B. Varner as the university's newest Chancellor, replacing Kirk Naylor. Prior to arriving at UNO, Roskens had served as Executive Vice President at Kent State University in Ohio.
When Roskens arrived in the summer of 1972, UNO was undergoing dramatic change having just joined the University of Nebraska System in 1968. As the university was sorting through how this new relationship would work, Roskens was focused on planting a flag for UNO to serve not just the City of Omaha, but the state of Nebraska and the world.


Leaving a Legacy
In just five years as chancellor, Roskens oversaw major advancements for the university including the creation of the College of Public Affairs and Community Service; the founding of the Goodrich Scholarship Program; the purchasing of property on the west end of campus that would formally become annexed a decade later; the official formation of the Department of Black Studies; moving athletics from the NAIA officially to the NCAA as a then-Division II school; the construction of the Dr. CC and Mabel Criss Library; and the construction of the building that would become known as "Ronald W. and Lois G. Roskens Hall," which currently houses the College of Education, Health, and Human Sciences.
"Ronald Roskens was a transformational leader at a pivotal time in our university's history," said Nancy Edick, Ed.D., Lois G. Roskens Dean of CEHHS. "His commitment to expanding student perspectives through opportunities for global experiences remains unmatched. Roskens Hall is a constant reminder that we must continue to uphold that commitment."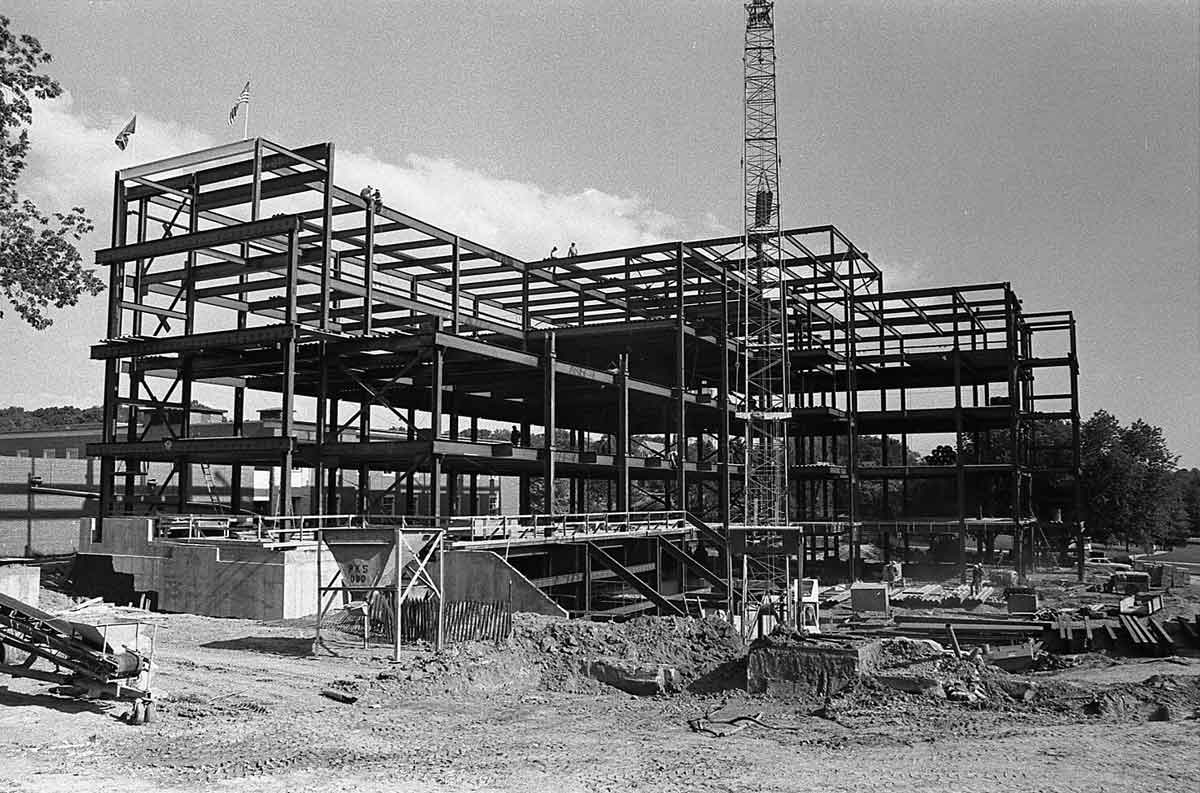 The beginnings of what would become Roskens Hall. The building that carries
Chancellor Roskens' name, along with his wife, Lois, stands as a lasting
landmark on the UNO campus 50 years after he first arrived as chancellor in 1972.

International Impact
Another legacy of Roskens' time at UNO and the University of Nebraska system was the university's footprint on the world stage.
Upon arriving in 1972, Roskens and Dean Emeritus of International Programs Tom Gouttierre formed the Center for Afghanistan Studies at UNO. Since its formation, the Center has been integral to understanding international conflicts and diplomacy between the U.S. and the Middle East. Roskens also helped foster what would become the Sister University program, which began with Shizouka University in 1979 and includes universities in Lithuania, Germany, and Mexico.
He would carry this passion for international engagement into his role as the president of the University of Nebraska system, beginning in an interim capacity in 1977 before officially taking on the role until eventually leaving the position in 1989 as the system's longest-serving president.
As president, Roskens further opened Nebraska to the world, founding an important relationship between the state and China, which continues to this day, as well as support of the Sister Cities and Sister Universities programming at UNO and other campuses.
It was this work that eventually led him to serve two years in the George H.W. Bush administration as an administrator for the U.S. Agency for International Development from 1990 to 1992. He also eventually served as Omaha's honorary consul general of Japan from 1999 to 2009. In 2010 he earned recognition from the emperor of Japan with the awarding of the Order of the Rising Sun, one of Japan's highest awards to foreign nationals.
"Ron Roskens' decades of commitment to UNO, to the University of Nebraska system, to the state of Nebraska, and to the United States as a whole cannot be understated," said Chancellor Emeritus John E. Christensen, who served as chancellor from 2007 to 2017 and was a student in the College of Education during Roskens' time as chancellor. "His Midwestern roots and commitment to education was a true inspiration, and his passing is a significant loss."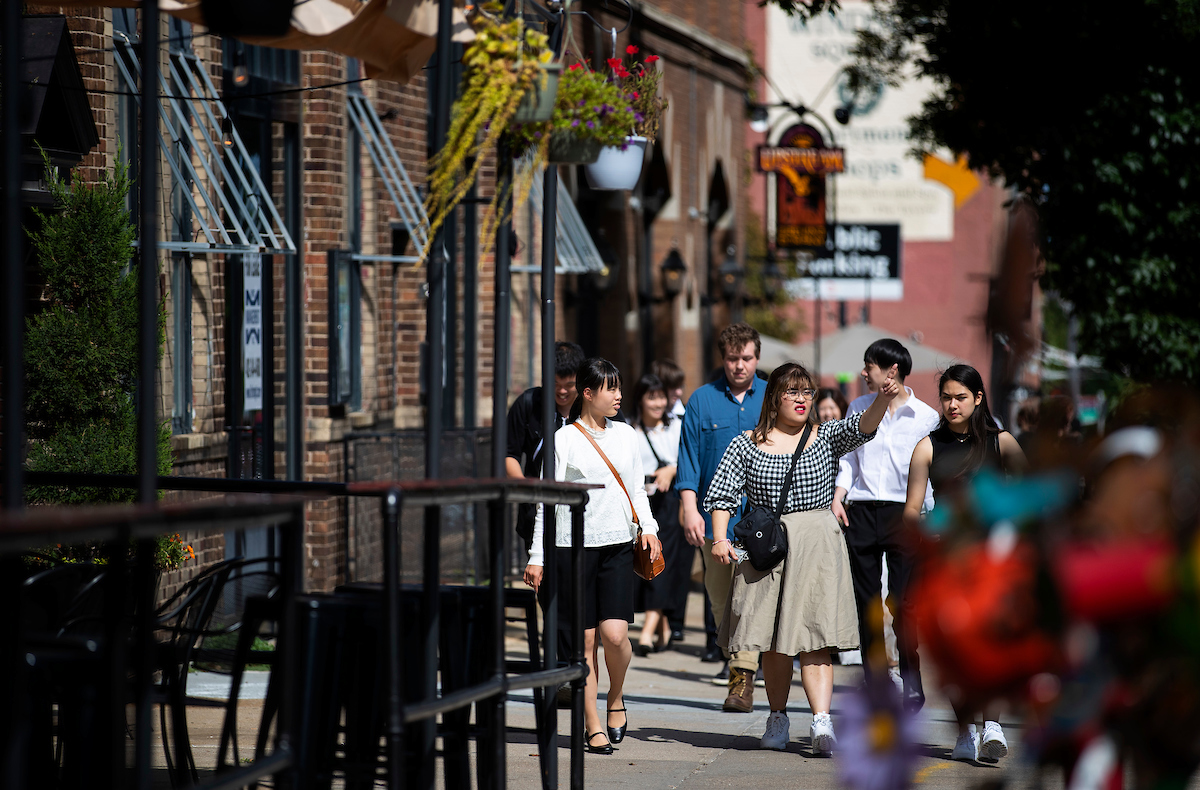 Students from Shizuoka, Japan, visit Omaha as part of UNO's 40-year
relationship with Shizuouka University. A large part of Rosken's legacy
was bringing UNO - and Nebraska - to the rest of the world.


A True Maverick
Roskens also gave back in other ways, serving on the boards of ConAgra Foods Inc., the Silverstone Group, and Capitol Federal Savings Foundation. In 2011, Roskens and his wife Lois provided an endowment to the University of Nebraska Foundation to create the Ronald W. and Lois G. Roskens International Experience Fund to help students in the College of Education, Health, and Human Sciences at UNO gain international experiences.
For his contributions, Roskens has been recognized as a "Distinguished Alumni" from his alma mater the University of Iowa, received UNO's "Order of the Tower" medal in 2009, was named as a "Face on the Bar Room Floor" from the Omaha Press Club in 2010.
Roskens was preceded in death by his parents, William and Delores; he is survived by his wife, Lois, his children, Elizabeth Torson of Omaha, Barbara Blount of Castle Rock, Colorado, Brenda Dicus of Topeka, Kansas, and Bill Roskens of Omaha.
The thoughts of the entire Maverick community are with the Roskens family during this difficult time as we also remember the legacy of Chancellor Ronald Roskens as an educator, a leader, an innovator, and a Maverick.
About the University of Nebraska at Omaha
Located in one of America's best cities to live, work and learn, the University of Nebraska at Omaha (UNO) is Nebraska's premier metropolitan university. With more than 15,000 students enrolled in 200-plus programs of study, UNO is recognized nationally for its online education, graduate education, military friendliness and community engagement efforts. Founded in 1908, UNO has served learners of all backgrounds for more than 100 years and is dedicated to another century of excellence both in the classroom and in the community.
Follow UNO on Facebook, Twitter, Instagram, TikTok, LinkedIn, and YouTube.