Papillion-La Vista South High School Senior Awarded 'Maverick in the Making' Scholarship
Senior Justice Kellett was recently named a "Maverick in the Making" for her commitment to her education and never-quit attitude. UNO's Maverick in the Making Scholarship recognizes high school seniors who make a difference in their communities, go against the grain, and explore without the fear of failing. To celebrate these changemakers, they are awarded a $4,000 scholarship to attend UNO.
published: 2022/02/13
contact: Charley Steed - University Communications
email: contact@unomaha.edu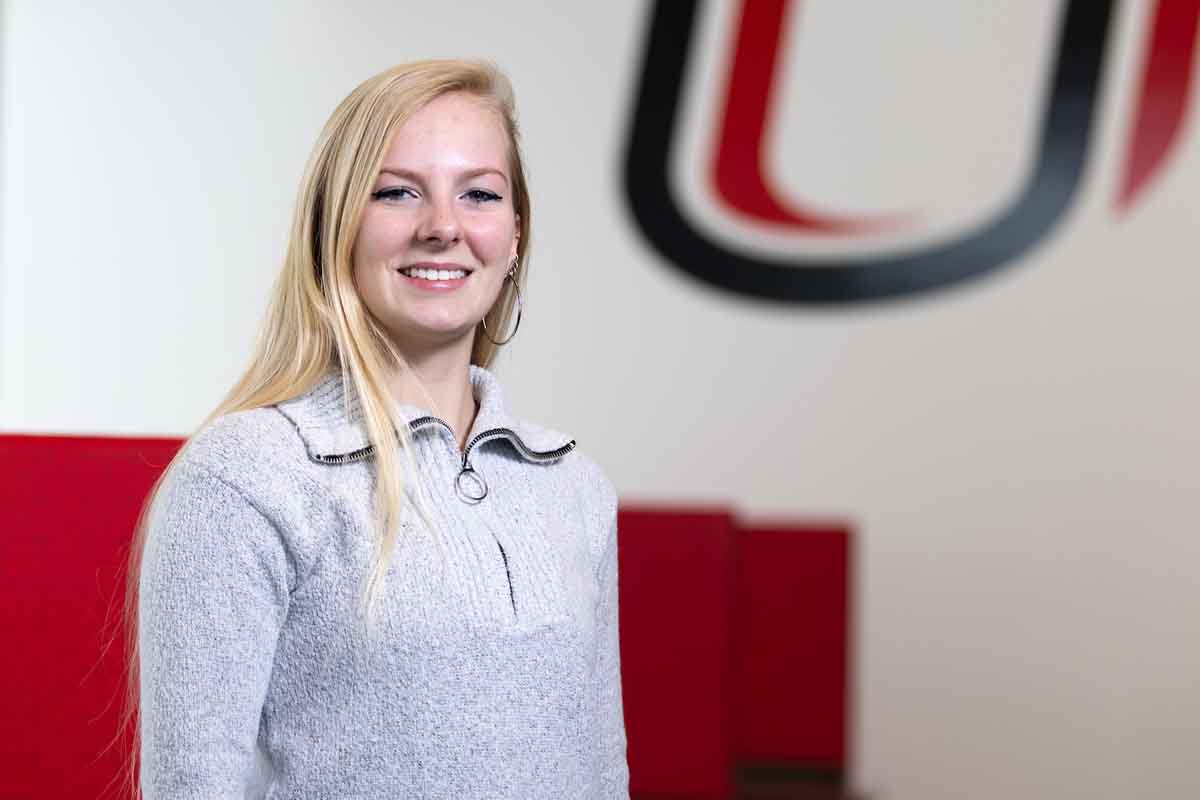 Justice Kellett, a senior from Papillion-La Vista South High School, will be attending UNO next fall with the help of a $4,000 scholarship after being selected as UNO's latest "Maverick in the Making." She was nominated by a family friend who says Kellett is "the best of the best."
If there is one word to describe Justice Kellett, UNO's most recent Maverick in the Making, it would be "Determination."
As commanding officer for Papillion-La Vista South High School's Navy Junior Reserve Officers Training Corps (NJROTC), she is a leader who takes charge and elevates everyone else by refusing to take "No" for an answer.
"Back when she was a freshman she told me she wanted to be the commanding officer of the ROTC unit and she strived and worked her butt off to do what she needed to do," said her nominator, Dyane Streebin, a family friend and volunteer for Papillion South's NJROTC. "She's the best of the best."
Kellett was surprised with the Maverick in the Making Scholarship in class with her parents, friends, nominator, and even Durango in attendance to celebrate.
"Everyone was smiling and so happy and I was like 'What just happened?' I didn't comprehend it until they spelled it out what was happening," Kellett said.



As a recipient of the Maverick in the Making Scholarship, Kellett will receive $4,000 to help cover costs during her college career at UNO. She said she was drawn to UNO because of the university's AFROTC program and hopes to study psychology. However, she is also excited to attend because of the Maverick Spirit she saw during a campus visit.
"Just like what we have here at South – we have the Titan Way and it's the community of people, really," she said. "It defines a community of people, what stand for, what we strive to be."
And what Kellett strives to be is a leader in the community. Something that is evident from her work not just with NJROTC but volunteering for several community service projects, roadside cleanup efforts, supporting Halloween Safe Night, being a member of the American Legion, among other contributions to her school and beyond.
"I think Justice is very hardworking; she is a team player, she not only has great ideas but willing to listen to other people's ideas as well so I think she will be great [as a Maverick]," said her mother, Jasmine Kellett.
It was Justice's hardworking nature that prompted Streebin to take a leap of faith and nominate her.
"When we sat together to nominate her, she was very heartfelt and said she hadn't been able to get any scholarships and so I said 'Well let's do this.' And because of all she does she's very deserving," Streebin said. "Here we roll around to January and I had forgotten about it – she had forgotten about it and I get the phone call that she was selected as Maverick in the Making and I just cried. For hours I cried."
As a member of Papillion-La Vista South High School's NJROTC she said that while she didn't plan to fall in love with the experience, it is something she can't wait to continue as a Maverick.
"As a child I was never 'I really want to do this really bad' it was something where I went through life, got into HS and really liked it," she said. "My plan would be to go into [the armed services] as an officer."
More than that, Justice said, she wants to be a role model for others to follow and quickly become a part of the Maverick family.
"I want to make a good impression, I want to meet new people, and I want to try new things, she said. "I think it will be great opportunity."


---

Nominate Your Own Maverick in the Making
The University of Nebraska at Omaha (UNO) is recognizing high school seniors who are making a difference in our communities through our "Maverick in the Making" Scholarship.
Complete the nomination form in the link below to nominate your Maverick in the Making. Each month, a team at UNO will review submissions and select our next Maverick in the Making winner who will receive a certificate and scholarship to UNO for $4,000.


We will film award recipients at their schools, receiving their award during the school day. Video footage of your Maverick receiving their scholarship will air on KETV's Saturday morning news.

Submissions are accepted year-round.
About the University of Nebraska at Omaha
Located in one of America's best cities to live, work and learn, the University of Nebraska at Omaha (UNO) is Nebraska's premier metropolitan university. With more than 15,000 students enrolled in 200-plus programs of study, UNO is recognized nationally for its online education, graduate education, military friendliness and community engagement efforts. Founded in 1908, UNO has served learners of all backgrounds for more than 100 years and is dedicated to another century of excellence both in the classroom and in the community.
Follow UNO on Facebook, Twitter, Instagram, TikTok, LinkedIn, and YouTube.