UNO Academic Advising Council Names Katie Larson Advisor of the Month
Larson was nominated by her peers for his dedication to student success.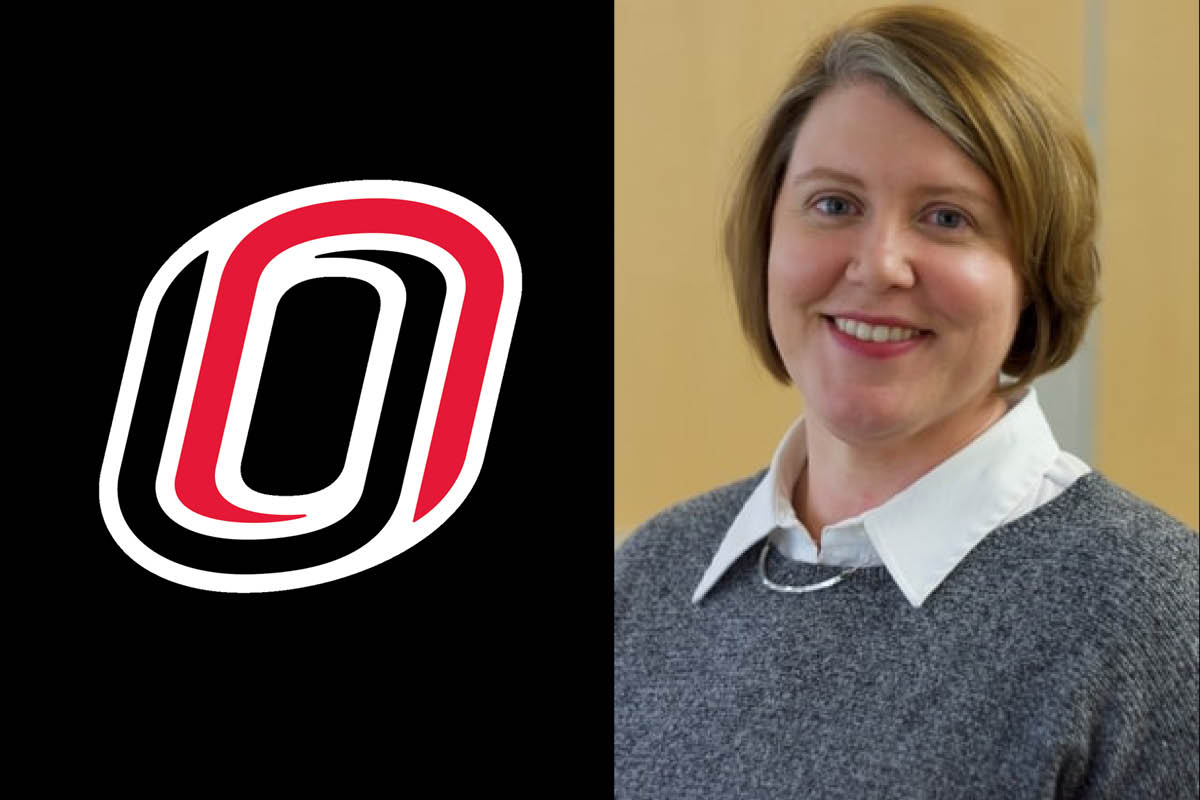 Congratulations, Katie!
Katie Larson, Assistant Director of Academic Advising for the College of Education, Health, and Human Sciences was recently named the "Advisor of the Month" by the Academic Advising Council (AAC) for the month of November.
The award was presented to Katie at the monthly AAC meeting on Nov. 18.
Her nominator said, " Katie is an amazing human. I consider myself lucky to have worked alongside her for nearly eight years. I owe my own professional growth to her gentle coaching and encouragement. Our office is better because of her wealth of knowledge, analytical mind, and student-centered advocacy. I cannot emphasize how critical Katie's work is to our office operations. There is not one form or web site page that has not had her touch. When any sort of artsy or promotional document needs to be made, our heads turn to Katie… "will you create this or make it better?" As our resident copy editor, Katie will proofread annual reports and recruitment materials. She has created nearly all of the flyers that we use in our office. It is because of her journalism skills that she can create these amazing easy-to-read communication pieces. Because of her skills we can do this in-house, without additional support. Additionally, Katie shares willingly with the team her advising note templates for various student issues. It's hard to summarize a difficult conversation, tricky transfer credit, or come up with a solid way to frame options if needing to drop student teaching. Her templates for emails, advising notes, letters of recommendation, hardship fund requests, and retention communication are foundational tools in our office. From basic meeting notes to the most challenging conversations, she guides the team on communication best practices. Bottomline, the forms and language that we use every day are all made by Ms. Larson. She is the backbone of our office and deserves to be recognized for her stellar commitment to advising, students and the UNO community."
For being selected as the AAC Advisor of the Month, Larson will receive a certificate and gift card.
Nominate an Advisor for the "Advisor of the Month Award"
If you know one of your colleagues has gone above and beyond in their exceptional service to students, their colleagues and/or the university, nominate them for the Advisor of the Month Award! Each month, one advisor will be selected at random from the nominations to receive the award at the Academic Advising Council meeting. All nominees will be recognized by AAC for their work.

Nominees must be at least .5 FTE whose primary role is academic advising. Once selected, advisors would not be eligible to receive the award again for one calendar year, although they can still be nominated in recognition of their work. To nominate an academic advisor, complete the nomination form on the AAC website.
About the Academic Advising Council (AAC)
Monthly forums keep advisors up-to-date on topics ranging from best practices in advising to technology and program updates. The group, which formally launched in 2011, welcomes not just advisors to its meetings, but also many other professionals on campus who support UNO students.
The Academic Advising Council meets the third Thursday of each month at 1:30 P.M.
Meetings are open to the public
About the University of Nebraska at Omaha
Located in one of America's best cities to live, work and learn, the University of Nebraska at Omaha (UNO) is Nebraska's premier metropolitan university. With more than 15,000 students enrolled in 200-plus programs of study, UNO is recognized nationally for its online education, graduate education, military friendliness and community engagement efforts. Founded in 1908, UNO has served learners of all backgrounds for more than 100 years and is dedicated to another century of excellence both in the classroom and in the community.
Follow UNO on Facebook, Twitter (X), Instagram, TikTok, LinkedIn, and YouTube.