Omaha Athletics Continues Partnership with Institute for Urban Development (4urban.org)
The partnership, which began in 2020, will continue to collect DEAI stories from UNO student athletes and identify opportunities for them to participate in DEAI-focused community engagement opportunities.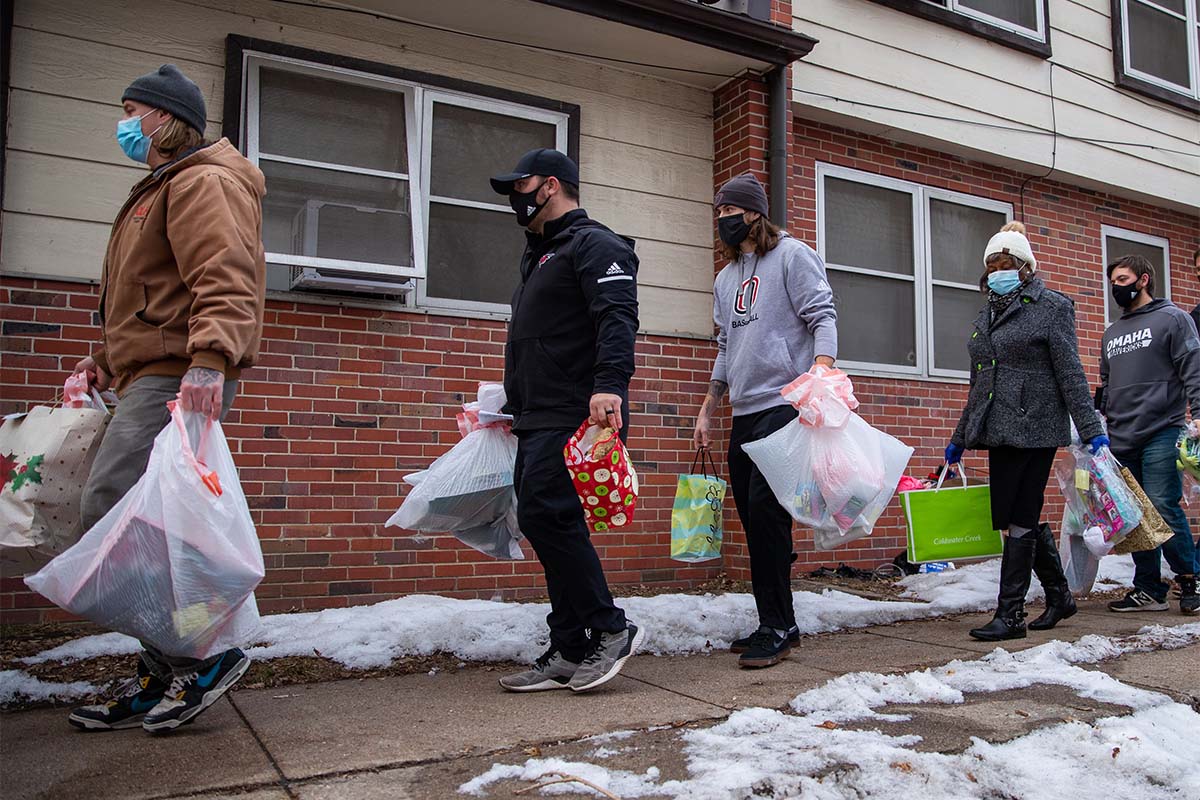 UNO student athletes delivered gifts to underserved communities as part of a partnership between Omaha Athletics and the Institute for Urban Development (4Urban.org), which includes helping identify DEAI-focused civic engagement activities for student athletes.
Omaha Athletics is continuing its commitment to expanding diversity, equity, access, and inclusion (DEAI) efforts within the University of Nebraska at Omaha (UNO) Athletics Department.
The 4Urban program allows for innovative, sensemaking collection of existing and future DEAI stories that come directly from UNO student athletes.
This collection allows Omaha Athletics to tell important stories while also seeking continuous improvements and innovations through analysis of qualitative and quantitative data. The 4Urban program also helps Omaha Athletics identify DEAI-focused civic engagement activities for student athletes, like last year when the Omaha Baseball team distributed gifts across the Omaha area during the holiday season.
Originally launched in August 2020, this partnership with the Institute for Urban Development (4Urban.org) helps UNO proactively identify opportunities and get ahead issues related to DEAI efforts while developing student-athletes to become "Ambassadors for Equity" now and into their professional careers after sport.
The objective is to build student-athletes "aware of the bubble they live in," with a desire to "break their bubble" through awareness and action, said 4Urban CEO Preston Love, Jr.
"Ultimately, we are building leaders and citizens for their next career, whether it is playing at the next level or starting a career in their next profession," emphasized Mike Kemp, interim athletic director for Omaha Athletics. "And the by-product of greater DEAI is building a championship culture now at Omaha."
The partnership began as Omaha Athletics enlisted Love to conduct a pilot sensemaking story collection over 60-90 days. Love, with his 4Urban.org team conducted a thorough assessment and evaluation by examining the stories and conducting listening sessions with UNO's 16 athletic teams and 400 plus athletes, staff, and coaches.
While the department's strengths included a welcoming and inclusive environment, the student-athletes stories showed room to improve. Love, utilizing his vast experience and knowledge in the field of DEAI, responded with a systemic process and unique engagement strategies through team events and civic engagement projects. The pilot program was declared a success leading to a desire by both parties to continue this partnership through a year-round continuous story collection process as well as continuing development of student-athlete "Ambassadors for Equity."
"The relationship between UNO and 4Urban demonstrates a deliberate, yet thoughtful, methodology for approaching a complex topic," stated Love. "We desire action above buzz words."
Love is excited about the relationship with UNO and making a difference for so many.
About the University of Nebraska at Omaha
Located in one of America's best cities to live, work and learn, the University of Nebraska at Omaha (UNO) is Nebraska's premier metropolitan university. With more than 15,000 students enrolled in 200-plus programs of study, UNO is recognized nationally for its online education, graduate education, military friendliness and community engagement efforts. Founded in 1908, UNO has served learners of all backgrounds for more than 100 years and is dedicated to another century of excellence both in the classroom and in the community.
Follow UNO on Facebook, Twitter, Instagram, TikTok, LinkedIn, and YouTube.