New Research Aims to Speed Up Augmented Reality, Data Processing
published: 2021/12/02
contact: Tavion Davis - University Communications
email: unonews@unomaha.edu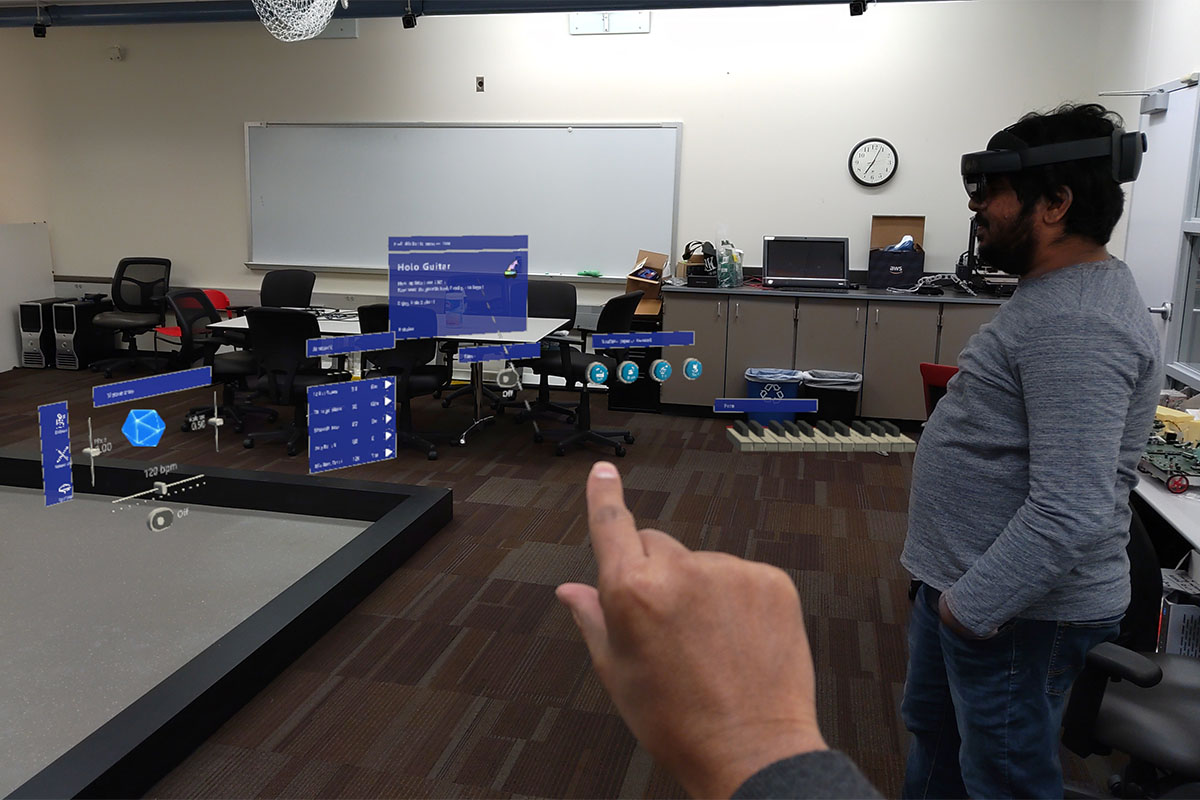 Mastorakis' research could lead to improvements in processing speed for devices like the Microsoft Hololens, seen in use here by a student and researcher navigating its menus.
Next generation devices and technologies can push the limits of data and bandwidth. A researcher at UNO is working to find ways to speed up the process.
Spyridon Mastorakis, Ph.D., an assistant professor of computer science at UNO, is researching how to speed up augmented reality (AR) processing by cutting down the number of frames of video processed to those that are necessary for high similarity processing.
Mastorakis' research, funded through a $174k grant from the National Science Foundation, could lead to AR and artificial intelligence (AI) platforms, such as Alexa Google Home, and Siri, having up to 21 times their current processing speed. This would lead to greater efficiency of future AR and virtual assistant devices and technologies.
"Our research identifies similar or correlated data generated by such applications and optimizes the processing of this data, which may be needed to gain deeper context into the data." Mastorakis said.
For example, when using AR, a device captures video of the scene in front of the user. Thinking of video as a series of pictures, called frames, video is often recorded at 30 frames per second (fps). It takes a lot of data to transmit and process 30 fps, but through this research, Mastorakis hopes only transmitting a portion of that video could reduce data needs and speed up response times.
"This project is a non-traditional approach to enable the widespread use of next-generation applications in our everyday lives," Mastorakis said. "I am very excited about this project, since our research could definitely have an impact on our lives, if successful, and could also spur a new research direction that the broader scientific community could investigate in the future."
This research is supported by the National Science Foundation Networking Technology and Systems (NeTS) program and the Established Program to Stimulate Competitive Research (EPSCoR) via award number 2104700. Any opinions, findings, and conclusions or recommendations expressed in this material are those of the author(s) and do not necessarily reflect the views of the National Science Foundation.
About the University of Nebraska at Omaha
Located in one of America's best cities to live, work and learn, the University of Nebraska at Omaha (UNO) is Nebraska's premier metropolitan university. With more than 15,000 students enrolled in 200-plus programs of study, UNO is recognized nationally for its online education, graduate education, military friendliness and community engagement efforts. Founded in 1908, UNO has served learners of all backgrounds for more than 100 years and is dedicated to another century of excellence both in the classroom and in the community.
Follow UNO on Facebook, Twitter, Instagram, TikTok, LinkedIn, and YouTube.