Some Horn Blowing for Bill Scott
As longtime donor and friend of UNO Bill Scott celebrates his 91st birthday, UNO celebrates his love of music and giving back to the community.
published: 2021/09/27
contact: Tom O'Connor - University of Nebraska Foundation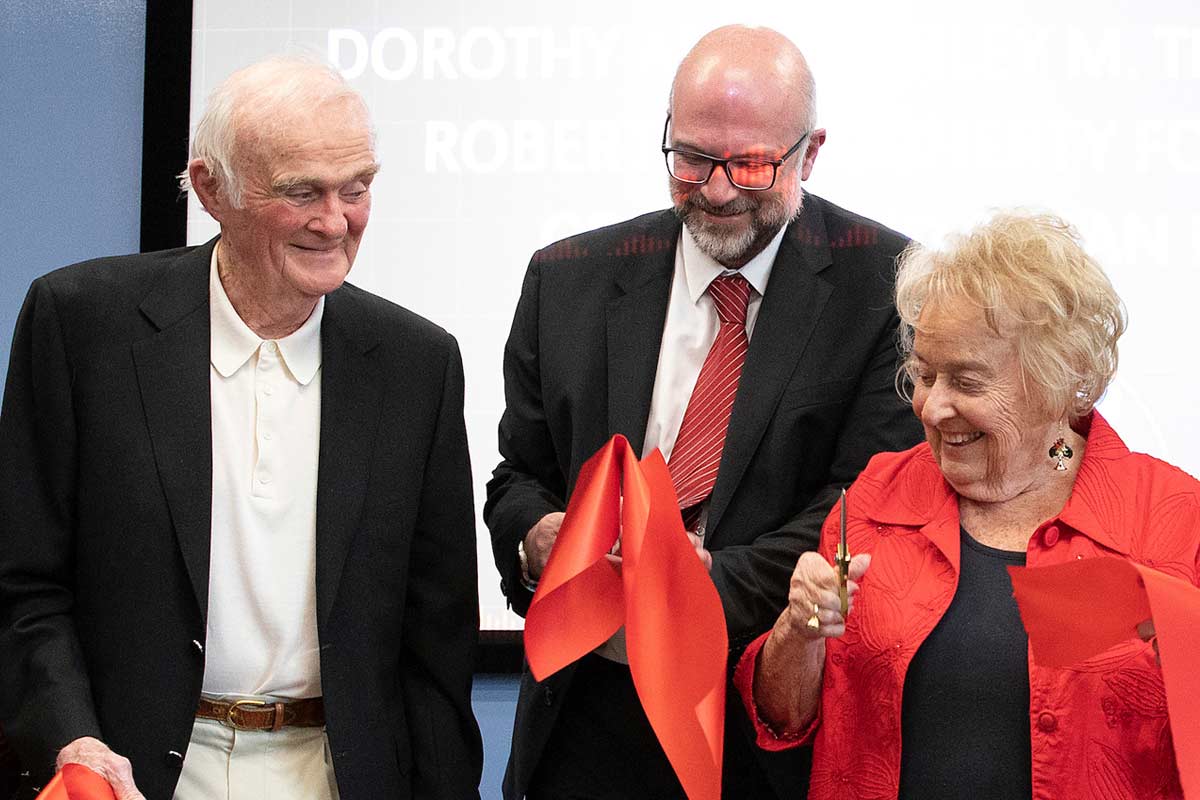 Bill Scott (left) and his wife Ruth (right) celebrate with UNO's Nick Stergiou at the ribbon cutting of an expansion to UNO's Biomechanics Research Building. The Scotts have been long-time supporters of UNO, helping grow the campus' physical footprint and impact in the community.
When it comes to his philanthropy, Bill Scott has never been one to toot his own horn. In fact, he would just as soon keep it under the radar.
But, as one of UNO's top philanthropists celebrates his 91st birthday today, it's about time that we give the man some props for what a great horn blower he is.
Since he learned to play the trumpet at 10 years old, Scott has brought joy to thousands of people through his musical talent.
It's really an incredible story. The man who earned a fortune being Warren Buffett's right-hand person at Berkshire Hathaway is still entertaining people as he heads into his 10th decade.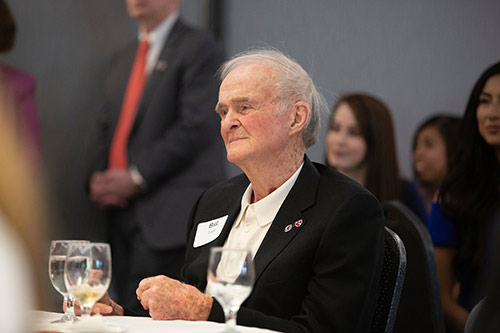 Much like nobody knew that Clark Kent was Superman, who would ever know that a business legend would get home from a hard day of work and transform into an outstanding musician?
"If you spend time with my dad, you realize he's not a conversationalist," said John Scott, the oldest of Bill and Ruth Scott's three sons and a fellow trumpet player. "He's a quiet guy. He just loves to perform — to get up on stage. He absolutely loves music and singing. He practices all the time."
Have horn will travel. Bill Scott has played his trumpet in many different venues — from Polish festivals in Chicago and Milwaukee to a tiny bar in Leshara, Nebraska, to a country club in Rancho Mirage, California.
He mostly specializes in polka music, but he can also do Bob Dylan and Pete Seeger songs and can belt out classics such as "Proud Mary" and "Sloop John B."
Locally, Bill and John Scott were key members of a legendary polka band called The Polonairs. In recent years, they have partnered with band members of a group called Sheelytown. These days they typically play at The Belvedere (Polish Home) in Papillion and the St. Stanislaus Polish Festival in South Omaha.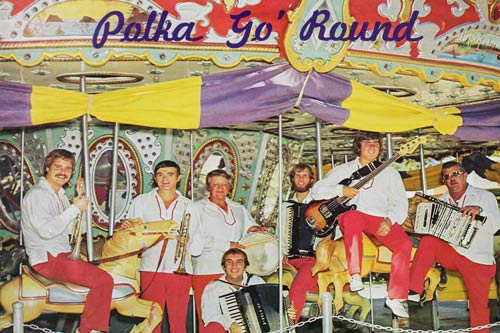 View a song from a 2019 concert by The Polonairs at the University of Nebraska Medical Center.
John Szalewski, the accordion player for The Polonairs and Sheelytown, also had only good to say about Bill Scott.
"Bill has so much passion," said Szalewski. "He's a professional with his music. He's a perfectionist. He always does it right.
"Bill hasn't lost anything in playing the trumpet. He's still on top of his game and is 100% accurate in his Polish pronunciation."
John Scott said his father's passion for doing things right is exemplified by Bill taking Polish classes in the 1960s to learn how to pronounce the Polish words in polka songs correctly.
In the 1970s (before the advent of email), Szalewski said Bill Scott used to mail him letters.
"He'd send new songs, cassettes, song lists, lyrics. You name it. He'd tell us to practice the new songs and be ready to go when we play on Saturday. Today, Bill uses email to demonstrate that same passion. He was a top-notch band leader."
Amazingly, Bill Scott struggles to read music.
"Almost everything he plays is by ear," John Scott said. "Everything is based on memory. He figures out what keys to play it in. He loves to do songs with a lot of soul to them. There's a Polish polka song — 'I'll Be Back' — about a soldier going to war and hoping to come back. Bill does a great job with this song. We usually use it as our last song of the night."
Playing the trumpet demands breath control as well as finger dexterity and tongue skills.
"Your fingers and tongue have to be aligned," John Scott said. "You have to move the tongue pretty fast to match your fingers. It keeps your mind sharp."
In 2005, Bill Scott suffered a serious spinal cord injury when he was on a golf trip. Following the injury, he was unable to play the trumpet, but through his hard work and dedication in rehab, he eventually was able to regain his trumpet abilities.
Although Bill Scott is a man of few words, Szalewski said he makes them count.
"When Bill says something, it matters. It means something. He's like my second father."
Playing the trumpet is far from Bill Scott's only talent. He still plays golf three times a week, and earlier this year he accomplished a difficult golfing feat — shooting his age — while wintering in California.
Enjoy your special day, Bill. We can't thank you and Ruth enough for what you have given our university and our state.
Here's to many more.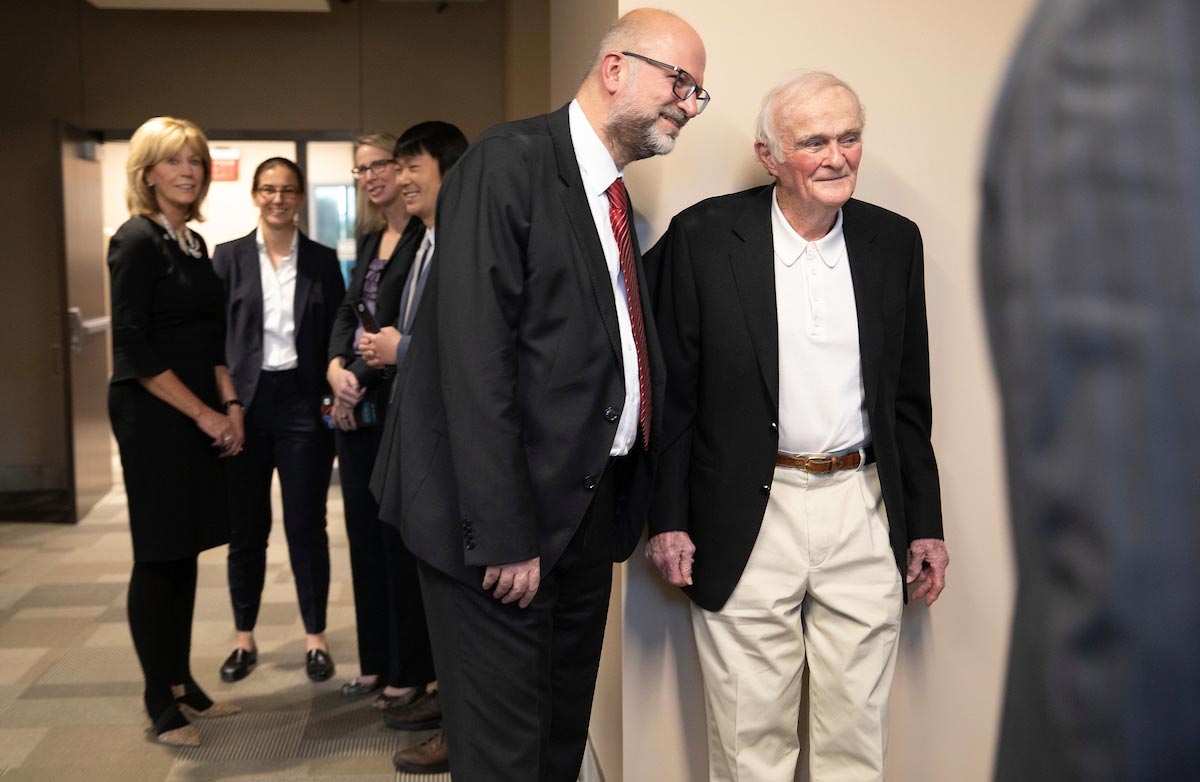 About the University of Nebraska at Omaha
Located in one of America's best cities to live, work and learn, the University of Nebraska at Omaha (UNO) is Nebraska's premier metropolitan university. With more than 15,000 students enrolled in 200-plus programs of study, UNO is recognized nationally for its online education, graduate education, military friendliness and community engagement efforts. Founded in 1908, UNO has served learners of all backgrounds for more than 100 years and is dedicated to another century of excellence both in the classroom and in the community.
Follow UNO on Facebook, Twitter, Instagram, TikTok, LinkedIn, and YouTube.