MCC, UNO, UNMC Announce Network to Improve Student Success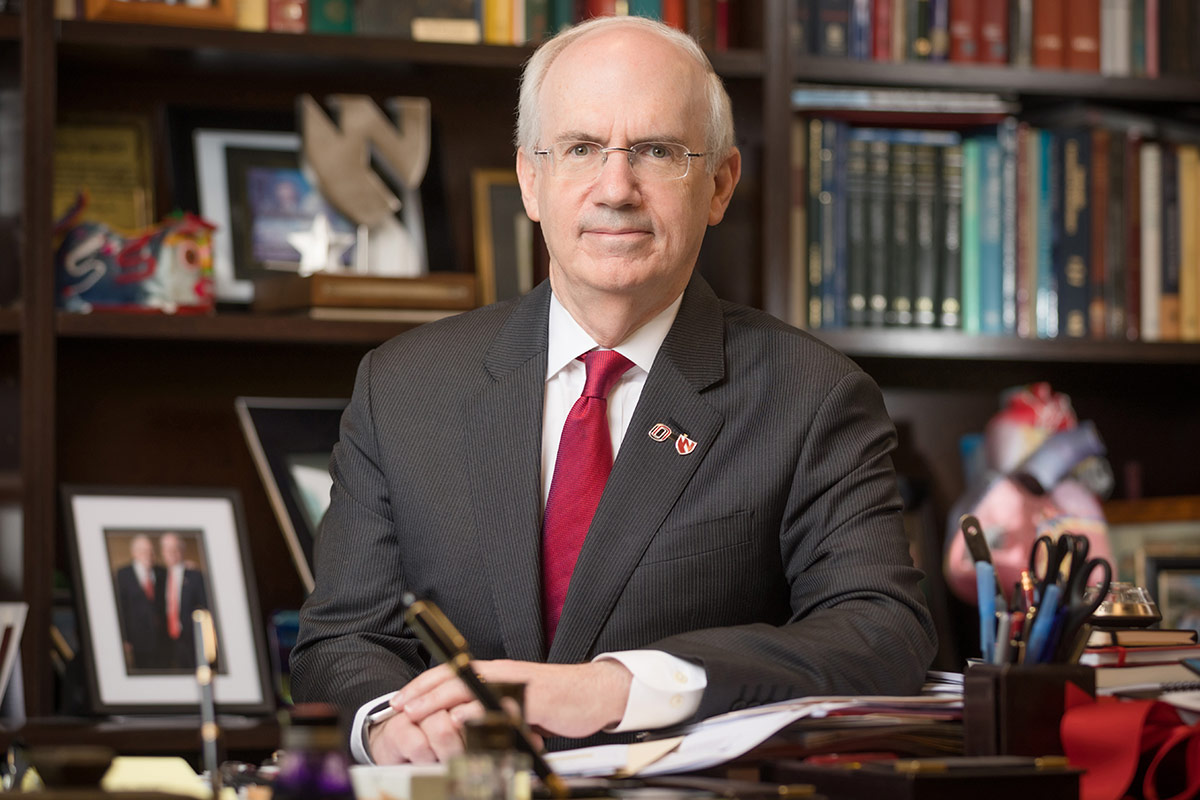 Chancellor Jeffrey P. Gold, M.D.
Metropolitan Community College, the University of Nebraska at Omaha and the University of Nebraska Medical Center have created a more closely aligned higher education model that will improve student success between and among the three institutions.
The Greater Omaha Student Success Network – referred to as the GO Network – will refine the transfer process and enhance student support, the institutions' leaders say. Already, they said, the network has shown promising results and will continue to evolve to better support students.
"This is an innovative program that strengthens the linkages between our institutions, with the success of students clearly as the focal point," MCC President Randy Schmailzl said. "The pandemic keenly underscored the critical importance of goal competition of our mutual students, and I cannot thank enough the group of senior leaders from MCC, UNO and UNMC who worked so diligently for more than a year to make this happen."
The GO Network build on longstanding partnerships between UNO and Metropolitan Community College and between UNO and UNMC. Jeffrey P. Gold, M.D, chancellor at UNMC and UNO, said the GO Network is an ongoing, degree-driven partnership that already has beget early achievements. Those include:
Developing an improved reverse transfer tracking-and-awarding process that led to 43 former MCC students, who are currently enrolled at UNO, earning their associate degrees.

Providing integrated mental health support for students within the GO Network at all three institutions.
"These initial projects are intended to lay the groundwork for a stronger educational ecosystem in the greater Omaha area, where students can thrive," Chancellor Gold said. "The creation of the GO Network is really exciting news."
Other initiatives currently in the works include:
Systematizing the successes of the spring reverse transfer project so more transfer students can readily earn and receive their MCC associate degrees while on their path towards a bachelor's or professional degree at UNO and/or UNMC.

Piloting an exploratory studies class at MCC, which mirrors UNO's course, to help new and undecided students set career goals and chart their educational paths.

Initiating a shared student success cohort of staff and faculty that will focus on common professional development and process improvements.

Developing a common system that will allow for real time case management and support of students throughout their entire academic journey.

Exploring opportunities to enhance and more closely align enrollment processes and support systems such as financial aid, admissions, career services and registration.
About the University of Nebraska at Omaha
Located in one of America's best cities to live, work and learn, the University of Nebraska at Omaha (UNO) is Nebraska's premier metropolitan university. With more than 15,000 students enrolled in 200-plus programs of study, UNO is recognized nationally for its online education, graduate education, military friendliness and community engagement efforts. Founded in 1908, UNO has served learners of all backgrounds for more than 100 years and is dedicated to another century of excellence both in the classroom and in the community.
Follow UNO on Facebook, Twitter, Instagram, TikTok, LinkedIn, and YouTube.