Community Partnerships Drive UNO's Impact in Nebraska and Beyond
True to its mission as a metropolitan institution, UNO is proud to call Nebraska home while also transforming and improving the quality of life locally, nationally, and globally.
published: 2021/06/04
contact: Brandon Bartling - University Communications
email: unonews@unomaha.edu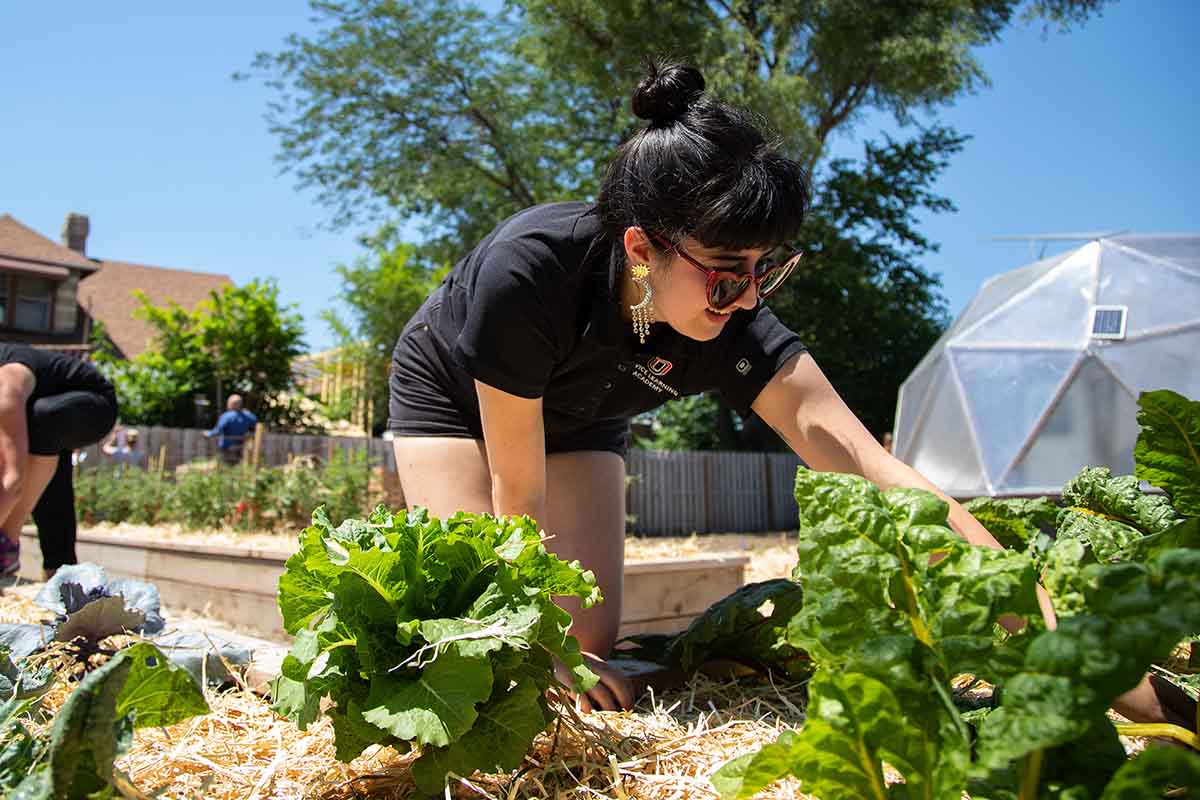 Students at UNO take part in experiential opportunities through the Service Learning Academy including projects like planting community gardens.
True to its mission as a metropolitan institution, the University of Nebraska at Omaha is proud to call Nebraska home while also transforming and improving the quality of life locally, nationally, and globally.
For more than a century, UNO has collaborated with hundreds of organizations state and nationwide in partnerships focused on economic impact, international service, social justice, environmental stewardship, health and wellness, and arts, culture, and humanities.
An online tool developed by students coined the UNO Community Engagement Partnership Initiative (CEPI), puts UNO's community partnerships on the map – literally. Behind every point on the various CEPI maps are Mavericks: Students, faculty, and staff at UNO working alongside community organizations, businesses, K-12 schools, institutional partners, and government and nonprofit agencies. For example, one dot on the map describes how the Juvenile Justice Institute at UNO partners with the Sarpy County Juvenile Justice Center to measure the effectiveness of youth diversion programs. UNO's Juvenile Justice Institute holds similar partnerships with other nonprofit agencies, county attorneys, and government agencies statewide.
Mavericks make an impact out in the community, but some partnerships bring community partners to campus through UNO's Barbara Weitz Community Engagement Center. The building houses about 30 partner organizations that use the space to connect with university resources, collaborate with others, and host and participate in events.
One such partner, the UNO Service Learning Academy, creates university-community partnerships by integrating academic scholarship and civic engagement with community-identified opportunities. The P-16 Initiative is a prime example, pairing undergraduate students at UNO and K-12 students in area school districts with organizations in the community. Since 2010, students have worked on more than 600 projects ranging from meal preparation at area senior centers to working alongside nonprofits to efficiently and sustainably increase crop production through a regional aquaponics program.
Taking part in the initiative has helped students boost their civic engagement and civic literacy, connect academic lessons to real-world applications and develop life and career skills.
"Every student is provided an opportunity to learn the way that they learn best," said LaTrina Hall, P-16 Initiative coordinator at UNO. "It's very experiential. It takes them outside of the classroom. It gives them an opportunity to apply what they've been learning in the classroom to their experience within the community."
Another such partnership focuses on racial disparities in the medical field. A broad and diverse population of patients requires a broad and diverse population of physicians — yet over 56 percent of active physicians are white, 17 percent are Asian, less than six percent are Hispanic, and five percent are Black.
The Urban Health Opportunities Program exemplifies how UNO leverages community and institutional partnerships. Through close partnership with the University of Nebraska Medical Center, UNO Biology Professor Paul Davis, Ph.D., has spearheaded the program which seeks to help first-generation students from underrepresented groups get accepted into medical school.
The program has seen exceptional success since its inception in 2016. 83 percent of UHOP participants have gone on to medical school – nearly double the national average for medical school acceptance.
These partnerships are only a few examples of the collaborations providing educational opportunities while also improving the quality of life in communities in Omaha and across Nebraska. More than just dots on the Community Engagement Partner Initiative map, Mavericks continue to explore new opportunities for partnerships and making an impact.
Learn more about how UNO partners with the community and the state by visiting impact.unomaha.edu.
---
Sara Woods, Director of UNO's Barbara Weitz Community Engagement Center, spoke with KIOS host Mike Hogan on "Live & Local." The interview focuses on how partnerships between the university and community organizations provide students with learning experiences that also benefit the community.
Listen to the interview on the KIOS website
About the University of Nebraska at Omaha
Located in one of America's best cities to live, work and learn, the University of Nebraska at Omaha (UNO) is Nebraska's premier metropolitan university. With more than 15,000 students enrolled in 200-plus programs of study, UNO is recognized nationally for its online education, graduate education, military friendliness and community engagement efforts. Founded in 1908, UNO has served learners of all backgrounds for more than 100 years and is dedicated to another century of excellence both in the classroom and in the community.
Follow UNO on Facebook, Twitter, Instagram, TikTok, LinkedIn, and YouTube.