UNO Faculty Sweep NU System Honors
Ramazan Kılınç (Political Science); Nick Stergiou (Biomechanics); and Christine Cutucache (Biology) each earned system honors for teaching, research, and engagement.
A trio of UNO faculty have been recognized by the University of Nebraska system in a historic sweep of awards recognizing the fields of teaching, research, and community engagement. 
The recognized faculty members also join the Department of Management, which received the President's University Departmental Teaching Award for 2021.
The awards were announced on Wednesday, March 24, by University of Nebraska President Ted Carter.
The university-wide President's Excellence Awards recognize faculty whose work has had a significant impact on students, the university and the state.
"Faculty are at the heart of any great university, and the University of Nebraska is fortunate to have some of the world's best serving across our four campuses," Carter said. "The teaching, research and outreach that these faculty do on a daily basis has a remarkable impact on our 52,000 students, the state and the entire world. I'm honored to be able to celebrate their work."
Award recipients are selected by a system-wide committee of faculty members and, in the case of the engagement award, community members. They will be honored at an event hosted by Carter this spring.
Each category features two winners. The award recipients from UNO are:

A full list of awardees can be found on the University of Nebraska website.
---

Ramazan Kılınç
Outstanding Teaching and Instructional Creativity Award (OTICA)
Ramazan Kılınç, Ph.D., is an associate professor of political science and director of the Islamic Studies Program at UNO. He teaches courses on comparative politics and international relations of the Middle East. He is a graduate of Bilkent University in Turkey and Arizona State University, and previously taught at Michigan State University.
Kılınç's most recent articles appeared in Comparative Politics, Political Science Quarterly, Politics and Religion, Studies in Conflict and Terrorism, and Turkish Studies.
He is a past winner of UNO's Excellence in Teaching Award, the UNO Alumni Outstanding Teaching Award, and the American Political Science Association's Weber Paper Award and Sage Paper Award.
"When one works with so many great colleagues who extend themselves above and beyond the expectations of their jobs, it is not easy to consider anything that one does as outstanding. However, it is a privilege to be counted among so many accomplished educators," Kılınç said.
His research interests are religion and politics, democratization, the Middle East and Turkey. Kılınç has served as a faculty fellow for the College of Arts and Sciences' Peer Mentorship Program and a member of the Faculty Advisory Committee for the UNO Honors Program.
"As a political scientist, I believe that the goal of good teaching is to foster student engagement in politics as responsible and thoughtful citizens. I try to leverage my research and service experience to elevate the quality of my teaching. I consider this award as a recognition of this effort."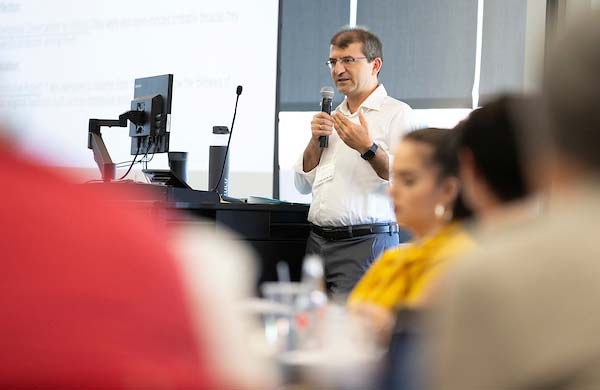 Nick Stergiou
Outstanding Research and Creativity Award (ORCA)
Nick Stergiou, Ph.D., is assistant dean and director of the Division of Biomechanics and Research at UNO as well as the Distinguished Community Research Professor and Founding Chair of the Department of Biomechanics, and director of the Center for Research in Human Movement Variability at UNO.
"To be honored not only by the university, but the entire NU system, means so much to me," Stergiou said. "This particular award, recognizing outstanding research and creativity, is an acknowledgment of why I entered academia—to perform high-quality research. I look at this award as a recognition of all the people who have supported me as well as the students and researchers of UNO Biomechanics: our donors, the Scotts, Dean Edick, and the many people who believe in our work."
When Stergiou began teaching at UNO in 1996, "biomechanics" wasn't part of the university's lexicon. He has since secured two of the largest research grants in UNO history – National Institutes of Health grants worth more than $10 million each – and a private gift to build the 23,000 square-foot Biomechanics Research Building that opened in 2013. 
The building, home to the first center in the world dedicated exclusively to research in human movement variability, later underwent a 30,000 square-foot expansion, made possible with another private gift, after Stergiou's programs outgrew the original space. His research has impacted the training techniques of surgeons, as well as the treatment of pathologies like peripheral arterial disease.
"I love being a scientist," Stergiou added. "I don't look at research like I'm spending hours and days closed up in a lab—I look at the work like an intriguing puzzle, like a mystery that needs solved. I gain deep satisfaction from the process of discovery and using research to give back to others. This is what inspires me the most—helping people with pathologies and disabilities gain a better quality of life."
Stergiou also received the University of Nebraska Innovation, Development and Engagement Award (IDEA) award in 2018.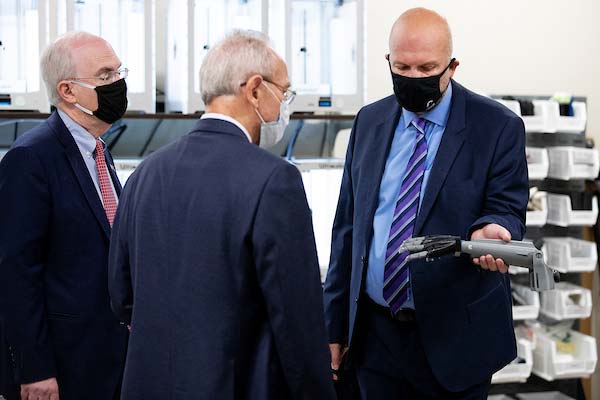 Christine Cutucache
Innovation, Development and Engagement Award (IDEA)
Christine Cutucache, Ph.D., is the Haddix Community Chair of Science and associate professor of biology at UNO, as well as director of UNO's STEM TRAIL Center.
Cutucache is a tumor immunologist-turned-science educator. During her tenure, Cutucache has secured nearly $11 million in extramural funding, published 34 peer-reviewed articles on her research, and been selected as a Fulbright Scholar.
"This is truly an award for Nebraska -- and I get to simply accept the award on the community's behalf," Cutucache said. "To me, this award signifies and emphasizes the spirit of, and commitment to, innovation that NU offers and engenders. It showcases how NU continuously champions diverse ways of thinking and problem solving, and empowers our team to discover, collaborate, and invent, all in service of our amazing state and community."
Her research lab studies tumor immunology as well as science education. She is interested in student-centered, inquiry-based practices to improve learning outcomes. 
Cutucache founded a now-statewide program that engages youth in high-quality, out-of-school STEM activities via problem-based learning. The program, a collaboration between the university, community partners and stakeholders, has served 6,000 youth. Cutucache is interested in helping undergraduates on their journey to a degree, including through experiential learning, professional development and coaching, and her work is supported with several core grants.
"I'm so excited to continue this work alongside Nebraskans to diversify the STEM pathways, bring more company connections and opportunities for experiential learning to our students, expand entrepreneurial activities via collaborations with industry and through University affiliated spin-off companies, and to make interdisciplinary work embedded as experiential learning opportunities for all students, K-16. We are lifelong learners. We are change-makers. We are Nebraskans. We are together on this journey of excellence."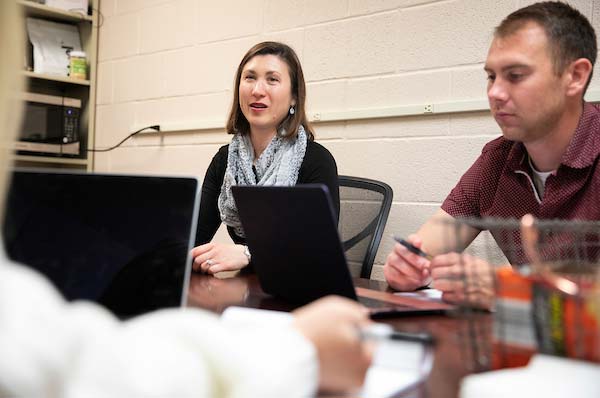 About the University of Nebraska at Omaha
Located in one of America's best cities to live, work and learn, the University of Nebraska at Omaha (UNO) is Nebraska's premier metropolitan university. With more than 15,000 students enrolled in 200-plus programs of study, UNO is recognized nationally for its online education, graduate education, military friendliness and community engagement efforts. Founded in 1908, UNO has served learners of all backgrounds for more than 100 years and is dedicated to another century of excellence both in the classroom and in the community.
Follow UNO on Facebook, Twitter, Instagram, LinkedIn, and YouTube. 
Contact Us
If you have a story idea, news tip, or other question, please email the UNO News team at unonews@unomaha.edu.