Omaha: A City of Opportunity
A robust network of support is helping students turn small chances into big opportunities.
published: 2021/03/01
contact: Charley Steed - University Communications
email: contact@unomaha.edu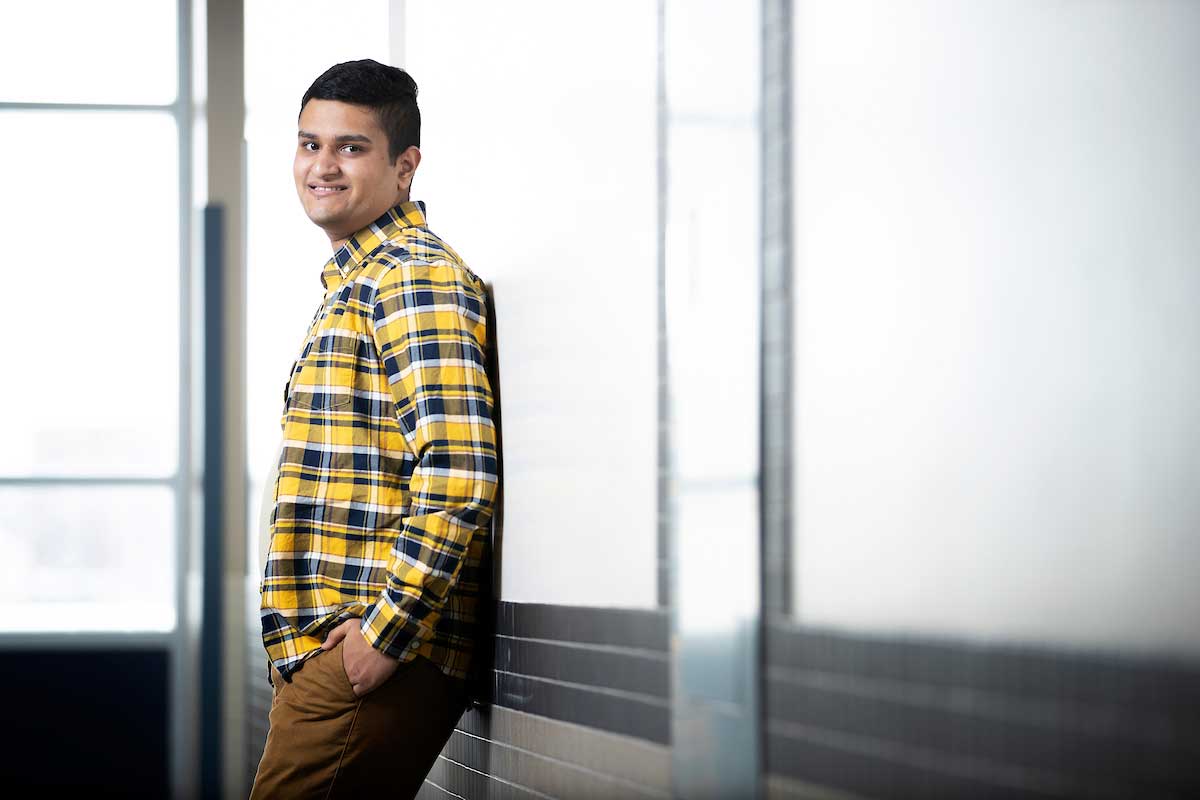 "Welcome to our campus... otherwise known as Omaha."
It's a phrase seen in airports, on buses, and on billboards across the metro area; however, it is also a truth that has provided many students opportunities that no other campus in the region can provide. Students like Suraj Poudel.
It was seven years ago when Poudel's parents moved their family to Omaha from Nepal, to a new city, a new school, and new language. Today, Poudel is a Maverick who is not just surviving - but excelling thanks to the opportunities Omaha - and UNO - have to offer.
This past fall, Poudel not only marked his first semester as an Computer Science student within the College of Information Science and Technology (CIST), but as a software engineer intern with Union Pacific, one of several Fortune 500 companies with headquarters in Omaha.
"The first semester was a little rocky because high school is completely different than university," Poudel says. "But after I got the internship, it really helped me with college because I was learning materials at college I was already doing at work."
Poudel and fellow CIST first-year student Evelyn Espinoza-Macias were selected for the Union Pacific internship as they were finishing their senior year at Omaha South High School and participating in the AIM Institute's pilot workforce development program. The program teaches students important skills, but also helps meet a need locally to cultivate a new IT workforce.
"IS&T's close relationship with industry partners is a major factor in our ability to deliver the kind of high-quality education our students are craving," CIST Dean Hesham Ali, says "Union Pacific has been one of our biggest champions, and we're consistently excited to see the opportunities they create for the next generation of technology leaders."
"I think when students are able to understand the big picture behind a tech job ... they will want to study a technical subject in college," Addison Parker, a senior project engineer at Union Pacific who oversees the internship program, told the Silicon Prairie News this past November.
"If more companies show there can be benefits like [internships] it could cause those students to try harder [in school] and it can also help them economically," Espinoza-Macias says.
---

Are you a student looking for an internship? Or looking for general internship information?
Check out these resources from the UNO Academic and Career Development Center.


---
Poudel admits he never saw himself as a programmer, but had always been interested in computers. It wasn't until he took an elective in computer science at Omaha South High School that he began to truly cultivate a passion for technology.
"I was actually thinking I would want to work more with hardware and servers, but with computer science you realize that one small piece of code can change our world."
Changing the world - changing the future - is something near and dear to Poudel's heart. As a first-generation student and Goodrich Scholar, he explains that he wants to make the most out of the sacrifices his parents made for him and his siblings.
"My dad was really supportive of education; he wanted to be a doctor, but due to my grandparents experiencing some crises he wasn't able to do what he wanted," Poudel says. "Even though he was excellent in his education, my grandparents never gave him the financial support. He ... wants to provide that support to all of his children so they can get their education without any barriers, but after he came here there were still barriers to jump through to continue our education."
Espinoza-Macias, who is also a first-generation student, says those barriers are one thing that she knows these kinds of experiences, with UNO's help, will help others in the future.
"There are a lot of things, as a first-generation student, nobody can really help me with at home, such as filling out the FAFSA, and so everything is new to me," Espinoza-Macias says. "But I think it's good because I have two younger siblings, which, me being the first one will allow me to help them."
Neither Poudel or Espinoza-Macias know exactly what their future plans look like yet, but they don't need to. Their drive, passion, and love for their families, their community, and the impact of technology is sure to serve them well as they continue their Maverick journey.
About the University of Nebraska at Omaha
Located in one of America's best cities to live, work and learn, the University of Nebraska at Omaha (UNO) is Nebraska's premier metropolitan university. With more than 15,000 students enrolled in 200-plus programs of study, UNO is recognized nationally for its online education, graduate education, military friendliness and community engagement efforts. Founded in 1908, UNO has served learners of all backgrounds for more than 100 years and is dedicated to another century of excellence both in the classroom and in the community.
Follow UNO on Facebook, Twitter, Instagram, LinkedIn, and YouTube. 
Contact Us
If you have a story idea, news tip, or other question, please email the UNO News team at unonews@unomaha.edu.