Leading Nebraska: Developing Safer Communities with Smarter Criminal Justice Research
Doctoral student Ebonie Epinger and other UNO researchers are taking a deeper look at Nebraska jails to see how states can reduce reoffending, distribute resources more effectively, and support safer communities.
published: 2021/03/11
contact: Jackie Ostrowicki - University of Nebraska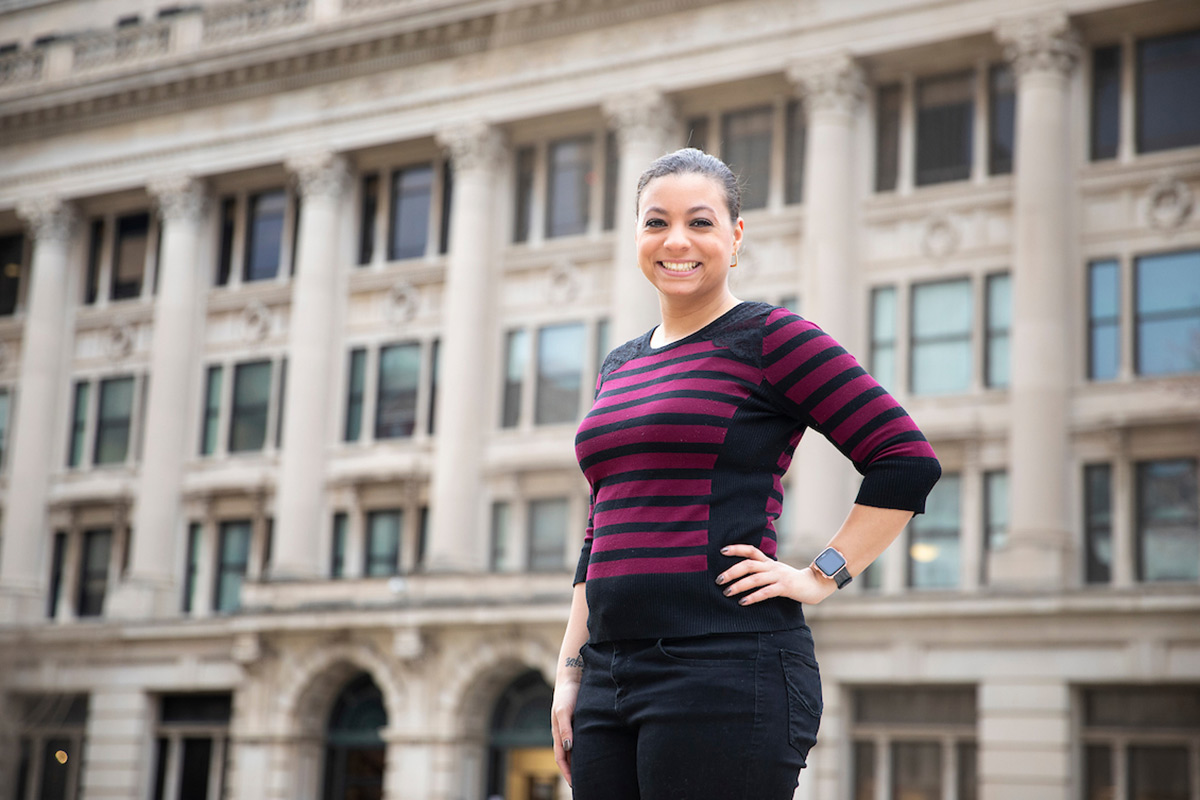 About the Leading Nebraska Podcast: The NU system's podcast was launched to share stories of researchers, students and educators across the four campuses who are growing the state's workforce and quality of life. Podcast topics including nursing, agricultural education, healthcare, workforce development, cybersecurity, teacher education and others, featuring experts from UNO, UNL, UNK and UNMC. Listeners may follow the "Leading Nebraska" podcast here.
---
Improving the Criminal Justice System

: Ebonie Epinger

The University of Nebraska has released the latest episode of its "Leading Nebraska" podcast series, featuring a UNO doctoral student and researchers.

In Nebraska, one out of every four past criminal offenders will be arrested again. That recidivism rate (percentage of offenders) is putting a strain on county and state corrections facilities. To make the situation more complicated, prisons are located on the eastern side of Nebraska, leaving the job of processing offenders in the rest of the state to county jails.

So how can a state reduce reoffending, distribute resources more effectively, and support safer communities? Ebonie Epinger, a doctoral student, and other researchers at the University of Nebraska at Omaha think the answer involves taking a deeper look at Nebraska jails.

Epinger and her University of Nebraska at Omaha team work with local corrections facilities to investigate patterns that lead to recidivism, particularly for high-risk populations. Their work is especially valuable considering the bulk of criminal justice research is focused on prisons; not jails. And jails in Nebraska process more individuals than prisons.

"I hope this research can help us find great and effective case management to reduce recidivism that can be applied not only to the state of Nebraska, but can be transmitted to any other jail population," she said.

Epinger isn't just adding to existing research in this area — her work will help ensure inmates have the tools they need to succeed upon release. Only then can they re-enter society as productive members of the community.

And she's at just the right place to undertake her impactful research. The University of Nebraska at Omaha's School of Criminology and Criminal Justice (SCCJ) is home to the country's No. 1 online criminology and criminal justice graduate program, ranked by U.S. News & World Report. Most of the program's students are current law enforcement or corrections professionals. SCCJ has developed a reputation for excellence in engaged education and research like Epinger's.

With a strong university system behind her and her peers, Epinger isn't only benefitting the criminal justice world — she's making an impact on the state as a whole.

 
About the University of Nebraska System
The University of Nebraska is the state's only public university system, made up of four campuses – UNL, UNO, UNK and UNMC – each with a distinct role and mission. Together the campuses enroll more than 51,000 students and employ 16,000 faculty and staff who serve the state, nation and world through education, research and outreach. For more information and news from the University of Nebraska, visit www.nebraska.edu/news.
Contact Us
If you have a story idea, news tip, or other question, please email the UNO News team at unonews@unomaha.edu.