A Chorus of Mavericks
published: 2021/02/17
contact: Charley Steed - University Communications
email: contact@unomaha.edu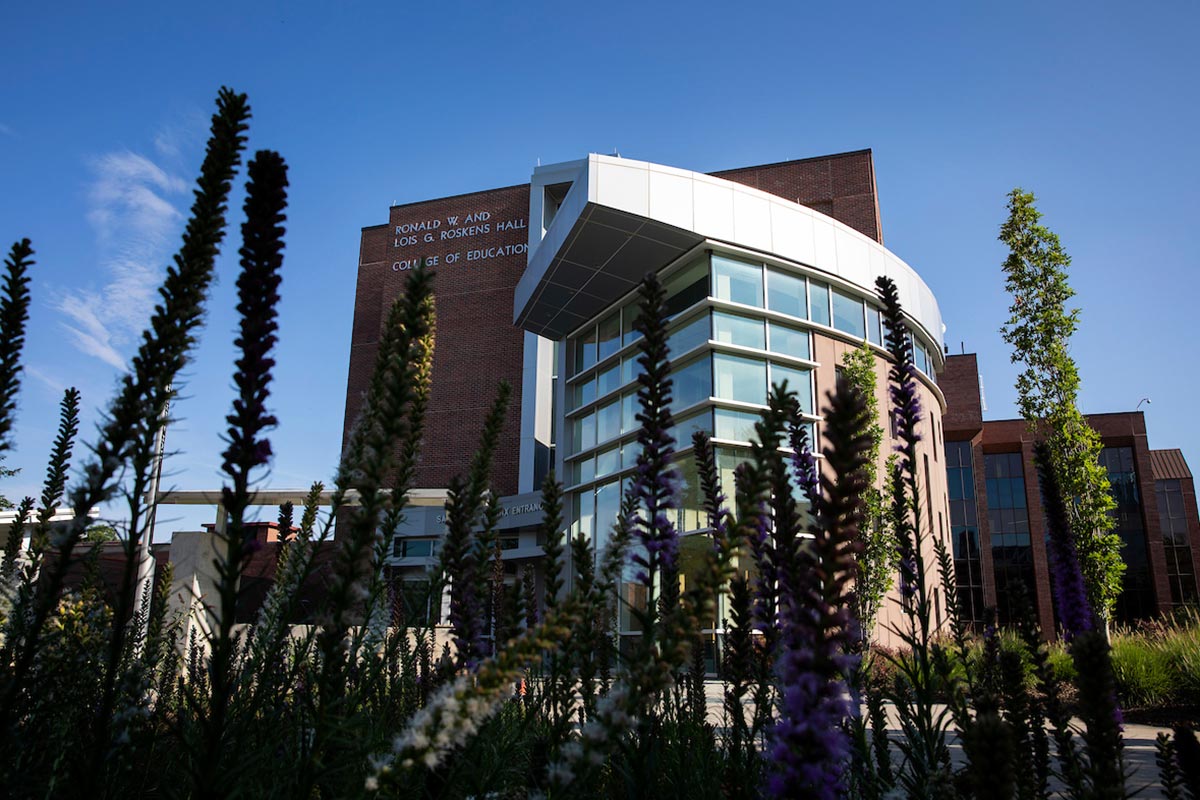 Let us walk with these warriors,
Charge on with these champions,
And carry forth the call of our captains.
We celebrate them by acting with courage and compassion,
By doing what is right and just.
For while we honor them today
It is they who every day honor us.


With these words, Amanda Gorman became the first poet to perform at the Super Bowl, recognizing three honorary captains who represented the nation's frontline healthcare workers, teachers, and military veterans, with her poem "A Chorus of Captains" as part of the event's opening ceremonies on Sunday, Feb. 7.
A month prior, Gorman, 22, made history performing a different poem, "The Hill We Climb" at the Presidential Inauguration as the youngest person to deliver a poem as part of the ceremony, which has previously featured Robert Frost and Maya Angelou.
However, these two events mean something special to the faculty, staff, and especially the students who make up UNO's Speech-Language Pathology (SLP) program, which is part of the College of Education, Health, and Human Sciences.
In recent interviews, Gorman has shared her story of being diagnosed with an auditory disorder at a young age, making it difficult to pronounce certain sounds during speech. It is the very thing that faculty like Shari DeVeney, Ph.D., graduate program chair of Special Education and Communication Disorders, and students like Daleigha Ford, a senior in Speech-Language Pathology and president of the National Student Speech Language Hearing Association (NSSLHA), have trained to address and treat at early ages.
They both say Gorman's recent visibility has made an impact.


---
Providing visibility to an often invisible aspect that impacts millions of lives has meant a lot to those who have speech disorders and to those, like DeVeney and Ford, who study them.
DeVeney: Honestly, it's been pretty cool for many of us in the field of communication sciences and disorders to see individuals with histories of communication disorder on the national stage.
Ford: A lot of people do not know what speech language pathology is or what speech language pathologists do unless they are directly affected by it, and this was an opportunity for people to learn more about it. As a black person, it also meant a lot to me to be able to see this moment.
The inauguration of President Joe Biden, in tandem with Gorman's performance, has not only provided visibility, but a sense of accomplishment. Biden has a well-documented history of overcoming a stutter from when he was younger.
DeVeney: I've noticed a really positive reaction from the stuttering community to President Biden's election. The sense I get from my interactions with our local chapter of the National Stuttering Association members is that the representation of someone in the stuttering community at the highest elected position in the country really opens up a lot of doors and breaks down misconceptions about what people who stutter are truly capable of doing.
Ford: It has made me so hopeful and extremely inspired. To know that people all over were able to see a young, black, inaugural poet with an auditory disorder, and President Biden who has a speech disorder succeed and achieve goals is going to show the world that anyone is capable of what they put their mind to.
DeVeney and Ford say most people would be surprised at the breadth and pervasiveness of speech and hearing disorders, as well as the therapies used for those experiencing them - including poetry.
Ford: In the field of speech language pathology, there are so many different therapy strategies, outcomes, and intervention types, and it was really fascinating to learn how poetry and music aided Amanda in finding her voice and overcoming obstacles. I have become really interested in learning about culturally and linguistically diverse populations and would love to incorporate advocating for those populations into whatever I go on to do. I am currently most interested in the medical aspect of SLP but love that I can work in a school setting as well.
DeVeney: Speech-language disorders are much more common that you might imagine. About 8% of children ages 3-17 have some sort of speech and/or language deficit. Because of the wide range of disorders, severities, and circumstances our students need to be prepared to address when they enter the work force, here at UNO we train students extensively through coursework and clinical experiences to work with individuals across the lifespan and in both medical and educational settings.
What do those in the Speech-Language Pathology program hope the Maverick community and community at large take away from Gorman's story? A focus on caring, community, and communication.
DeVeney: I hope it serves as a reminder to all of us to have more compassion and patience interacting with others who may communicate differently. We advocate on behalf of those with communication disorders in terms of moving public policy forward, spreading awareness, and pushing back against misinformation and misconceptions related to communication disorders. We have a long way to go as a society, but I'm really hopeful that we're moving the needle in the right direction.
Ford: Learning more about Amanda and listening to her poetry has given me goosebumps and reassured me that I am where I am supposed to be. I was able to relate what I have been learning throughout my education to her journey with an auditory disability, and was inspired that she found something she loved to do and persevered through challenges.


---

More About Shari DeVeney
In addition to serving as graduate program chair for the Department of Special Education and Communication Disorders, DeVeney is an associate professor of communication sciences and disorders. She has conducted research in early-risk factors for communication delays, speech-sound disorders, and how toddler play behaviors correlate with language skill proficiency. She has a doctorate in Speech-Language Pathology from the University of Nebraska-Lincoln.


More Daleigha Ford
Prior to enrolling in UNO's Speech-Language Pathology program, Ford initially started out as a nursing major, but soon fell in love with the opportunities provided to speech-language pathologists. She is a member of the Thompson Learning Community and says that her cohort of Thompson Scholars, NSSHLA members, and classmates have been 'like family' to her. She plans to pursue graduate school and says she would like to find work in a neonatal intensive care unit to work with swallowing and feeding, or help with the rehabilitation of those with traumatic brain injuries.
About the University of Nebraska at Omaha
Located in one of America's best cities to live, work and learn, the University of Nebraska at Omaha (UNO) is Nebraska's premier metropolitan university. With more than 15,000 students enrolled in 200-plus programs of study, UNO is recognized nationally for its online education, graduate education, military friendliness and community engagement efforts. Founded in 1908, UNO has served learners of all backgrounds for more than 100 years and is dedicated to another century of excellence both in the classroom and in the community.
Follow UNO on Facebook, Twitter, Instagram, TikTok, LinkedIn, and YouTube.