UNO's School of Public Administration's Continued Excellence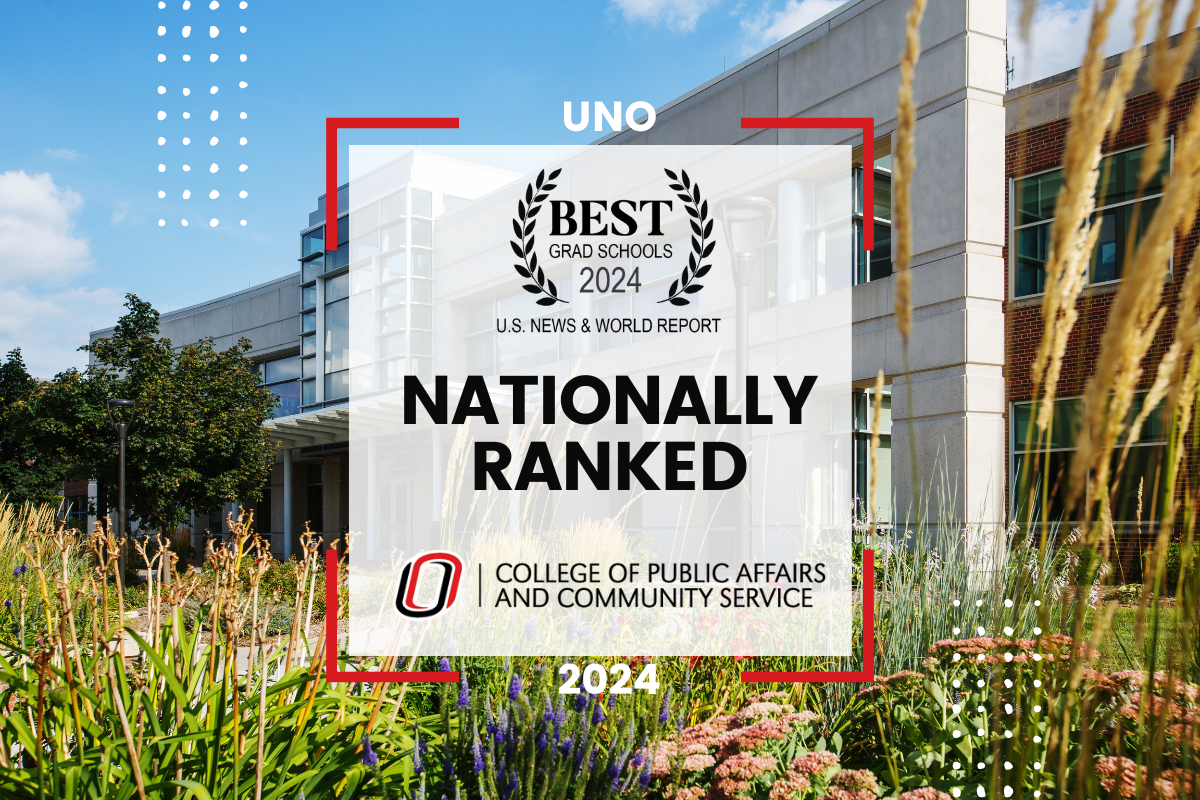 CPACS School of Public Administration Continues National Rankings Streak With Release of 2024 U.S. News Rankings
The latest graduate program rankings by U.S. News & World Report released Tuesday put a spotlight on the University of Nebraska at Omaha's (UNO) nationally recognized programs that again include two of our programs breaking the top ten in the nation for the second year running: Public Finance & Budgeting is ranked fifth and Local Government Management is ranked seventh.
Rankings within specialty areas underscored the strong academic reputation of UNO's public affairs programs. The specialties within the School of Public Administration (#28 in the nation) which are highly ranked for 2024 are:
Public Finance & Budgeting — No. 5
Local Government Management — No. 7
Nonprofit Management — No. 12
Public Management & Leadership — No. 22
"Our esteemed faculty and dynamic learning environment have made the school a popular destination for students from all over the corners of the globe. This recognition of our leadership in the field enhances our reputation. We provide every student with a high-quality, relevant educational experience. Our faculty and students also go outside of the classroom, actively improving local communities through their partnerships with nonprofits and governments," Bartle said.
Craig Maher, Ph.D., Director of the School of Public Administration, attributes these high rankings to both the committed faculty, staff, and students, and support from the university. "The School of Public Administration is a source of great pride for the CPACS and UNO, outstanding in its high-ranking academic programs. Our programs are of the highest quality and provide students with a supportive environment including committed faculty and staff, helping them to meet their goals, as well as preparing them for the ever-evolving challenges of today's world," he said.
Students looking for opportunities to learn about public affairs can find exceptional educational programs at UNO. It's a great place to sharpen those skills and get the knowledge you need for success.
"Completing a degree from the School of Public Administration will open up valuable professional opportunities for graduates and empower them to make a meaningful contribution to the community at large," Maher said.

Founded in 1972, CPACS is the only college in the University of Nebraska system dedicated entirely to public affairs and civic engagement. As such, it serves a statewide mission of coupling quality education with professional services for any student looking to improve their community.
Graduate scholarships are available for graduate students at UNO, including the Jump Start Scholarship which provides funding for qualifying students who jump straight into a graduate program following completion of their undergraduate degree at UNO.
Of special interest is UNO's new OUR Tuition, a program which expanding affordable tuition rates to students in 11 States near Nebraska.
Additional opportunities for assistance including fellowships, assistantships, and other financial assistance opportunities can be found on the UNO Office of Graduate Studies website.