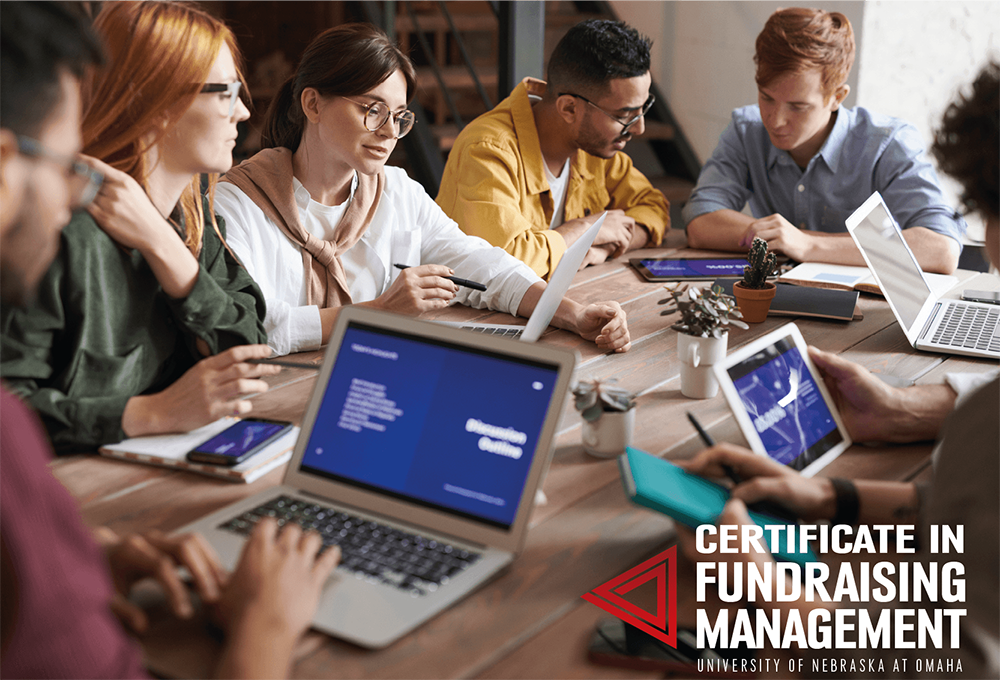 Our Certificate in Fundraising is updated and changed to serve your needs.
---
In today's world, successful fundraising can be the difference between a nonprofit organization that makes it and one that does not. With nearly one million nonprofits competing for the same contributions and facing the same cutbacks fundraising professionals need an advantage.
Get an advantage for your fundraising!
The University of Nebraska Omaha Certificate in Fundraising Management can provide an advantage. This comprehensive, non-credit program provides essential training in vital areas of fundraising such as annual giving, capital campaigns, corporate giving, donor stewardship, and marketing.
The Certificate in Fundraising Management from UNO is a must for anyone pursuing a career in fundraising. This certificate is nationally recognized and comes with graduate-level credit from UNO.
Who should participate & what are the benefits?
Fundraisers who want to grow in their careers.
Nonprofit executives who wish to better understand the details of fundraising.
Persons preparing for a new career in fundraising.
Experienced professionals seeking new developments in the field.
Those seeking Certified Fund Raising Executive (CFRE) continuing education credit.
More details and benefits from earning a Certificate in Fundraising Management from UNO:
You'll have networking opportunities with others locally and nationally. And who knows where this could take you!
Graduate Credits: Take 10 classes for certification, and earn UNO graduate credit hours (6) from the School of Public Administration.
DISCOUNT: when you sign up for all 10 classes. Our fundraising management classes are taught by experts in the field.
2023 SINGLE CLASS COST: $299, this includes materials and parking.
Contact Information
Ellen Freeman-Wakefield, MPA, Director, Professional Programs
402.554.2636 (direct)
402.554.2625 (office)
402.669.2272 (cell)
efreemanwakefield@unomaha.edu