Ryan Koltas: Making Every Day Great  
Ryan Koltas' love for the U.S. Air Force and the study of criminology and criminal justice made attending UNO an easy choice for him. Born in Lorton, Virginia, his family relocated to Nebraska when Ryan was very young. Ryan's father, now a retired Air Force Major, was active duty at the time and stationed at Offutt Air Force Base. What started out as a planned three-year-stay in the Omaha area turned out to be a permanent living situation. From the time Ryan was 16 years old, he knew he wanted to pursue a career in the criminal justice field. "And since UNO has one of the premiere criminal justice programs in the nation it was a no-brainer to stay near home for college," he said.
Ryan's aspirations were always greater than earning a bachelor's degree. Joining the Air Force Reserve Officer Training Corps (AFROTC) program at UNO was also part of his plan. Following high school graduation, Ryan spent the summer months physically conditioning through daily runs and doing calisthenics in preparation for what lay ahead. "My dad, being a retired Air Force Major, certainly encouraged me to join the military for at least four years," Ryan said. "But aside from my father's influence, I have always had the desire to do something truly meaningful with my life. Serving as a leader in the world's greatest Air Force certainly qualifies as meaningful work in my eyes," Ryan explained.
Ryan's time in the AFROTC program has been a game-changer. "From a professional standpoint, I feel that I am in a great position to succeed in life because of ROTC," he said. "I have been pushed to grow professionally and I don't think I would have had I not joined the program." Ryan went on to explain that ROTC stresses one's development as a leader and teaches crucial leadership skills such as the ability to give and take feedback, speak publicly, inspire others, and so much more. "You often find that a lot of the best leaders in the civilian world have some sort of military background, and I can certainly see why," he stated.
During his senior year of college, Ryan was tapped to serve as the Cadet Wing Commander (CW/CC) for his unit, meaning he oversees all cadet-run activities for roughly 80 cadets. He is instrumental in contributing toward each cadet's development in becoming an Air Force Officer.
Ryan, who will be graduating with honors from UNO later this spring with a degree in criminology and criminal justice and a minor in psychology, has long had aspirations of becoming a lawyer. He has been selected for the AFROTC Educational Delay-In program, meaning he will be allowed to start law school in the fall of 2021. Upon completion of law school he will serve as an Air Force Officer in the Judge Advocate General's (JAG) Corp. Ryan is still deciding where to attend law school -- he's narrowed downed his choices to the University of Colorado Boulder or The Ohio State University.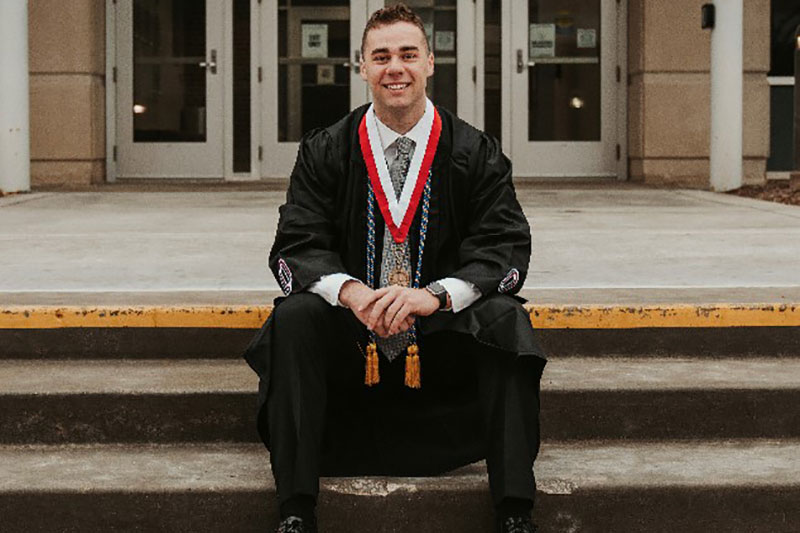 Overall, Ryan is thrilled with all the opportunities opening up for him. Being an officer in the JAG Corps allows Ryan to partner his love for the law with his desire to serve in the military. "As an Officer in the JAG Corps, my duties will be two-fold," Ryan explained. "I will be an attorney and a military officer. From the standpoint of an attorney, I will perform the general duties necessary to carry out the overall mission of the Air Force from a legal standpoint. As a military officer, it will be my duty to provide effective supervision of the enlisted personnel serving below me and inspire them to perform to their peak capability."
Right now, he is unsure how long he will serve in the Air Force. It may be the minimum four years, or he may follow in his father's footsteps and make a career of it. Regardless of how long he opts to serve, he knows he wants to work in criminal law following his Air Force stint. "I see so many people being treated unfairly by our justice system. I want to work to help our system be equal and see people fairly held accountable for their actions," Ryan said.
Ryan Koltas lives by the mantra "It's a great day to have a great day." Ryan knows great days do not just magically happen – you have to make them happen. And that is what he seems to specialize in. Prior to starting college, he set several lofty goals for himself, namely maintaining a 4.0 GPA, earning an AFROTC scholarship, being named Cadet Wing Commander, being accepted into a top law school and eventually serving as a JAG Officer in the U.S. Air Force. He's still upset by the one A- he received in a Stats class his sophomore year that had him miss his GPA goal. Aside from that one A-, Ryan has achieved everything else he set his mind to. With that kind of hard work and determination, we are confident Ryan will have many great days ahead of him.
Congratulations Ryan on all your past successes as well as your future endeavors. Keep doing UNO proud!
Published April, 2021