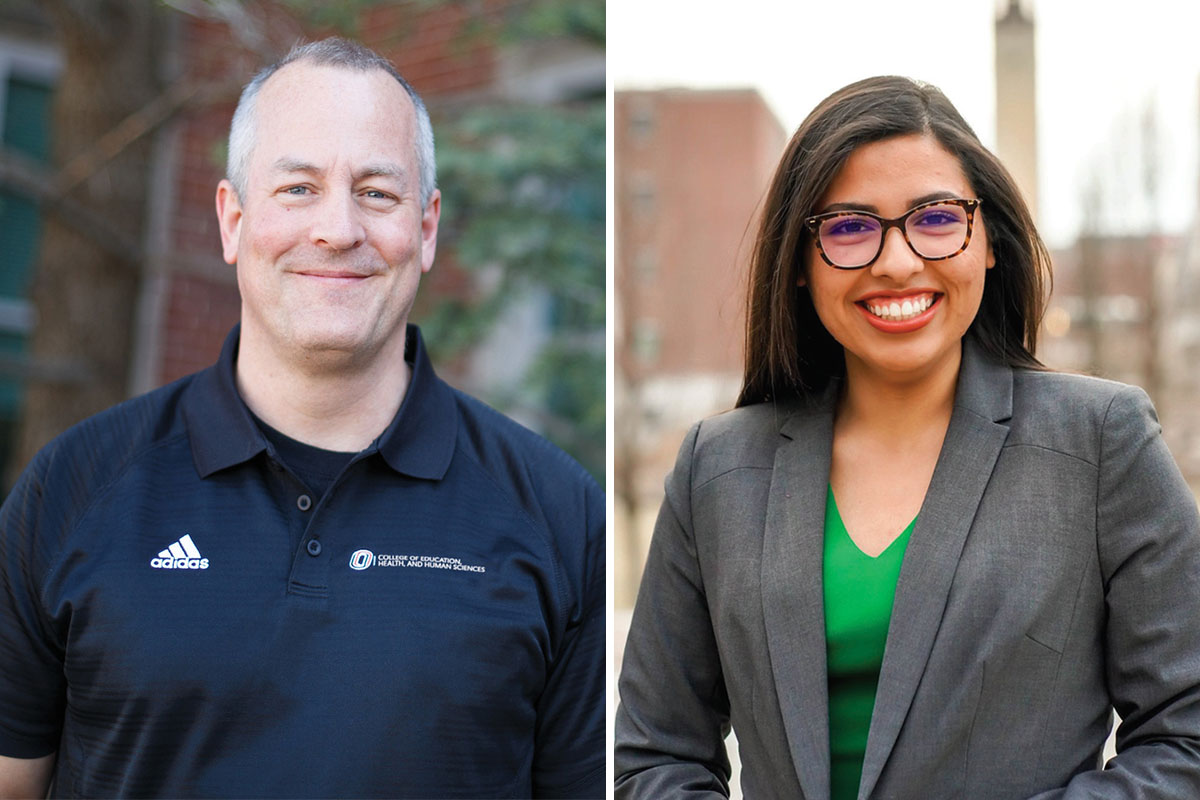 This July, Dean Nancy Edick joined fellow CEHHS campus leaders, Educational Leadership Professor and UNO Faculty Senate President, Dr. Elliott Ostler, and Elementary Education major and UNO Student Body Vice President, Vanessa Chavez Jurado, to chat virtually about what it means to serve during difficult times. This Q&A is a portion of their conversation on leadership.
---
Dean Edick: Please share a quote or an image that resonates with you as you provide leadership during this really unique time.
Vanessa: The quote I chose from Justice Sonia Sotomayor focuses on civic engagement: "None of us can afford to be bystanders in life. We create our community, and we create it by being active participants." I think this quote is very telling of leadership because a leader should empower others to also take action. And I think that's especially true now, when so much can feel like it's out of control.
Elliott: Given the nature of the stress of our current conditions, I think we've maybe yielded a little bit too much to the winds of fate. In some cases, we seem to have maybe thrown up our hands as if to say that we really don't have much control of our lives and our future, but we should be trying to move away from the dispositions of self-preservation towards a position of service. With that in mind, I think we should be absolutely tenacious. For me, I've always been partial to the picture of the frog and a big stork that's trying to eat him, and the frog is choking the stork. The caption is, "Never give up." That's a bit of a comedic look at something serious, but it's about courage and tenacity in the face of adversity. I think that seems wholly appropriate given the responsibility to navigate through some pretty difficult times.
DE: Elliott, what do you bring from your work and years of experience to the Faculty Senate presidency?
E: Gratitude is the fundamental component I can offer. Over the years I've had the opportunity to work with lots of different people on many projects. The biggest takeaway is that all of the people I've worked with, almost universally, are those who are grateful to serve. And they share an understanding that service is not a burden, but rather an opportunity. And I've tried to take that attitude, and I think that means, as a leader, three of the most important roles I play in the Faculty Senate are listener, learner, and follower—I mean, we can all use a dose of humility, right? So that's where I find myself landing these days.
DE: Yes, I consider this work to be service work, and the thing that has always been most humbling about it is the people. Absolutely. So, Vanessa, tell us a little bit about your own life experience and how that informed your decision to become a leader in UNO Student Government.
V: In high school, I was part of the school newspaper, and it was a great outlet for me to be able to talk about different topics that didn't affect the majority of my classmates, but as a person of color, they did affect me. I wanted to raise awareness of these issues, but I often didn't feel I had the support of the administration. It was a way for me to educate others, but I didn't feel like it went far enough. I wanted to engage in more action. I attended my first march, and then I and another classmate organized a walkout at our school. So, taking it further and engaging in actual steps that raise awareness on issues and actually make change.
Once in college, I was invited to the diversity and inclusion dinners that were held with the UNO Vice Chancellors. I saw that as a great opportunity. Just the step of organizing that dinner was a right move by the university because it showed they cared and wanted to have these conversations. I met great student leaders who, like myself, wanted to improve on our approach to diversity and inclusion at UNO and in our community in general. I was inspired after these dinners, and I wanted to get more involved. I was in the Freshman Leadership Council my first year, and I went on to campaign to be a Senator representing the college. And during that experience, I focused on the inequities that come with standardized tests.
When I ran for vice president alongside Jabin Moore, who serves as Student Body president, our goals and visions aligned, and we realized that we could really make change. And before we were even sworn in, we were able to change the structure in Student Government to create a committee for diversity, equity, and inclusion.
"A leader should empower others to take action. And I think that's especially true now, when so much can feel like it's out of control."
- Vanessa Chavez Jurado
DE: Elliott, you are being relied on as the voice of literally hundreds of faculty members, and for you, Vanessa, thousands of students. And they represent very diverse perspectives on complex issues. So, how do you handle the awesome responsibility of being that voice?
V: I recognize I have that platform and the privilege of being one of the few students, if not the only student in those meetings. So I know that it's important to remember that it's not just about me—kind of taking a step back from my own perspectives. I could easily say this would or wouldn't affect me, but it's not just about me. I need to take into consideration all of the many lived experiences of everyone that chose to vote for me and Jabin, and that believed we would be good at representing them.
One way of doing that is making sure we keep close communication with different offices and departments around UNO and making sure they know that there's a strong relationship between Student Government and themselves and their student leaders, so they feel comfortable coming to us if there were ever an issue to arise. We've also been offering surveys, working to maintain relationships so that students feel comfortable coming to us, and also using social media. That's what we had to do for our campaign, and it doesn't stop there, just because we're elected.
E: Great job, Vanessa, for that answer. Your response is really fantastic—that's what we're trying to do as well. Being the voice of the faculty, or in Vanessa's case, the student, doesn't mean deciding what I hope they mean and the kind of voicing what I hope they mean, especially since I'm representing such a broad spectrum of beliefs and perspectives. I think it means actually identifying that voice, and that is something that Vanessa mentioned, through social media and other sources. Identifying the voice means asking questions and having discussions with people and collecting data. In essence, it's fact-finding, learning the actual voice rather than just hoping, at best, that you represent it, and then using that information to formulate plans, chase objectives, and achieve shared goals.

Contact Us
If you have a story idea, news tip or inquiry please contact us at: